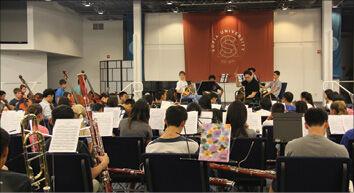 The El Camino Youth Symphony – under new conductor Jindong Cai – is scheduled to perform its season-opening concert 4 p.m. Sunday at Flint Center in Cupertino.
The concert will feature Gustav Mahler's Symphony No. 1 "Titan," Samuel Barber's "Adagio for Strings" and Edward Elgar's "Cello Concerto in E Minor, Mvt. IV," with soloist Cassandra Chum.
This marks the Palo Alto-based symphony's 52nd season. ECYS comprises 450 musicians ages 6-20, including 35 from Los Altos, 20 from Los Altos Hills and 15 from Mountain View. The musicians are divided into six orchestras; the 120-member ECSY Senior Symphony is set to perform Sunday.
The Senior Symphony performs six to 12 concerts per year, said Executive Director Cathy Spieth. The beginning levels perform approximately three times annually.
"Tour performances tend to be the most memorable," Spieth said;
She fondly recalled ECYS' visit to Budapest's new Béla Bartók National Concert Hall in summer 2013.
"It was completely filled," Spieth said. "It was so gorgeous ... (it was) so exciting to perform there."
It's a good bet Cai is excited to conduct his first concert with ECYS. The experienced conductor leads the Stanford Symphony Orchestra as well.
Cai said the most satisfying part of his job is "when (musicians) learn. … When you feel they're learning from you, and they devote their energy to you completely, you feel very much rewarded and satisfied."
Cai encouraged the community to attend ECYS concerts because the student artists are "performing with their heart … but also they want everyone to feel their heart."
However, he's discovered that it's not always easy to get students to play that way. The biggest challenge is "to make them motivated," Cai said, "to make them not only play the music."
Cai leads his students through practices every weekend at Sofia University in Palo Alto. The musicians rehearse each musical phrase over and over – often 10 times or more – striving for perfection in tempo, articulation and dynamics.
Los Altos resident Aaron Wong, who has performed with the ECYS Senior Symphony for two years, enjoys the practices and performances. The Los Altos High senior estimated that he practices his bassoon at least an hour every day.
Wong said the best part of being a member of the orchestra is "the overall experience of being with other musicians who are just as interested in music as you are. ... It's a really supportive environment."
Los Altos resident Emily Kao said she began playing the cello in fifth grade and joined ECYS the next year. The Los Altos High student echoed Wong's joy of performing with ECYS and said the best part is "at the very end, after all these recitals, when I finally do a concert."
Los Altos resident Margaret Redfield emphasized that "ECYS takes a big time commitment on each musician's part." The Gunn High student said she practices about a half-hour each day.
For her, the best part of ECYS is "hearing the orchestra's final product of each piece," she said.
For concert tickets ($8-$15) and more information, visit ecys.org.