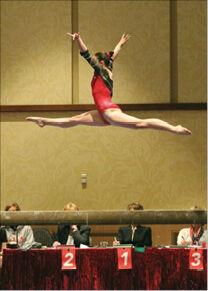 Gymnastics takes agility, dedication, strength and – as Fiona Stemmelin has shown – toughness.
The 14-year-old from Los Altos overcame a stress fracture in her elbow to qualify for the upcoming U.S. Women's Junior Olympic National Gymnastics Championships. The level-10 gymnast finished second in the floor exercise and fifth all-around at the regional meet in Anaheim earlier this month, despite the nagging injury.
"Sometimes I was crying at night," Fiona said of the pain from the stress fracture she sustained two months prior to the regionals. "But I was trying really hard (to compete) because I wanted to do my best and qualify for nationals."
A back injury prevented Fiona from participating in the regionals last year. It sidelined the Blach Intermediate School eighth-grader for four months. Before that, she broke her big toe.
"I have had lots of injuries, but those are the three big ones," said Fiona, who took up gymnastics at age 3 and began competing at 7.
The elbow injury hasn't slowed her down, however. She won't let it.
"I'm supposed to be resting, but my goal is to do well at nationals, and I can't back down now," Fiona said. "I have to keep going."
She continues to train five to six hours a day – taking just one day off a week – to prepare for next month's national meet in Jackson, Miss.
"I just push through pain," said Fiona, who aspires to earn a scholarship to Stanford University. "Adrenaline helps cover up the pain in practice, and I have a high pain tolerance."
While the injury may hinder Fiona's chances of winning the all-around title at nationals – she had to downgrade her bars routine at regionals because of the pressure it put on her elbow – finishing first on floor appears to be within reach.
"Fiona has a shot at the national title on floor," said her father, Fred. "She finished first on floor last year at many events before her back injury took her out, and finished either first or second this year ... all season long. And she will reincorporate a high-level skill on her first passage – the Arabian double front (a half twist into a front somersault) – that nobody is doing in her age category."
Fiona scored a 9.6 on floor at the regionals, missing first place by just .025 points. She is focused on doing better than that at the national meet.
"My goal is to win floor and get a title," she said.
The nationals are scheduled May 9-11.