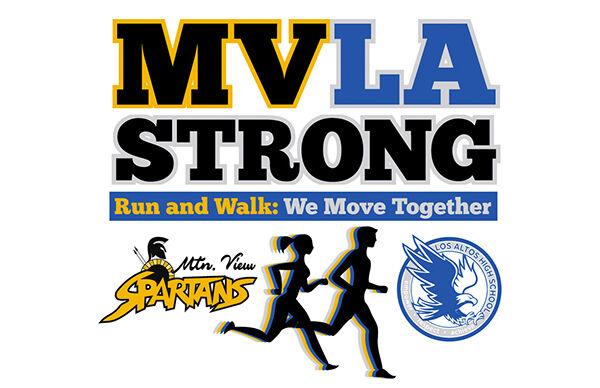 The MVLA Strong virtual 5K walk/run – organized by the sports boosters at Los Altos and Mountain View high schools – has raised more than $3,000 for Community Services Agency.
"From my view the MVLA Strong virtual 5K was a raging success," race director Kjersti Nelson said. "In less than two weeks, we put together a fantastic community event that helped build community pride, school spirit and do something worthwhile for CSA."
Participants had the option of running, walking or even biking the 5 kilometers June 5, 6 or 7 in an area of their choosing. The only rule: follow the county's social-distancing guidelines.
Nelson said that of the 262 people who registered for the event – for a fee of only $5 – 128 of them submitted their results. Among those, Andrew Black ran the fastest time, finishing the 5K in 20 minutes, 20 seconds. Ellie Montgomery placed second (20:37) and Evan Markelz took third (20:55).
Initiated by Mountain View High, the event raised $3,265 in total, according to Nelson. Organizers said that every cent went to CSA, which helps those in need in Mountain View, Los Altos and Los Altos Hills. Race registration fees brought in $1,135; the additional $2,130 came from direct donations.
As for the friendly competition component – the rival high schools vied with one another to raise the most money – Mountain View won in a landslide. The 72 participants who joined Team MVHS at registration produced $1,840 (including donations), according to Nelson, and the 20 who identified as Team LAHS brought in $250.
While Los Altos High School Sports Boosters co-president Angela Player said that "any funds raised for CSA make for a successful event," more prep time could have resulted in even more money.
"We could have been much more successful if we had more time to get the word out and it wasn't just word-of-mouth/emailing about 10 days before the event," she said. "June 5-7 also turned out to be a busier time for many preoccupied with graduations and schools wrapping up. I was hoping to see more people out and about, but I guess if you allow a 5K race to be done anytime over 72 hours in any MV or LA neighborhood, that's wishful thinking."
Player certainly did her part – she did the 5K twice. After running that distance June 3 with youngest daughter Tessa, who just completed her freshman year at Los Altos, Player said she walked it with her husband Sam June 5. Player added that their older daughter Nicole, who graduated from Los Altos this month and will run track at Pomona College next school year, participated by doing a socially distanced run that weekend at Arastradero Preserve with a few of her future teammates.
For complete results and more information on the event, visit MVLAstrong.com.