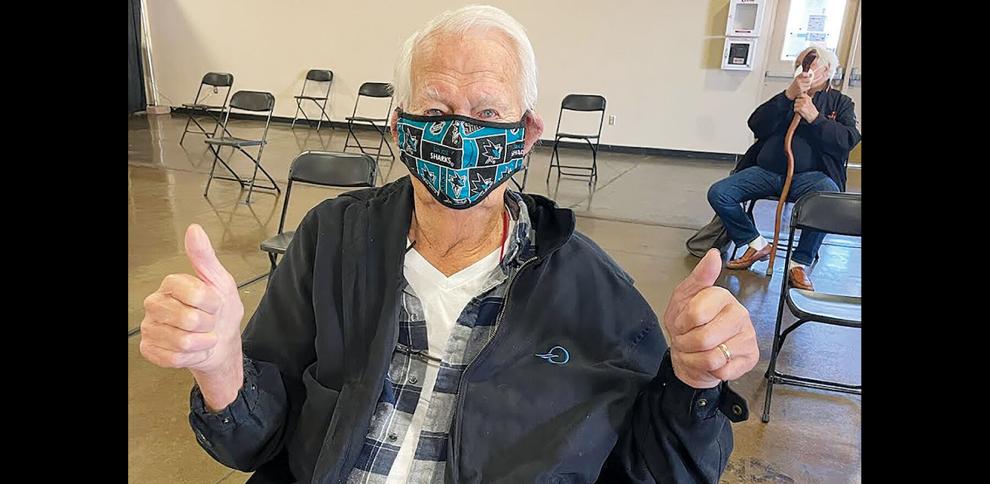 Despite being drafted into the U.S. Army during World War II and losing both his first and second wives to cancer, longtime Los Altos resident Don Ostrus, who turned 100 years old in April, may be the most optimistic man you'll ever meet.
The youngest of five children, Ostrus was born on a small farm in Iowa in 1921. Every morning, Ostrus said, he would do his chores, help his mother – confined to a wheelchair after contracting polio – and walk down the road to school. In his spare moments, he'd carve little cars out of wood and help tame horses for extra money.
"His life was very humbling," said his daughter, Mary Ostrus Cummings. "He's always happy. He's the most positive person you've ever met in your life. His cup is more than half-full – it's overflowing."
He kept that attitude with him when, after enrolling in the University of Iowa, he was drafted into WWII before he could complete his degree. From 1942 to 1945, he worked in the medical and pharmaceutical part of an aircraft carrier – the USS Boxer – in the Pacific Ocean.
After returning home from the war, Ostrus said he wanted to go into a "healing" profession like medicine. Ultimately deciding on dentistry, he enrolled in the University of Iowa's dental school. But he would only practice in Iowa for a year – the lure of California beckoned, magnified by the encouragement of his friends who had moved west already.
After setting up a general dentistry practice in Palo Alto, Don and his wife, Velma, missed Iowa. That's why, he said, they moved to Los Altos a year later, in 1952 – because it had a lot of orchards back then. While Los Altos has gone from dirt roads to a bustling small city, Ostrus said it still reminds him
of Iowa.
It was in Los Altos that Ostrus and his wife adopted two daughters, Jane and Mary.
Ostrus has known loss. Velma died after 47 years of marriage, his second wife died as well and his daughter Jane died in 2010. He was married for 12 years to his third wife, Betty, with whom he had reconnected after knowing her for 50 years. She died earlier this month.
Volunteer service
The losses haven't stopped Ostrus from living fully, though.
One of the ways he does that is through volunteering. His involvement in volunteer work was a big part of her childhood, Cummings said, recalling a program that matches volunteers and prisoners to become friends. When she was young, Cummings recalled that she and her father once visited San Quentin State Prison to meet some of the prisoners. Even today, Ostrus still sponsors a prisoner.
He never gave up his love for woodworking, either, even though he no longer does it.
"I grew up with the smell of sawdust; whenever I smell sawdust, it makes me think of my childhood," Cummings said. "He had a beautiful shop with all the tools and everything, and he used to mostly make furniture, but after he retired, he started getting into more intricate boxes and vases."
Ostrus had to stop woodworking and now uses a wheelchair. But even with the COVID-19 pandemic, he's been just fine, according to Cummings, who attributes his long life to moderation and a positive attitude.
"I'm super proud and happy, and feel extremely blessed that I've had him in my life for so long," Cummings said. "I lost my mother when I was fairly young and my sister's gone, so it's just Dad and I. He's a wonderful person and I feel like I'm the luckiest girl in the world."