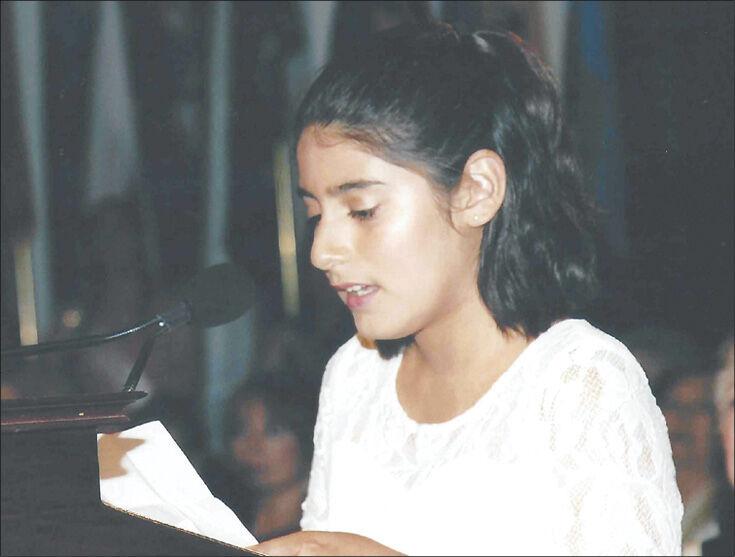 After reading her award-winning essay in front of 3,000 people early this summer in Washington, D.C., Ishana Wokhlu said she has "grown more confident."
"I am still in shock. I feel very honored to have received such a prestigious award from this wonderful organization," Ishana said. "I was a little nervous to read my essay in front of such a large group of people, but everyone there was so kind and supportive."
The rising sixth-grader at Challenger School in Sunnyvale wrote about the 19th Amendment, evaluating the different perspectives of women's suffrage from the point of view of someone in 1919.
"I enjoy understanding the consequences of the choices different societies made, especially those related to natural rights and freedom," Ishana said. "It's important to know how people behaved in the past, because their decisions affect our lives today. We can learn from their actions to make better choices in the future."
Ishana wrote the piece for class and then submitted it to the American History Essay Contest organized by the National Society Daughters of the American Revolution, which supports education, preserves local landmarks and historical structures, promotes citizenship and patriotism, and supports veterans' activities. The Los Altos Chapter of NSDAR sponsored her.
After winning the local, state and division levels, Ishana won the national level against eight other divisional winners from throughout the United States. She received a cash prize, a certificate and a gold pin June 27 in Washington, D.C.
"We are delighted for Ishana and feel our nation is in good hands with this smart and lovely young woman," said Donna Santistevan, regent of the NSDAR's Los Altos chapter.
For more information on the organization and the contest, visit losaltos.californiadar.org.