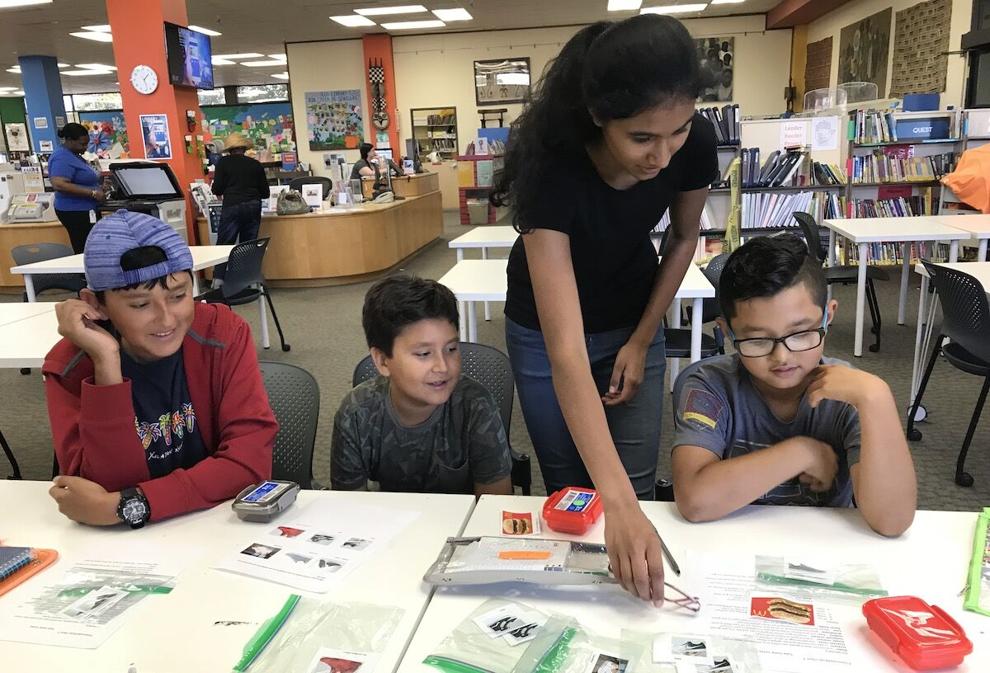 In school, students learn about a wide variety of topics, from the quadratic formula to the American Revolution. However, personal finance and financial literacy is one subject that is rarely covered. Local high-schooler Anisha Reddy is working to change that.
Reddy, a Los Altos resident, developed her own interactive personal finance curriculum for third- through sixth-graders called Financials4Kids and has taught it to underserved students in the area. Her goal was to create lessons that would capture kids' attention and get them interested in the subject.
"I wanted a hands-on approach where it wasn't just listening and then forgetting," Reddy said. "It was something that would stay with them."
As a student herself, Reddy knew from the start that a series of lectures alone would never work. Instead, she created six hourlong lessons that each involve games and other activities. Reddy, now a senior at Stanford Online High School, developed the curriculum during her sophomore year and over the following summer taught a group of children at the East Palo Alto Library.
Now, she oversees a group of high school students who teach the classes at locations throughout the area and beyond. Reddy is also in the process of rolling out an app that enables kids to take quizzes to test their knowledge.
Although her organization is now established, in many ways getting started was the hardest part. Reddy sent more than 70 emails to educators and librarians throughout the region, trying to find a group willing to have her come in and teach.
Eventually, she set up an appointment with Kelly Reinaker, the youth services librarian at the East Palo Alto Library. Reinaker agreed to let her run the series of lessons at the library.
"From the start, she had a plan and knew what she was presenting and was really intentional about wanting to work with kids in our community here in East Palo Alto," Reinaker said.
At first, Reddy said she wasn't sure how big of an impact she would be able to make, but she ended up exceeding her own expectations. Students would come up to her after the lessons and tell her that they planned to implement what they had learned and start saving money.
"Being a young person herself I think really helped … in allowing kids to relate to her," Reinaker said. "She just had really good energy."
Reddy's lessons covered a variety of topics including identifying the difference between needs and wants, delayed gratification and how compound interest works. She created a system where the students earned points for doing well in class and could spend the points to buy various trinkets. However, if they chose to save their money, they would receive extra points at the start of the next class.
"That was so they could practice the benefits of saving money and see that, 'Oh wow, it's a good idea to save, because I can buy something better,'" Reddy said.
Summer program
Beyond her Financials4Kids program, Reddy is interested in other ways of giving back to the community around her. This summer she took part in the Bank of America Student Leaders program, a paid summer internship program the bank sponsors.
Reddy spent the summer working at LifeMoves, a nonprofit serving homeless individuals and families in the Bay Area. As part of the internship, she conducted outreach and met some of the homeless clients LifeMoves serves. The experience humanized the region's homeless crisis for her and made the problem immediate.
"It wasn't something distant anymore," she said.
Seeing that people were living without access to running water, food and a safe place to live made Reddy realize it wasn't a problem she could ignore.
"How can I be here as a human being and just let that happen?" she said.
After she graduates from high school, Reddy said she wants to pursue a career that will make a positive impact on the broader world. She is in the process of completing college applications and is interested in programs at the intersection of business and computer science. However, it is important to her not to make a profit at the expense of others. Instead, she wants to use technology to create positive change.
Said Reddy, "The one thing I know for sure is I want to do something that has a meaningful impact on my community."
For more information on Reddy's program, visit financials4kids.org. To download the app, search "Financials4Kids" in the Apple App Store.