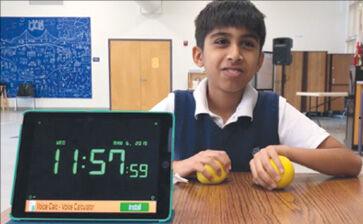 A Loyola School third-grader may be in the next edition of "Guinness World Records" for a feat he accomplished last month.
Ajay Sawant, 8, became the youngest and fastest person in the world to recite all of the elements of the periodic table in sequence of atomic number, according to his parents. Ajay did so in 1 minute, 7 seconds, shattering the record of 2:18 set by Abdul Basit Siddiqi Ashiq Muhammad Sept. 7.
To ensure Ajay's record was official, two Loyola PE teachers served as timekeepers and two other adults were witnesses at the event, held March 6 in his school's multipurpose room.
When asked about setting the record, Ajay simply said he was "excited." The Los Altos resident added that he developed a passion for chemistry at age 5.
"I love science and always enjoyed doing experiments," he said.
Ajay's interest prompted him to ask his parents to buy him books on elements and molecules. He also learned by using a game called Happy Atoms, which encourages users to build molecules and use the iPad to recognize them.
His parents are thrilled by his devotion to science.
"We love that Ajay has found his passion and that as a result he is self-motivated to learn about the topic of chemistry," said Anjli Dudani, Ajay's mom. "I am delighted that he loves to learn. … I encourage it especially since we don't always know the answers and this leads us to the path of learning together."
Inspiration
As a Christmas present last December, Ajay's parents arranged for him to meet his science hero, Sir Martyn Poliakoff, a British chemist with more than a million subscribers on his YouTube channel, Periodic Videos.
"(He is) very kind and thoughtful," Ajay said of meeting Poliakoff in England, "and he has really crazy hair like Einstein!"
Ajay added that Poliakoff actually helped him break the record.
"I remember things easily, because I read about each element many times and saw videos made by Sir Martyn Poliakoff," Ajay said.
When Ajay set out to break a world record, he didn't have his sights on reciting the periodic table at first. Soon after receiving his new "Guinness World Records" book last November, Ajay was inspired to make the next edition of it.
"I asked him what skills he had that could be at the world-record level," Dudani said. "He said he knew the periodic table forwards and backwards and asked if there was a record for the youngest person to know the periodic table."
However, instead of finding an age-related record, they found a time-related record, and Ajay accepted the challenge of attempting to be the fastest in the world to recite the periodic table.
Ajay practiced to ensure he was speaking clearly, as some of the element names can be tongue twisters," Dudani said. "We are really inspired by Ajay's focus and hard work to achieve things."
Ajay wants to spread his love of science.
"I hope that my friends can see this record and learn more about chemistry – it is really important and cool," he said.
Ajay's parents expect "Guinness World Records" officials to validate his record within three months.