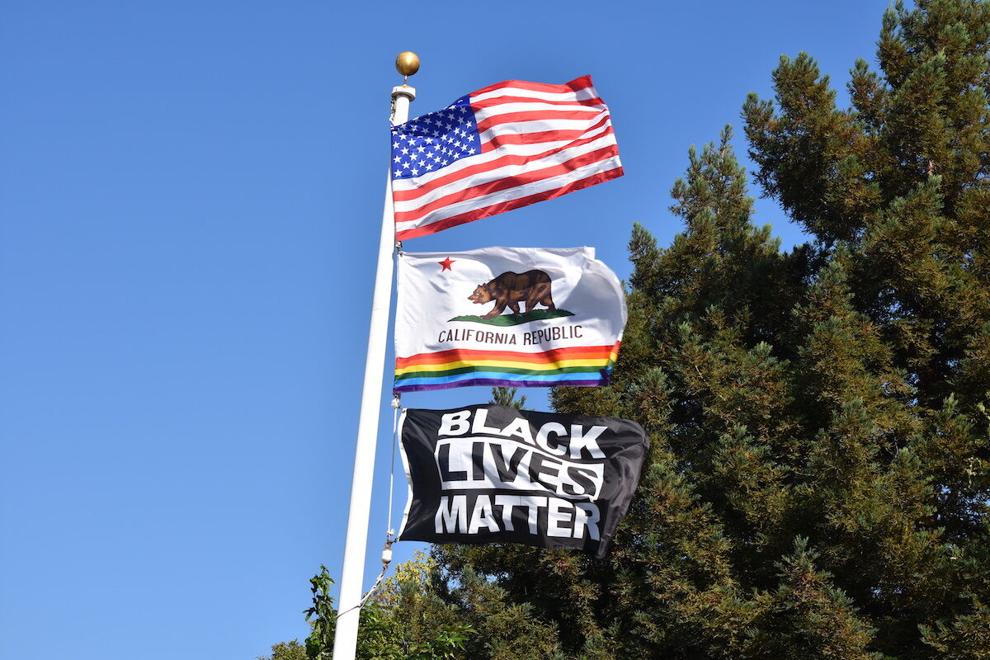 Black Lives Matter and California pride flags now billow from the flag pole at the front of Los Altos High School, symbolizing the school's goal of creating an inclusive community.
As demonstrations against police brutality and systemic racism spread across the nation this summer, school administrators discussed what role they could play in pushing change forward, Assistant Principal Galen Rosenberg said.
By raising a Black Lives Matter flag, as well as the California state flag with rainbow stripes replacing the red stripe along the bottom, Rosenberg said the staff wanted to make a "strong public statement" about their support for the Black Lives Matter movement and the value they place on having a diverse community. English teacher Michael Smith said the flags serve as a physical representation of what the school stands for.
"It's visual, and that evokes a response from anyone who sees it," Smith said.
He teamed up with Rosenberg to record a reading of civil rights leader and U.S. Rep. John Lewis' final essay, which was played over a video of last month's flag-raising ceremony.
In the essay, Lewis, who died of cancer in July, describes the hope and inspiration he found at the end of his life in the recent protests, especially those led by young people, against racism and injustice.
"We thought reading it together would be meaningful because he and I have known each other a long time and been a part of Los Altos High School a long time," Rosenberg said. "Obviously, a Black man and a white man, it would mean something as a part of sharing this with our colleagues."
The two met when Smith was a sophomore in high school and a student in Rosenberg's world literature class. Smith later came back to teach at the school.
Their long personal history adds to the powerful message of unity and bridging the gaps that exist in our nation, Smith said. However, coming together doesn't necessarily mean always agreeing, he added. As a student in Rosenberg's class, the two would get in arguments and have tough conversations.
In the introduction to the video reading Lewis' statement, Rosenberg said he remembered the stories Smith told in high school about being pulled over and harassed by local police.
"I know that many of the challenges he and his family experienced are a direct result of the racist history and reality of our schools, community, state and country," Rosenberg said in the video. "That's why it's so important that we clearly state at this time in our history that Black lives matter and why Los Altos High raised that flag."
The flags are an "immediate, visual sign of support," Smith said. Ultimately, he said the important thing is that all students on campus feel supported, regardless of background.
"We have to do a better job of showing that we support every single person who walks on that campus," Smith said. "Not just 99%, even – every single kid."
To watch the flags being raised, and to hear Rosenberg and Smith read Lewis' final essay, visit lahstalon.org/lahs-supports-black-lives-matter-and-lgbtq-community-with-new-flags.
To read Lewis' essay, visit nytimes.com/2020/07/30/opinion/john-lewis-civil-rights-america.html.