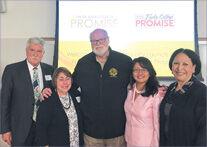 Supporters of the Foothill-De Anza Community College District's College Promise programs gathered at Foothill's Sunnyvale Center last week to celebrate the launch of the initiatives, which offer financial assistance and support services that encourage students to attend and complete college.
While the two colleges offer slightly different programs, both are geared toward helping bridge the gap between high school and college.
Foothill offers its Early College Promise program in partnership with the Advancement Via Individual Determination programs in the Mountain View Los Altos Union High School District and at Palo Alto High School.
Early College Promise enables students to enroll in college courses for high school credit, with all expenses – fees, textbooks, even transportation – covered free of charge.
"Promise programs give students hope. They give students hope that college is really possible," Foothill President Thuy Thi Nguyen said. "In order for our students to really succeed in college, we have to be with them before they go to college, in high school."
Return on investment
Martha J. Kanter, Ed.D., Under Secretary of Education during the Obama administration and former chancellor of the Foothill-De Anza Community College District, delivered the keynote address at the College Promise kickoff.
Kanter now works to promote College Promise programs across the country. The program launch was a brief homecoming before she headed off to Oklahoma to meet with rural community college presidents and trustees.
"We've got to get people more educated," she said. "We've not only got to get them in, we've got to get them through. We cannot afford high school dropouts, we cannot afford students in the third grade losing hope."
For those wondering if the freebies are worth it, Kanter is armed with arguments that focus on the bottom line.
"I study return on investment, because that's the language today that people get," she said. "More than half of federal and state inmates in prison did not complete high school. I know when I was here at Foothill-De Anza, it was $60,000 a year to house a student in Youth Authority, and it was over $100,000 for an adult prisoner. This is cockamamie."
Kanter touted other benefits of funding College Promise programs, including the higher taxes college graduates pay on their higher earnings, the fact that studies show that college grads are happier and healthier – and therefore less likely to need government-funded services – and the social benefits engendered by an educated populace.
"There's a social cohesion that too many parts
of the country are not enjoying – a social cohesion where people, from an equity standpoint, embrace their neighbors," she said.
De Anza College President Brian Murphy also spoke at the event, thanking Kanter for her role in "the revival of the older social democratic vision" of California's Master Plan for Higher Education with her work promoting College Promise programs.
For more information on Foothill College's Early College Promise program, visit foothill.edu/earlycollegepromise.