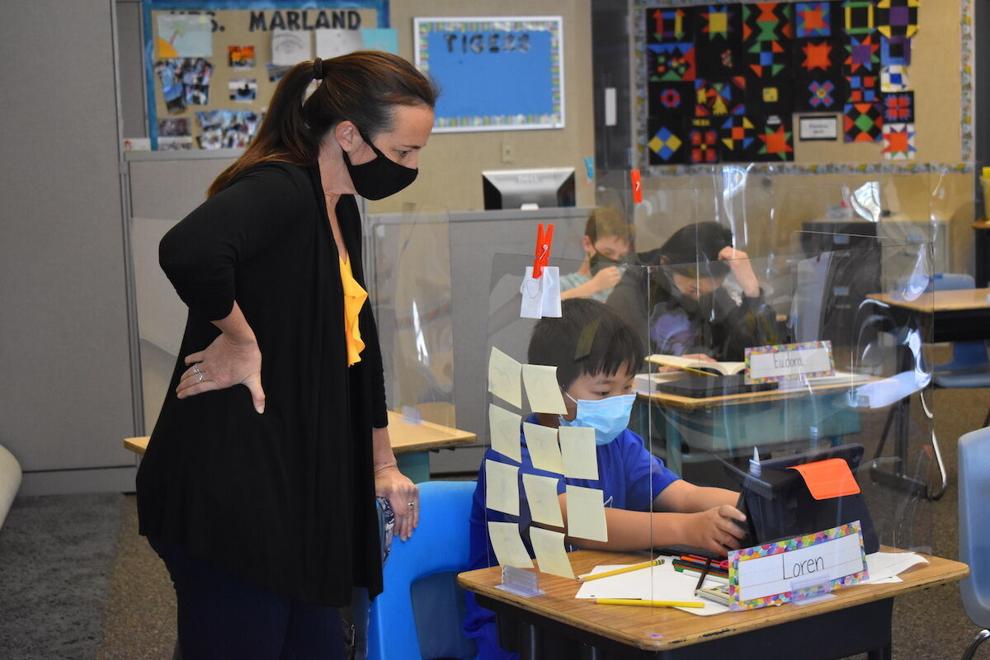 Students were back on campus at Montclaire Elementary School in Los Altos last week, working at their desks, getting help from teachers and playing outside with friends.
The Cupertino Union School District is reopening campuses for the first time in over a year. The district's attendance area spans six cities and includes parts of south Los Altos.
Until now, students have been taking classes from home, with the exception of small groups that have returned for in-person support.
Students across all grade levels, from transitional kindergarten through eighth grade, now have the option to return for part-time in-person classes two days a week. The remaining three days, students continue to learn remotely. Beginning April 26, the reopening will expand for elementary schoolers, so they get four days of in-person learning, with middle schools making the switch May 3.
During their in-person days, transitional kindergarten and kindergarten students are on campus for three hours per day, first- through fifth-graders get five hours a day, and sixth- through eighth-graders get four hours a day. During the first week, some schools were open for fewer in-person hours as they transitioned back.
Superintendent Stacy Yao said in an interview that there was a "feeling of excitement" among staff as the district prepared ahead of the reopening.
"Spring is in the air and it's just that restart for everything," Yao said. "It's a big step, and a step that we've been building and planning for, and it's finally here."
Families have the option either to take part in the reopening or stick with distance learning for the remainder of the year. Districtwide, roughly half of students opted to come back, while the rest are sticking with learning at home.
However, those numbers varied widely among school sites. Montclaire had the greatest percent of students decide to return in person, with more than 80% taking part in the reopening, district officials said.
Yao attributed those high numbers in part to the fact that schools near Montclaire are already open. The Los Altos School District began reopening elementary schools in October.
"It is hard when you're a parent and you're living in Los Altos and one school is not open and a school several miles up the street, but in the same community, is open," Yao said. "We understand that."
Some parents have objected to the district's reopening plan, calling on CUSD to reopen sooner and more broadly. A recall campaign is underway to try to unseat district board member Lori Cunningham, who served as board president last year.
At a town hall meeting administrators held, one parent who spoke said he appreciates teachers and understands the need for a hybrid schedule this year but questioned why the district couldn't move to four days a week of in-person classes directly after spring break, which is this week, but rather waiting an extra week at the elementary school level.
"For kids, it's not just one week, one extra week," the parent said. "Kids are struggling, it's so hard on everyone, and a week earlier could mean the world for them."
Yao said in an interview that she understands some parents want the district to reopen more quickly, but that the transition period will allow teachers and students to adjust to hybrid learning.
"Certainly, it's probably not as fast as some parents would have liked," Yao said. "But we really do feel it's in the best interests of the students, so that we are able to grow and expand and stay remaining open."