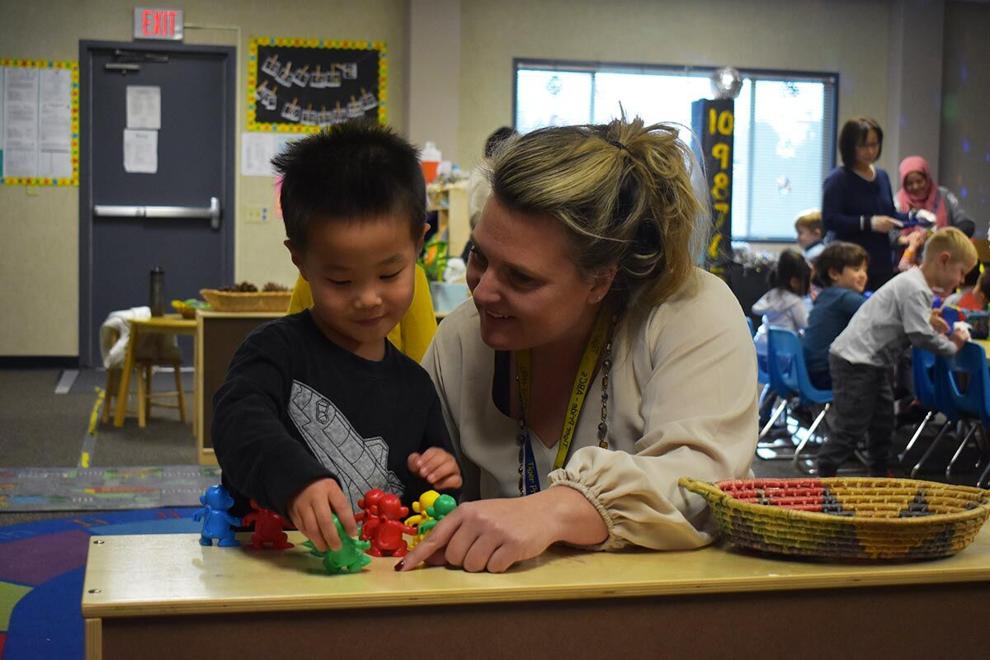 The Cupertino Union School District's preschool program expanded to Montclaire Elementary School in south Los Altos this school year and is set to grow to two more schools in the fall.
The CuperDoodle preschool program started in 2018 at John Muir Elementary School in San Jose and spread last fall to Montclaire. Next, it is slated to spread to Blue Hills Elementary School in Saratoga and Eisenhower Elementary School in Santa Clara. The Blue Hills program will have a STEAM focus.
There is also the potential Montclaire's program will expand to another classroom. According to Leslie Mains, the district's chief information and community engagement officer, this school year Montclaire filled up quicker than either of the two classrooms at Muir, one of which is a Mandarin bilingual class.
"We have the ability at (the Montclaire) program, if demand exceeds one classroom, to be able to open and expand into a second classroom," Mains said. "And so we're just, right now, watching the numbers."
The district started CuperDoodle to respond to community demand, to raise revenue and to attempt to shore up enrollment.
"Primarily we were hearing from the community that there was a need for preschool education in the area," Mains said.
She added that the program is also intended to attract families to the district, who might otherwise choose private schools, in the hope they will keep their child in the Cupertino district.
Montclaire is among the district's smaller schools. In 2019, Montclaire had 445 students. That's down from 522 in 2010. The district overall has been grappling with declining enrollment and tight budgets. The preschool program aims to be one way to try and reverse the trend. Although it's still early, Mains said the data thus far is positive.
"They're staying in our program, and they're staying in our district, and they're not leaving to go elsewhere unless they've moved out of the area," she said.
The preschool program accepts students who don't live within the Cupertino district's boundaries. Of the 23 children currently at Montclaire, nine reside outside the district.
Once those kids are ready to enter elementary school, if their home district signs off, they can apply to the Cupertino district.
"We do our best to keep them at the preschool site where they attended," Mains said. "Priority has to go to neighborhood kids; priority has to go to district kids first. But we've been pretty successful about being able to accommodate."
The intent is for the preschool programs to earn money for the district. Once startup costs are recouped, Mains said each preschool has the potential to bring in $100,000 per year. The startup costs vary by site. At Montclaire, a new playground was built, which is used by both the preschool and transitional kindergarten classes.
Program structure
CuperDoodle is "play-based," offers full- and half-day options, and is open to children ages 3-5.
"Our program is a play-based preschool program," said Michelle Herriage, CuperDoodle's director. "It's designed to prepare children for transitional kindergarten and kindergarten in a hands-on way."
According to Herriage, the focus is on academics and other aspects of the child, such as physical development and social-emotional learning. Teachers structure the activities around themes, which typically last three to six weeks. Activities encompassing science, math, art and literacy all will be included under a given theme.
On a recent Tuesday morning at Montclaire, the theme was the new year and the kids were taking part in a New Year's dance party, complete with festive decorations.
Preschool teacher Lisa Golomeic said her goal is for the children to play and have a good time, while also learning.
"I always tell them this isn't my classroom – this is our classroom," Golomeic said. "It's like we're a family."
Tuition this year is $1,600 per month for the full-day program and $900 for the half-day program, plus a processing fee.
For more information on CuperDoodle, including registration information, visit cusdk8.org/domain/3697.