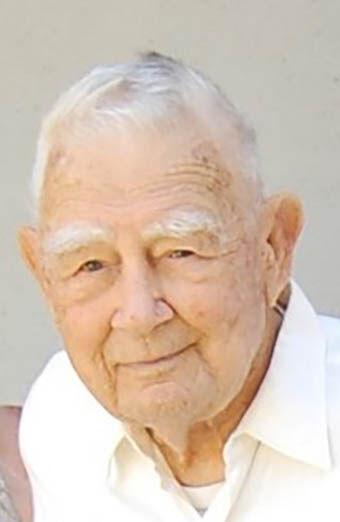 Rudolph Bahr Jr. was born on June 19, 1923 in Brooklyn and passed peacefully on May 11, 2021 in the house he had owned in Mountain View since 1957. He graduated from Brooklyn Tech High School in 1941 and from Stevens Institute of Technology in 1945. He was commissioned into the Navy in the summer of 1945 and spent a year on active duty in Guam. He joined Sylvania as an electrical engineer on Long Island in 1946 and then went to Bell Labs in 1952. He married Jane Watkins in 1953 and their daughter Jean was born a year later. Rudy returned to Sylvania in 1955 when he was offered the chance to move to the Bay Area and he remained an employee of that company (later GTE) until his retirement in 1993. He was based in Mountain View but enjoyed international projects with extended stays in Italy, England, Japan, the Marshall Islands, the Philippines, Germany, Israel, and Cyprus.
Rudy took up amateur radio in high school and remained an active member of the "ham" community through the final months of his life. He had a garage full of equipment, most of which he built himself. He enjoyed providing communications for foot races and served as an Assistant Emergency Coordinator in Mountain View ARES/RACES for over 20 years.
Rudy often said that the keys to living a long life were to keep active and make younger friends. He did both. He began commuting to work by bike in the mid-1960s and continued biking into his early 90s. In retirement he hiked twice a week with friends in Bay Area parks. After his wife Jane passed in 2009, he became a regular member of the Monday and Thursday "coffee society" of GTE retirees. He also arrived early each Sunday before mass to make coffee for the Thomas Merton Center in Palo Alto. In his final decade he enjoyed visits with his daughter Jean in Madison, Wisconsin and joining her each summer at the Santa Fe Opera.
Rudy is survived by his daughter Jean Bahr and son-in-law Tom Brocher, who were fortunate to be able to stay with him through this past year as his health declined due to cancer. A gathering to celebrate his life will be scheduled later this year. Gifts in his memory can be directed to the Peninsula Open Space Trust or to KQED.