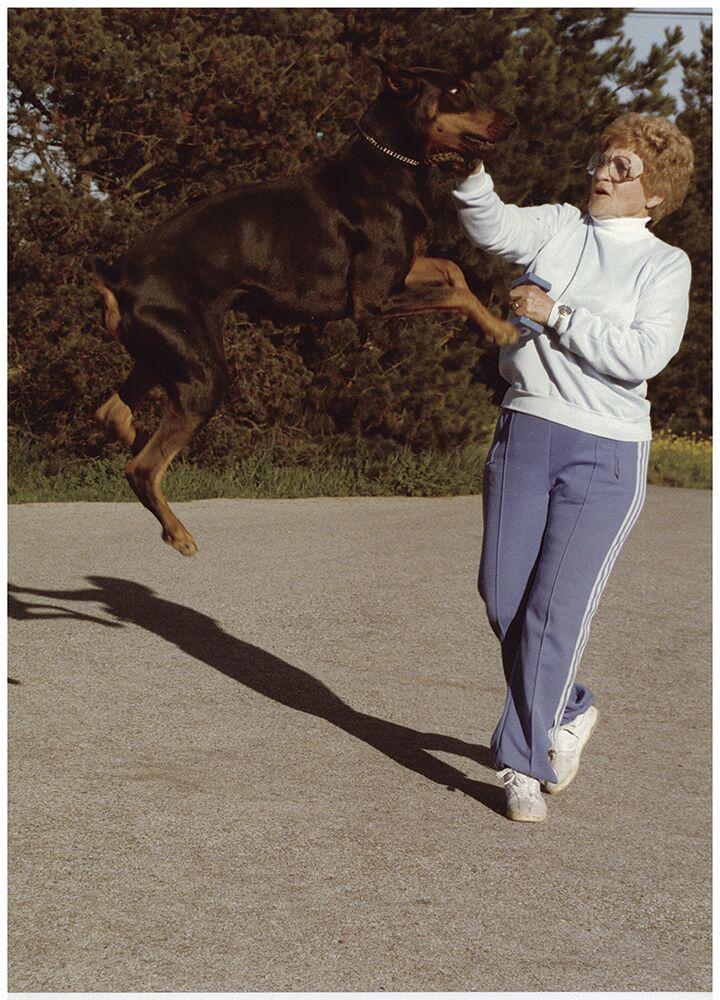 Rosalie G. Alvarez, locally renowned professional dog trainer, passed away peacefully surrounded in love by her family, at BridgePoint Retirement Center Los Altos, CA. Rosalie had been a resident of Los Altos Hills for 52 years before residing at BridgePoint. 
Her love of dogs and passion for the Doberman Pinscher breed sustained her throughout her life. Her strong spirit and dedication to her students so that all dogs and their owners were "good community citizens", was legendary. Born in Ukiah CA to John and Eva (Macdonald) Allenby. She was the youngest of three children. She had an older brother Jack (deceased) and Robert of Fresno CA. Rosalie was raised on the family farm where her love for all animals was nurtured - except geese! 
Rosalie and her mother moved to the bay area in 1945. In 1956 she was employed by the Black Forest Inn in downtown Los Altos. It was there she met Los Altos fireman Fred Simpson and in 1958 they were married and lived in Saratoga. The Los Altos Fire Department required officers to live in the district, so in 1964 the family of 5 moved to Los Altos Hills so Fred could pursue advancement. 
Rosalie's first Doberman, Fee, was given to her when a friend said to her "she likes you better than me she's yours". From that day the two of them formed a close bond. Together Rosalie and Fee started obedience training with Charlie Wunderling of Deep Peninsula Dog Training Club and began entering AKC obedience shows and started winning. 
Rosalie's reputation grew and soon people wanted to train with her. She recognized she could start a business training at the family home and that's what she did. Over the ensuing years in addition to training students with their dogs and raising her family Rosalie took 10 of her own Dobermans to Utility and Tracking (UDT) degrees. She also trained the first Doberman (Hosson) in the United States to obtain a Shutzhund III degree. She had numerous High in Trials, including two at the Doberman National. 
In addition to obedience, she had trained dogs for tracking, flyball, agility, protection and scent work. The Santa Clara Sheriff's Department recognized her with a citation for developing and training their canine unit in 1995.
Because Dobermans were her favorite breed Rosalie and Fred established the Doberman Drill Team of Los Altos Hills, CA to promote the amazing characteristics of those dogs. From 1964 to 1995 Rosalie held the drill team together starting with 8 Dobermans and handlers to 16 dogs and handlers. The drill team performed in California and 3 times in Canada with astounding demonstrations of obedience and agility. Believe it or not the drill team could "square dance". Twice the drill team performed at half time at Candlestick Park for the 49ers. They marched in the Redwood City 4th of July parade many years, Los Gatos Christmas Parade, Los Altos Festival of Lights Parade, Stanford Children's Hospital and at local schools. The drill team also performed at the Golden Gate Kennel Club all breed show 3 times.
In 1984 Rosalie became an AKC Judge of all obedience and Rally classes. She held memberships in Santa Clara Valley Kennel Club and the Northern California AKC Obedience Association. In addition, she was the training director for both Town and Country Dog Training (Santa Clara Fairgrounds) and Deep Peninsula Dog Training Clubs (Rengstroff Park). 
In 1969 tragedy struck when Rosalie's husband, Los Altos Fire Chief Fred Simpson died unexpectedly. Alone again Rosalie sought comfort and strength of family and friends in the dog community. Her training business grew to 3 classes every Saturday on the front lawn. It was at one of these classes that she met Pat Alvarez of the Mtn. View Fire Department. 
Pat had recently bought a Doberman and heard of Rosalie's skills as a trainer. One evening over dinner they talked about large fires that Pat and Fred had fought. The 1957 Libby Cannery Fire in Sunnyvale was discussed. It was a mutual aid call for all nearby departments. It was at that fire that Fred had told Rosalie years ago that he had saved the life of a fellow fireman from falling into the inferno -not knowing his name. That fireman was Pat Alvarez. 
So, in 1976 Rosalie and Pat were married and their blended families for the next 39 years called Los Altos Hills home. Besides training dogs, Rosalie and Pat loved to dance to live Big Band swing music. After Pat's retirement they trained classes together. In 1987 Pat also became an AKC Judge and together they were a popular judging couple. Some years they judged 40 weekends covering many states across the country.
In 2006 Rosalie received the Lifetime Achievement Award, the highest honor from the American Kennel Club for her dedication, knowledge, and passion to the sport of purebred dogs relating to companion events. Rosalie was especially proud that several of her students started their own training business. When Pat passed away in 2015 Rosalie retired from training students and their dogs at the age of 89.
Mom always said "Never be mean to your dog, but mean what you say".
Rosalie gave back to her community in many ways for so many years. Perhaps you and your dog trained in the front yard in Los Altos Hills with one of the best!
Rosalie is survived by son Thomas Simpson (Lillian), daughter Linda Nicholson (Bill), Granddaughters Cheryl Baker (Joe), Meghan Nicholson, Great-grandsons William Baker and Weston Baker, Step children Kathy Heeren (Karl), Patrick Alvarez (Barbara), June Alvarez, Step grandson Eric Alvarez, Brother Robert Allenby, Nieces Nanci Tsuchida, Laura Allenby, Patty Pimental, Nephew Craig Allenby. Rosalie was predeceased by son Dana Simpson, brothers Jack Allenby and Clifford Allenby.
Remembrances may be made to your favorite charity.