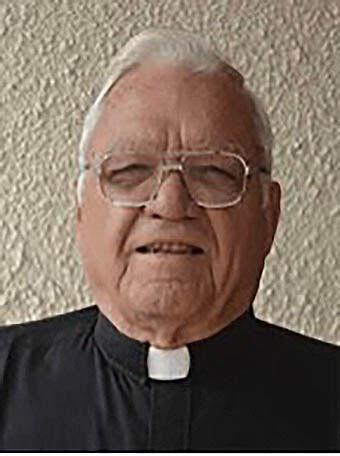 Father James Arnold Conard died April 30, 2021 at the at Maryknoll, New York.  Born November 27, 1929 in Green Bay, Wisconsin, son of Clifford and Estella (Van Den Wymelenberg) Conard, he was 91 years old and a Maryknoll priest for 64 years. Father Jim had one sister, Audrey, and three brothers, Tom, Paul, and John. After grade school at St. John the Evangelist, he attended Central Catholic High School. He entered Maryknoll at Lakewood, New Jersey in September 1947 and was ordained a priest June 9, 1956. 
Father Conard was assigned to Africa at the Musoma Prefecture, beginning his over 60 years of service in Tanzania. His first 17 were at Iramba Parish on the edge of the Serengeti Plains. In Ngoreme, he built the Standard Seven Primary School in 1964.  In 1965 he built a dispensary, chapels and a church at Iramba. He introduced Friesian cattle to the area. From 1973-1976, Father Conard worked at Zanaki.  Next he was pastor of Mugango Parish on the shores of Lake Victoria. 
In June 1978 Father Conard was assigned pastor of Kowak Catholic Church, where he served for nearly forty years. In the 1980's, he was instrumental in enlarging the dispensary to a 50 bed Health Center. Kowak Hospital grew to 175 beds with operating theaters, X-ray, ultrasound, and equipment including a CD4 analyzer for HIV patients. By 2016, the HIV clinic served 2,500 patients including 150 children.
Father Conard started the Kowak Girls Secondary School in the 1990's. Its first graduation was in October 1995; many young women then pursued degrees in medicine, law, business, education, etc. He appreciated the generous support of donors and Maryknoll.
About every three years, Father Jim would take a 3 month sabbatical to the states and visit his siblings and their families. He enjoyed sailing, ice cream, dinners out, and Brewers games. He was an avid Packers fan and enjoyed talking football.
Father Conard remained in Tanzania, returning to Maryknoll, New York in 2017.  In January 2019 he moved to the Maryknoll Residence at Los Altos, California, then returned to New York in 2020.  He wrote a memoir titled "A Life in Africa".  He reflected that "Tanzania wasn't a place that I visited.  It was my home…I'm grateful for the memories…I'm grateful to God."
Father Jim was preceded in death by his parents, his brother Tom, his sister Audrey Iversen and her husband, Roger, and nephew David Conard. He is survived by his brothers Paul (Joan) Conard and John (Sharon) Conard, sister-in-law Bobbie Conard, and nieces, nephews, grand nieces and grand nephews and his good friend Tom Scott of Kansas City. Father Jim is also survived by his many friends in Kowak—they miss him dearly.
A Mass of Christian Burial was celebrated in Queen of Apostles Chapel on May 5, 2021.  Burial followed in the Maryknoll Society Cemetery. Special thanks to Maryknoll and its staff for the wonderful care provided to Father Jim.
Memorials are welcome:
Friends of Kowak
https://www.friendsofkowak.org/
or mail to:
Friends of Kowak
1104 Zodo Ave.
Erie, CO 80516
ASANTE SANA for all you've done, Father Jim Conard.