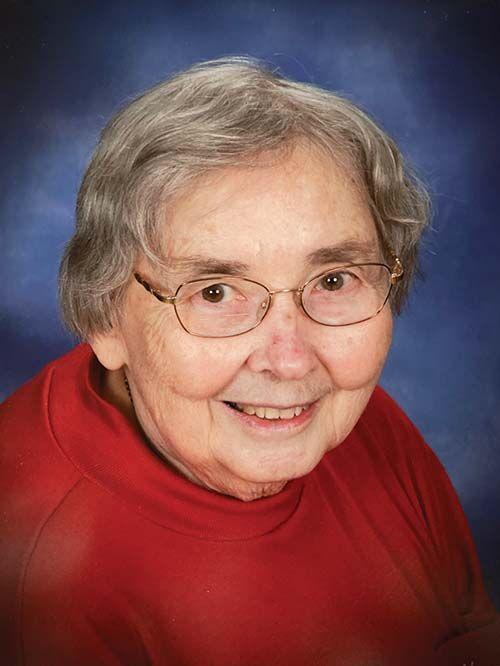 Phyllis Gordon, a resident at The Forum in Cupertino, CA, died on August 16, 2021. She was born November 26, 1929 in Belvidere, IL, the daughter of Robert Nelson and Mary Elsie Reid Nelson. She was raised on a farm in the Scottish community of Argyle, IL. She attended a country school where she was the only student in her grade for eight years. In Rockford she graduated from West High in 1947. She was a Cum Laude graduate of Beloit College, Phi Beta Kappa and Phi Sigma Iota. She later received a M. A. T. degree from Rockford College. She married Peter Gordon in 1953. He died in 1974.
She was a teacher in the Rockford Public School system for 36 years, ending her career with 27 years at Jackson School. She was a long-time member of Alpha Delta Kappa and attended many conferences and conventions. She was a Life Member of the Jane Austin Society and attended several annual meetings. She was a long-time member of Third Presbyterian Church, where she served as Sunday school teacher, Elder, and moderator of Women's Association. She was a Charter Member of Winnebago-Boone Genealogical Society and the Illinois Retired Teachers Association. 
She moved to California in 2005 and enjoyed her years of living at The Forum. She appreciated the friendship of Alpha Lambda Chapter of ADK. She was a member of Sunnyvale Presbyterian Church.
She is pre-deceased by her husband, Peter Gordon, 1974, special niece, Beryl Nelson, and brother, Robert Nelson.
She is survived by her children, Nancy Spinosa (Charles) of New York, NY, Dirk Gordon (Jeanette) of Chandler, AZ, Kit Gordon Alvarez (Tony) of Los Altos Hills, CA, grandchildren, Adam Spinosa of Philadelphia, PA and Isabel Alvarez of Los Altos Hills, CA. Sisters-in-law Mary Nelson of Tyngsboro, MA, Ellen Gordon of Alna, ME, Wiltrud Gordon of Lüneburg, Germany.
Memorial Oct 17, 1:00pm CDT, 11:00am PDT at Third Presbyterian Church, Rockford, IL.
Facebook:  https://www.facebook.com/RockfordThird