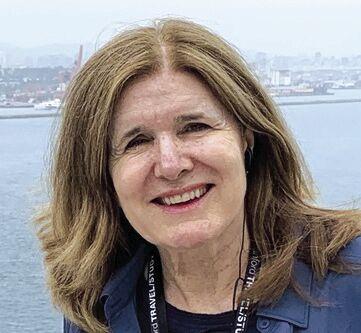 June 4, 1951 – December 2, 2022
Julia (Julie) Cates, of Los Altos Hills, CA, suffered a massive stroke and passed away several days later.  Julia was wife-companion to her husband, mother to her three sons, a second mother to her son's spouses, a beloved sibling to her sister, a devoted grandmother to her grandchildren, and a close friend to many of her associates.  Her community outreach was extensive and she played key roles in many philanthropic organizations - especially those that were involved in the education of "at-risk youth" and early education.  She also was a long-term member of the League of Women Voters.
Julia, a fourth-generation Californian, was born and raised in Pasadena.  She attended Westridge School in 1960 as a fifth grader and graduated in 1969.  She was a star athlete, participating in volleyball, softball, tennis, swimming and diving. But her favorite sport was gymnastics.  Her athletic achievements were only eclipsed by her academic achievements.  She was a star pupil and developed her critical thinking, analytical and communication skills which were so valuable in her business life.  Later in her life, she would be celebrated by Westridge by winning the Ranney Award in 1996 (Distinguished Alumna Recipient). 
When she graduated from Westridge, she attended Stanford University where she was a trailblazer in the engineering department.  At that time, there were very few women in Electrical Engineering, her area of interest.  She stayed at Stanford to get her master's degree and then began working at the Cupertino site of Hewlett Packard where she met her husband, Fred Ware.  They were married for 46 years and raised three sons.
Julie had many interests and pursued all of them with exuberance and passion.  She did considerable research on both of her illustrious grandfathers.  On her mother's side, she is the granddaughter of George Lawrence Stimson, the renowned Pasadena architect known for the Wrigley Mansion, now called Tournament of Roses.  On her father's side, she did considerable research on her grandfather, Judge John Dustin Bicknell, one of the co-founders of the Los Angeles law firm, Gibson, Dunn, & Crutcher. 
Julie was a voracious reader, a devoted patron of the arts and culture, and devoted to all her family and friends.  She was a catalyst in many people's lives, helping them work through their problems. She loved her homes in Los Altos Hills and Lake Sherwood and was often found in the garden, coaxing along new plants and redesigning areas for entertaining.  With her husband Fred, she enjoyed daily walks and occasional boat rides on Lake Sherwood. She recently discovered a passion for pickleball at the end of the day.
Julie was preceded in death by her parents and brothers, Horace B. Cates, Jr. and Hugh Stimson Cates.  She is survived by her husband, Frederick Abbott Ware, and her three sons: Frederick Alexander Ware, Mathew Stimson Ware, and Spencer Thomas Cates. She leaves behind her two beloved grandchildren Reagan Violette Ware and Frederick Edson Ware.  She also will be greatly missed by her sister, Daphne Alison Cates.
The family will have a private gravesite burial at the family plot at Mountain View Cemetery, Altadena.  There will be a Celebration of Life for Julie at a date to be determined.
In lieu of flowers, memorial gifts can be made to the Krause Center for Innovation by making checks payable to FHDA Foundation with Julie Cates in the memo line and mailed to 12345 El Monte Rd., Los Altos Hills, CA 94022. Or give online at: https://krauseinnovationcenter.org/donate/