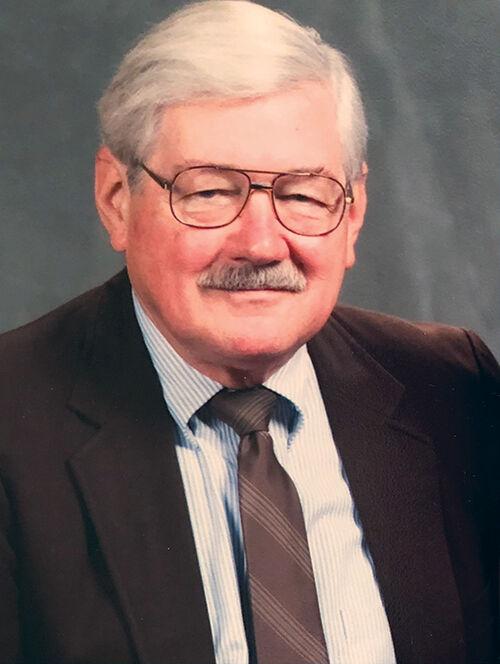 Joseph Thomas Bishop Jr.,  age 84, died peacefully in his sleep at his Los Altos home on the early morning of March 28, 2021. 
Joseph was a modest, mild mannered, gentle man with a quiet sly wit and an impeccable  knowledge of cooking, chemistry and cocktails. He was known for his generous gifts of good food, unsolicited but always appreciated advice, and was the king of the dad joke. He savored the still moments in life, always pausing for a Happy Hour at the end of the day. A shy and reserved presence, but everyone knew him. He was a philosopher, a cook, a gardener, a traveler, a lifetime learner, a political junkie. He gave unconditional love and acceptance to his family and friends. 
Born on July 25, 1936 in New London, Connecticut, to Joseph Thomas Bishop Sr., and Sophie M. Bishop. He grew up in a family of first generation Americans. His grandparents spoke Slovakian and he would recount fondly the Slovakian foods his grandmother effortlessly prepared without notes or recipes to follow, and he with a loving attempt, would try to replicate. His curiosity and connection to his heritage inspired a decades long pursuit of genealogy. 
His father was a ship captain who moved the family from the east coast to Santa Ana, California and then to Portland, Oregon. He graduated from Franklin High School in Portland Oregon in 1954 and went on to study chemistry at Oregon State College, graduating in 1959. After a particularly impressionable New Year's Eve visiting college friends in San Francisco, he spontaneously accepted an invitation to move from Oregon to San Francisco, and sealed his fate to live a happy life in the Bay Area. He met his wife Janice Sandy of Gretna, Nebraska, at a cocktail party in Oakland in 1967, they met over the hors-devours spread. Marrying her, he would say over and over again, was the best decision he ever made in his life. They started a family together in Los Altos in 1972. 
As an armchair sage, one of his philosophies included a daily practice to  "always have a happy hour", Which he practiced by taking a moment each and every day to sit, relax and have a drink,.. or not. To sit and let the day fall away and enjoy the evening light, the fragrant smell in the air, the sounds of birds and life all around him; to enjoy life, and enjoy living. 
He could be stern and stubborn, and had strong political beliefs. He was a staunch republican, and was quiet and fair about his political leanings. He would "never talk politics". He respected a difference in opinion and didn't see it as a challenge to him or his beliefs. He volunteered at the ballot site during elections, rang the bell for the Salvation Army at Christmas and cooked BBQ for the Fisher House and the VA Polytrauma Unit every year. He took pride in activities in which he could volunteer his time, especially when it involved his cooking.
One of the best, (and worst) dad jokes of all time, was one that was told often, and over and over and over again. "What is the difference between a good haircut and a bad haircut?,.. about two weeks". He would tell this joke over and over again. But that it resonated with him really provides insight to Joe, - the ultimate optimist. He understood that a bad situation will ultimately pass with time. 
He understood the subtlety of entertaining and enjoyed hosting dinner parties, loved preparing a great meal, shopping for groceries and pouring through recipes. He was always researching a new approach to a recipe or reflecting on how to make standard recipes better. He loved to garden and home improvement projects. His happy hours would be spent on the back patio surrounding by the flowers and scents of his garden. 
He loved long car rides and scenic drives. Trips to National Parks, BBQ in the backyard and at church. Proper martinis with gin and just a splash of vermouth, good cheese and crackers,  jazz and Friday night blues. He was faithful, religious and relished his church community. Some of his best friendships were born out of coffee hour, dinner group, agape group, poker night, men's group, and his monthly luncheons at Esther's German Bakery in Los Altos. He loved to plan, shop for groceries, cook, and offer up his recipes to the various church functions including Seder dinner, summer BBQs, Oktoberfest. 
Travel, self betterment, and a lifetime learner. He thrived on new experiences and was the creator of his life. He was a Boy Scout, a member of the Order of the Arrow. He was a brew master for the Kappa Sigma Fraternity chapter of Oregon State College, an army bartender in the military's officer's club, - while serving his four years of service in the Army. He was on the ski patrol at Heavenly, was a member of the yacht club of SF, -sailing a his Coronado across the bay to Sausalito to see jazz performances.  He traveled all over the world for work as a mining engineer for Davey McKey and on his many travels with his adventurous wife Jan.
He came into this life with an understanding of how privileged he was to be alive, lived a life well loved, and fully took advantage of the time he had on Earth. He leaves behind a sister, Susan Hartwell of Portland, Oregon, a son, Michael Joseph Bishop of Poulsbo, Washington, two daughters, Jennifer and Jill Bishop of Los Altos, and four grandchildren: Catherine Lorelle, Nathan Joseph, Andrew Thomas and Sophie Rose. A service is scheduled for Saturday August 14th at 4 pm at Christ Episcopal Church in Los Altos 1040 Border Rd.,  Los Altos, CA 94024.