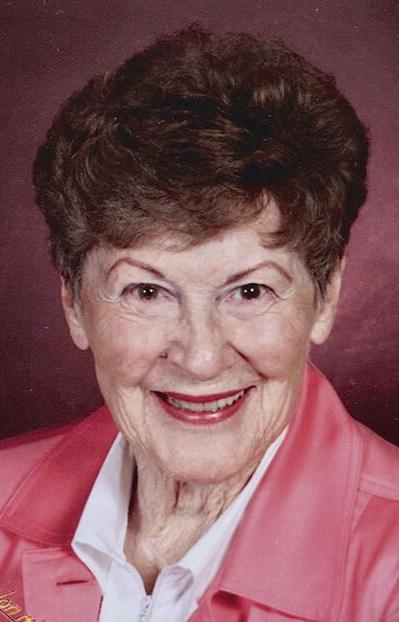 After a brief illness, Janet Dobson passed away on July 5, 2021. She was 97. Janet, and her late husband John, both grew up in San Diego CA, and eventually settled in Los Altos. She enjoyed living here for the past 66 years. As the wife of an airline pilot, Janet was happy as a homemaker, taking care of her house and children. She kept busy as a troop leader in Blue Birds, PTA, cheering on her boys at ball games, and taking them to lessons. She often went on camping trips and visited family and friends up and down the state. Every year she celebrated the 4th of July with her 'Garthwick Gang' neighbors with a grand potluck, games, fireworks, and celebration for our nation's birthday.
Janet was an active member of Los Altos United Methodist Church from its earliest days. She sang in the Chancel Choir for most of those years and participated in Choir tours to Europe, Canada and across the United States. She was a founding member of the LAMP (Los Altos Methodist Players) drama team. In her later years, she renewed an interest in acting by enrolling in classes at Foothill College. Soon she was acting in many musicals and plays throughout the area. She even received some leading roles, including 'Dolly' in The Matchmaker, and 'Mama' in I Remember Mama. After her husband John passed away, and well into her 90's, she decided to take up another interest of hers, writing. She enrolled in a local memoir class and began writing stories of her and John's life. This ultimately resulted in her publishing a full-length book, 'Focus on Your Star' in 2017. One of her favorite pastimes and 'therapies', as she described it, was gardening. She created an especially beautiful Rose garden at her home in Los Altos, and particularly loved the springtime when fifteen full grown Cherry trees bloomed in her yard. The fragrance, beauty, and humming of bees in her garden cheered her soul.
Janet was preceded in death by her parents Joseph and Hazel, her husband John, brothers Anthony and Bill, daughter Jean, and son Joe. She is survived by her son Carl and his wife, Annette; five grandchildren, James, Victoria, John, Andrew, and Carly Jo; and three great grandchildren. The family requests donations be made to the Sempervirens Fund.
Janet's memorial will be held at Los Altos United Methodist Church on Thursday, August 26, at 11am, in the Creekside Center.