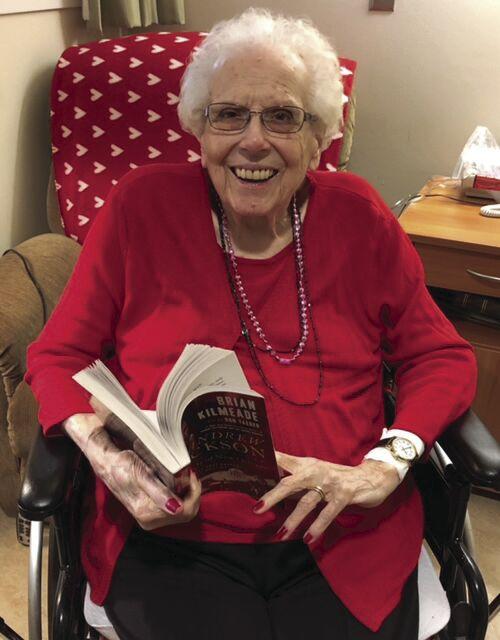 August 27, 1923 – April 19, 2022
Elmere Ehret Oldenburg age 98 died on April 19, 2022 in Mountain View, CA. Elmere was born August 27, 1923 and raised in New Orleans, Louisiana, the eldest of  two daughters born to the late Elmer John Ehrett and Ruth Pearl Rankin. 
Elmere is survived by two of her children, Carol A. Oldenburg (John Nelson) of Rochester, NY, and Richard J. Oldenburg (Theresa) of Goodyear, AZ. Elmere has five grandchildren and four great grandchildren. In addition to her parents, Elmere is predeceased by her husband, Carl J Oldenburg, her daughter, Mary Ruth Oldenburg, and her sister, Elaine Gros. 
Elmere attended Ursuline Academy High School as well as Ursuline College in New Orleans, where she earned a Bachelors in History. Before her marriage in 1947, Elmere worked for the US Army as a librarian, for the US Navy as an accounting clerk, and for a local physician as a medical office assistant. 
Over the course of their 62 years together Elmere and Carl followed the course of Carl's career with Standard Oil of California, moving a dozen times while raising a family. Carl traveled the world for business and Elmere kept the home fires burning with homemaking, parenting and volunteer work. 
Elmere and Carl moved to Mountain View in 1966. For the forty years before Elmere moved into Villa Siena Senior Living as a resident, she was an active member of the Villa Siena Auxilliary and a devoted volunteer for many years of fellowship and community. 
Following Carl's death in 2010, Elmere was very clear about her decision to move into her "second home" at the Villa. Elmere's family is forever grateful to the staff at Villa Siena for all their loving care and joy that they gave to both Elmere and her family. Nothing else can equal that peace of mind and heart.
Funeral Mass celebrated at Villa Siena prior to private burial at Gate of Heaven Cemetery, Los Altos. In lieu of flowers, please consider a donation in Elmere's memory to the Villa Siena Foundation 1855 Miramonte Avenue, Mountain View, California 94040 (villa-siena.org)