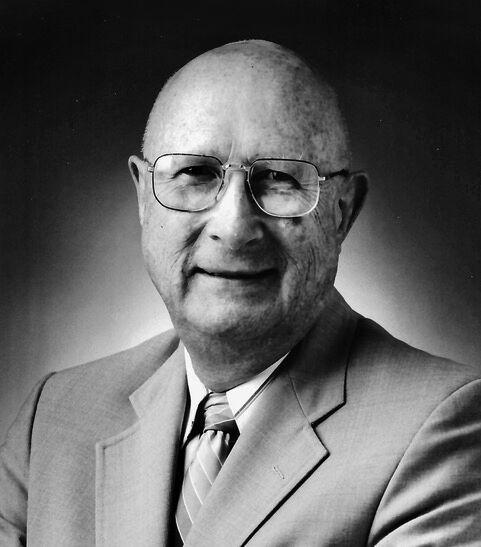 October 9, 1929 - September 16, 2021
Resident of Los Altos CA since 1961
Donn deeply loved God, his wife Lorna, his children Diane and Dave, and extended family. He served as an elder at Trinity Lutheran Church, Palo Alto, for many years. He enjoyed downhill skiing in the Sierra and Rocky Mountains, water skiing in San Diego, sailing, running, and hiking. After his retirement, Donn traveled extensively with his beloved wife, researched family history and, as often as possible, performed a comedy monologue of his favorite stories and jokes.
Donn received a Master of Arts degree in mathematics from the University of California Berkeley in 1954. In his professional career, Donn was among the first to recognize, research, and document computer crime. He was a consultant, writer, lecturer, and researcher on computer crime and information security as a senior consultant for 35 years at SRI International and afterwards in his retirement.  
Donn served many years as member, officer, and Fellow of the Association for Computing Machinery (ACM), Distinguished Fellow of the Information Systems Security Association (ISSA), and trustee of the Charles Babbage Foundation for the History of Information Technology, working to achieve the safe and crime-free use of information technology. He enjoyed his reputation as a contrarian in his concepts of information security.
Donn wrote seven books during his sixty year career in information technology. His first two books on computer crime and security were published in 1976 and 1983, were New York Times best sellers, and formed the definitive literature on computer crime. Donn testified before several U.S. Congressional committees and assisted in developing the first computer crime statutes for the U.S. federal government, several U.S. states, and the United Kingdom. He trained the first computer crime detectives for New Scotland Yard, Finland, Norway, and Japan. As an information security consultant, he performed security reviews for more than 250 of the largest businesses worldwide, and formed the International Information Integrity Institute (I-4) at SRI in 1986. I-4 continues today to provide confidential information security advisory services.  
Donn's professional awards include:  the 1992 Award for Outstanding Individual Achievement from the Information Systems Security Association; the 1994 National Computer System Security Award from U.S. NIST/NCSC; The Aerospace Computer Security Associates 1994 Distinguished Lecturer award; and the MIS Training Institute Infosecurity News 1996 Lifetime Achievement Award. In 1999, the Information Security Magazine recognized Donn as one of the five top Infosecurity Pioneers. He was inducted into the Information Systems Security Association's Hall of Fame in 2000, and the SRI International Hall of Fame in 2002. He was recognized as a Certified Information Systems Security Professional (CISSP). In 2003, the International Information Systems Security Certification Consortium (ISC)2 presented him with the Harold F. Tipton Lifetime Achievement Award in "recognition of his sustained excellence throughout his Information Security career and his contributions to the industry and support of (ISC)2." 
Donn is survived by his daughter Diane Wisdom and her husband; two daughters-in-law, six grandchildren; three great-grandchildren; nephew and niece and their families; and brothers- and sister-in-law and their families. In addition to his parents, he was predeceased by his beloved wife Lorna R Parker, brother Richard Parker, nephew Bob Parker, and son David S Parker. Those wishing to remember Donn may make gifts in his son's name, David S Parker, to the ALS Association (donate.als.org).
Please note updated information regarding memorial service venue and time:  11am, Saturday, October 16, St. Paul Lutheran Church, 1075 El Monte Avenue, Mountain View.