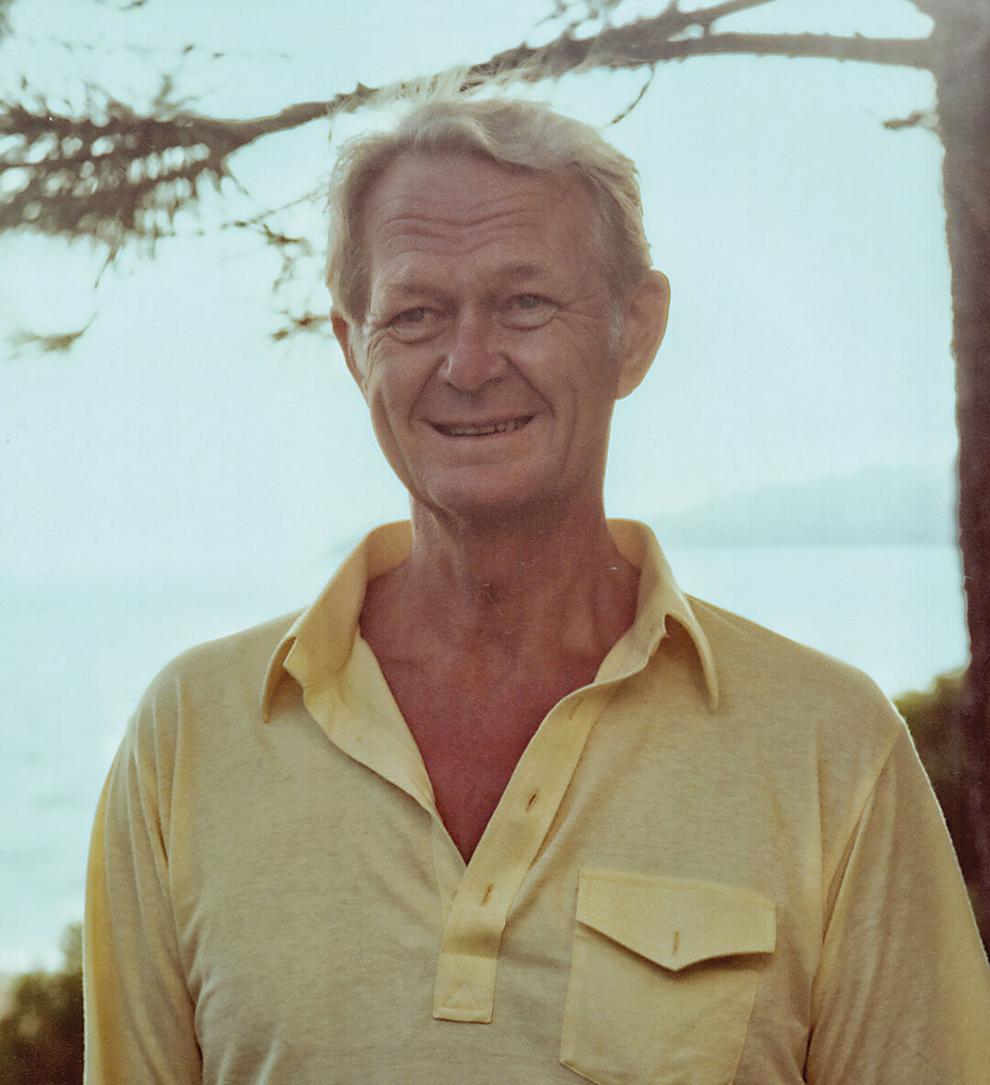 Donald Carlyle Ostrus passed away at age 100 on September 26, 2021. He was a man of strong faith who lived it everyday. He was patient, loving, generous, and kind.
Don grew up in Wiota, Iowa as the fifth child of farmer. His life included many adventures. His dream of going to the  University of Iowa was contingent on being able to find a job. So he and a friend hitchhiked their way to Iowa City and started going to local businesses asking if they had any job openings. They found a candy store that could only hire one of them. The owner decided by coin toss to determine who would get the job. Don won and was able to go to college. He ultimately would become a dentist in Palo Alto, California.
Don Ostrus left college early so he could serve in the Navy during World War II. He was on the commissioning crew of the USS Boxer CV-21 as a Navy Corpsman, in the invasion of Japan.  Luckily, the invasion never happened and he was in Tokyo Bay for the Japanese surrender. He and his future wife would host two Japanese exchange students in the 1970s and 80s. 
Don returned home to Iowa after the war and met the love of his life at a bus stop on his way home. He and Velma (Putt) were married in 1946. She worked as a school teacher while he completed he undergraduate degree in 1948. Don graduated from the University of Iowa College of Dentistry in 1950. Today there is the Ostrus Prosthodontics Clinic named there in his honor. The photo on the plaque includes Putt, as she was the one who worked while he went to school.
Don and Putt moved to Palo Alto and then Los Altos, California in the early in 1950s. They adopted two daughters, Jane in 1954 and Mary in 1957.
Don loved sports. He was an avid golfer and had season tickets to Stanford football and basketball for over 50 years. He loved the San Francisco Giants, having gone to games since the Giants moved to San Francisco. In 1996, he was the oldest man at the time to attend Giants Fantasy Camp. In 2005, Don made a barehanded catch of a foul ball launched into the upper deck along the third base line at age 85. The "play" was shown as a replay to thunderous cheers.
Don loved Lake Tahoe. He and a dental partner bought a family cabin in Incline Village in 1967. There were many trips there over 50 years.
Don was an amazing woodworker, starting in his childhood when he made his own toys. He ultimately made complex vases with inlaid designs. All of his woodwork for the past 30 years were branded with the initials "DOC."
Don lived his life in service to others. He became a dentist because he was inspired by his older sister Ruth, who was a nurse. He was active in Grace Lutheran Church in Palo Alto since the 1950s. Don was highly involved in what would become Abilities United, an organization for children and adults with developmental disabilities who live in Santa Clara and San Mateo counties. He mentored a prisoner and hired lawyers to fight the Three Strikes law that put a person in prison for life for robbing a vending machine. He gave back to his community and went out of his way to make a difference.
Don passed away at home with his daughter and son-in-law by his side. He spent ten days in the hospital in August with a breakthrough case of Covid-19. He made it home for September. All of his grandsons were able to visit before he passed.
He is predeceased by his wife Putt, daughter Jane, wives Grace Latimer and Betty Freedman. He is survived by his daughter Mary, her husband Richard, and their son Connor; Jane's three sons Josh, Gabe and his S.O. Etta, and Jordan and his wife Brook; and three great-grandchildren Ian, Flynn, and Jasmine; three step-children Paul, his wife Natalie, Carrie, her husband Bob, and Tim; step-grandchildren Lara, Christopher, Annie, Emily, Molly, Haley, Andrew, Max, and great-grand daughter Lizzie.
Don Ostrus's memorial will be on October 17 at 200pm PDT. In person attendance is limited to family due to Covid-19 safety measures. All are welcome to watch the livestream available on the Grace Lurtheran website at http://gracepa.org/ and click the "Livestream Worship" link.
In lieu of flowers, Don asked that people find ways to be involved in their community. Please make a donation, or invest with your time, in any worthy community organization.