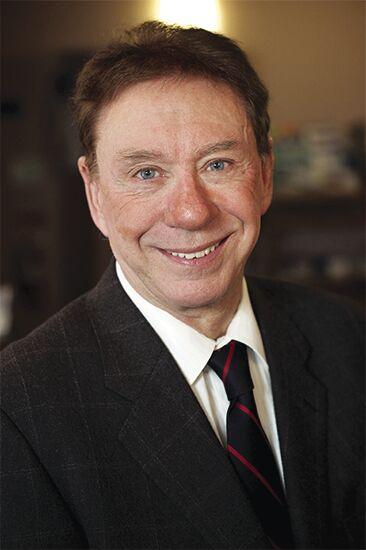 Dr. Brian Ward passed away peacefully at home on December 23, 2021 at the age of 82 after a long fight with Lymphoma. 
He will be remembered for his joie de vivre, tireless work ethic, passion for travel, his love of the mountains and sea, his disarming smile, appreciation of music and opera, fondness for wine, freakish ability to recite the classics, steadfast Britishness and his knack for delivering a well-timed pun. 
Brian was born in Yorkshire to Jack and Marian Ward, and raised in the sea-fishing port of Bridlington. He attended the Bridlington School and was a proud member of "the OB Club," the Old Bridlingtonians, whose meetings he attended whenever possible. After graduating from Northampton College London, he was awarded a Fulbright Scholarship for advanced studies and research at Indiana University Bloomington where he received his Master's and Ph.D. degrees in Physiological Optics. This is also where he met Teresinha, a Brazilian student pursuing post graduate studies in Education. They wed in 1964, moving first to London and then later to San Antonio where he was involved with aerospace medical research and the space program. Concluding those projects, Brian pivoted into medicine, earning his M.D. degree at the University of Texas Medical Center in three years.  It was while living in Texas that Brian and Teresinha's two sons, Brian Richard and Alexander were born. 
The family moved to Northern California in 1975. Brian was a resident in the Department of Ophthalmology at Stanford University Medical Center and subsequently completed a Fellowship at the Jules Stein Institute at UCLA. He founded his practice, Retinal Diagnostic Center (RDC), in a small San Jose office space in 1980. RDC started as so many fledgling businesses do, a family operation with Brian and Teresinha doing everything themselves. By the time Brian retired in 2019 at age 80, the business had grown to seven doctors practicing out of seven offices. 
Brian truly loved practicing medicine, and was known as an icon in the San Jose medical community for his expertise, ethics and exemplary patient care. He approached every day with intellectual curiosity, kindness, compassion and wit. 
He had a special interest in the treatment of patients with Degenerative Myopia and, along with surgeons in Russia, he developed new surgical techniques for its control and for the treatment of its complications. The success of his procedure was detailed over several peer-reviewed journal articles.   
A man of many hobbies and interests, Brian belonged to a range of clubs and organizations, including the Sausalito Yacht Club and the Vintners ClBub. He was a past Board Member of the Santa Clara Valley Diabetes Society and a member of the Rotary Club of Los Altos, the city where he lived for 41 years. 
Later in his career, Brian's workflow may have slowed, but it seemed like he was always on the go. On any given weekend one might find him at the family cabin in Tahoe, or skiing in Aspen with longtime ophthalmologist friends, or sailing the Irish sea with fellow Old Bridlingtonian Tony Jobling, or attending an Opera at Glyndebourne with his sister Maureen. 
Opera may have been the greatest of Brian's lifelong passions, and he was thrilled to join the Board of Opera San Jose in 2013. He was an enthusiastic advocate for the company, as anyone who spoke to him over the past few years would know. He loved learning about the inner-workings of the Opera, and treasured having a fly-on-the wall view of the artistic process. 
Brian is survived by his wife, Teresinha, sister Maureen Monks, sons Brian Richard and Alexander, their wives Valentina and Adele, and grandson Ettore. 
A memorial will be held at a later date.  In lieu of flowers, contributions may be made to Opera San Jose.