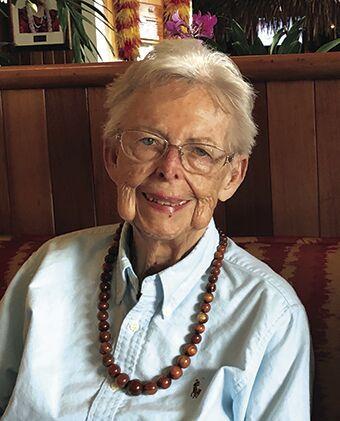 Barbara passed away in her home in Los Altos Hills on May 26 at age 88 after a several months of declining health. She was surrounded by her family and passed peacefully. Barbara was the daughter of Harold and Doris Koenig and was born in San Francisco and attended Parkside, Aptos and Lincoln High schools in the City. She was captain of the drill team and was elected as an Honored Queen of Job's Daughters International in her youth. She graduated from The University of California Berkeley where she was an Alpha Gamma Delta. She held a Master's Degree in Education from San Francisco State and taught for ten years at Dudley Stone Grammar School. She loved the City and walked across the Golden Gate Bridge with her parents on opening day in 1937. 

She is survived by her husband of 63 years, Donald, and daughters Karen Smith of San Diego and Judy Nagy of Los Altos Hills. She has 4 grand children, Claire and Kate Smith and Maxwell and Allison Nagy, and son-in-laws Brian Smith and Ron Nagy. Her brother William Koenig and wife Nancy, also survive her. 

Don and Barbara have resided in Los Altos Hills for 50 years. Barbara was a member of the Palo Alto Auxiliary and proud volunteer at Allied Arts as a "Friday Girl" for many years. She was a 50+ year member of P.E.O. International. Barbara loved her rose garden. She was always busy with knitting and sewing projects, and enjoyed puzzles of all sorts. She was immensely proud of her California roots, which go back to 1845 when her great, great grandfather James Gregson was the blacksmith at Sutter's Fort. She loved to travel and she and Don were able to visit a good part of the world. She loved France, especially Paris, and every year watched the Tour de France mainly to relive the scenery. Hawaii was like a second home, starting with a visit in 1949 with her brother and mother, and returning almost yearly from the 1960's on. Ocean swimming was always part of the fun. When in Hawaii she played golf and enjoyed the culture, often going over for the Aloha Week festivities. Both daughters were married in the Islands keeping the spirit alive for all the family. Donations in her memory may be made to Lucile Packard Children's Hospital Stanford. A celebration of life will be held later in the summer.