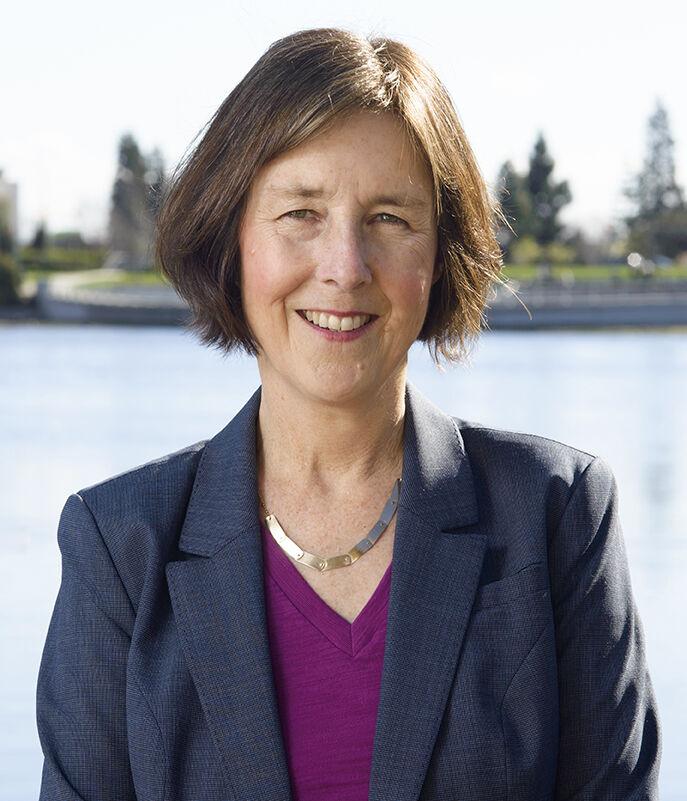 District 9 State Sen. Nancy Skinner used the social media platform Twitter to "fact check" Los Altos Mayor Lynette Lee Eng, who last week said a bill Skinner helped draft forces small cities to become urban centers comparable to New York City's Manhattan borough.
Senate Bill 50, introduced by District 11 State Sen. Scott Wiener and co-authored by Skinner and several others, is a zoning reform bill that pulls from the foundations of Wiener's failed SB 827.
"SB 50 creates new zoning standards for the construction of housing near job centers and public transportation, while protecting against the displacement of renters and vulnerable communities living in those areas," according to a press release issued by Wiener's office. "SB 50 eliminates hyper-low-density zoning near transit and job centers, thus legalizing apartment buildings in these locations so that more people can live near transit and near where they work. It also reduces or eliminates minimum parking requirements for new developments."
SB 827 did not advance past its introduction in early 2018, but Wiener's staff stated in the release that it spurred positive action in the redrafting of the bill to "protect vulnerable communities."
Quality-of-life issue
Lee Eng stood outside the Hiram Johnson State Office Building in San Francisco Dec. 5 and posed for pictures before making a speech at the Livable California rally. Livable California defines itself on its website as a Bay Area-based nonpartisan group with the mission of "empowering communities to take action to support local community planning and decision making with the goal of an equitable and sustainable future for California."
However, according to Wiener, the name "Livable California" contradicts what the group is actually trying to accomplish. He described the coalition as "a statewide anti-housing group ... (whose) primary goal is to prevent the state from setting housing standards and thus let cities block new housing."
Lee Eng appears in a video stream of the rally smiling at an organizer who introduced her by her civic title. She clarified her affiliation as soon as she took the microphone.
"I first want to make it clear that I am speaking not for my council, but as an individual," Lee Eng said before her critique of proposed SB 50, or the More HOMES (Housing, Opportunity, Mobility, Equity and Stability) Act. "The important thing is we do not need to 'Manhattanize' every city."
Lee Eng went on to say – as she read from her phone – that SB 50 would impact the quality of life for many and would impose an urban lifestyle on those who choose to live in suburbs.
"Those of us who chose to live in single-family homes, we are being forced into a lifestyle that Wiener wants for all of us," Lee Eng said. "The questions we should be asking are 'Why are single family neighborhoods under attack?' and 'Why are elected officials from urban cities insisting on transforming other small cities and towns into high density environments?'"
Lee Eng's concluding points included that officials should not be able to "tell (small-city residents) how to live their lives" and that she knows from serving on the Santa Clara Grand Jury it's important to "follow the money" to expose who is truly behind the bill.
According to Wiener's press release announcing SB 50, the bill is sponsored by California YIMBY, a nonprofit organization with the slogan "California is for everyone." California YIMBY has a tab dedicated to the More HOMES Act on its website.
Varied views
In response to Lee Eng's comments, Skinner called her out by name the next day with a "fact check" that SB 50 allows four- to five-story buildings – not high rises.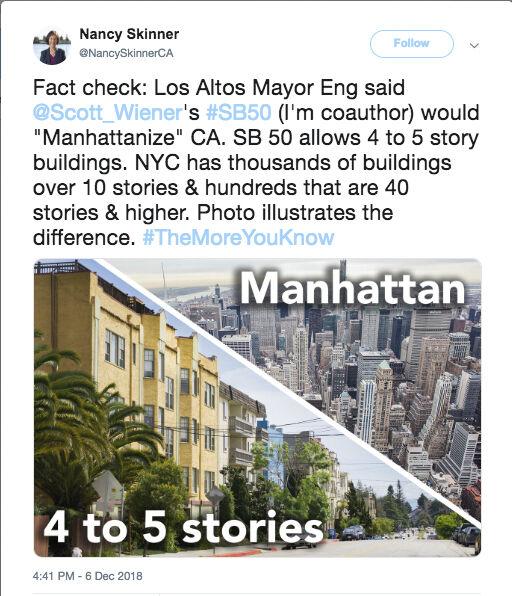 "NYC has thousands of buildings over 10 stories and hundreds that are 40 stories and higher," Skinner tweeted.
"Your income has to be over $200,000 a year – or more than six full-time, minimum-wage jobs – to afford $6,200 a month, the median rent for a Los Altos home," Skinner told the Town Crier. "Los Altos and all California cities need to do their part to house our teachers, caregivers and others who make our daily lives possible."
Lee Eng stated in an email to the Town Crier that she participated in the event to advocate for the protection of small towns and to "request that legislators work with local elected leaders and get away from the 'one size fits all' type of legislation."
Despite the criticism, Lee Eng stands by her speech.
"Yes, I have used the term 'Manhattanization' in my statement, and by that I meant that it greatly increases density and the removal of privacy, open space and setback," Lee Eng said. "SB 50 will further remove local control on zoning. Any say on density and development will be out the window. What they are proposing is much worse than what exists."