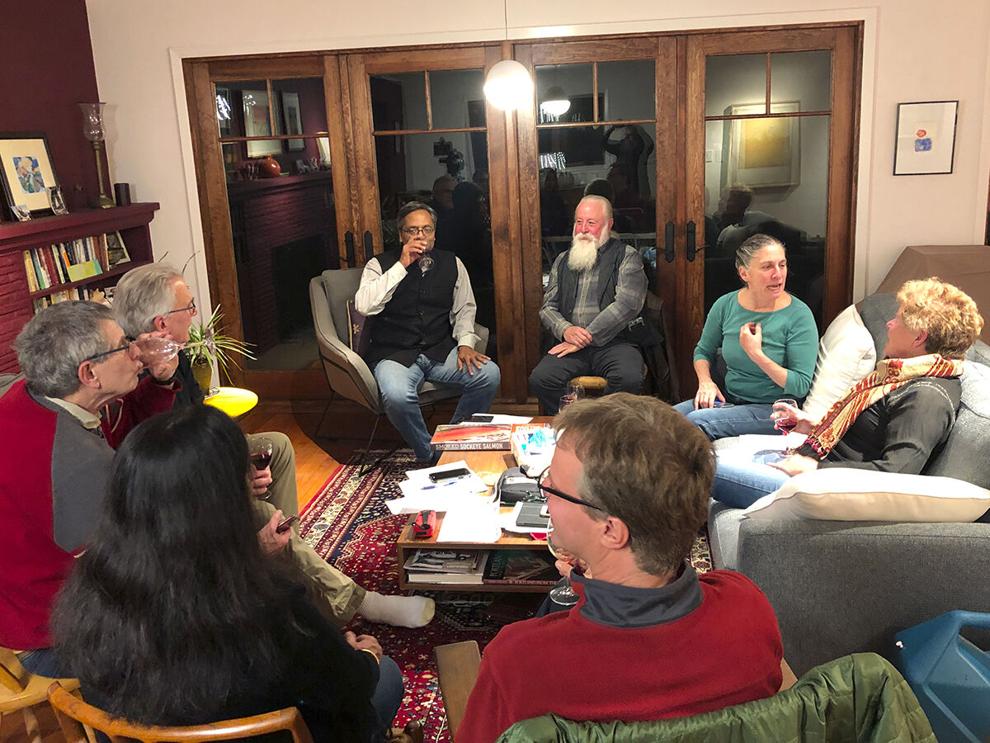 As part of a continuing effort to live more sustainably, Palo Alto resident Sandra Slater began cooking with an induction hot plate and traveling by public transportation.
She was riding the train to Mountain View one day recently when she suddenly feared she had left her new appliance on. Slater's go-to friends were unavailable, but she managed to reach a new acquaintance, a neighbor who checked Slater's home and assured her all was well.
"People are so stressed out, they're so overscheduled and overworked that when you have a group of neighbors you can count on, it takes some of that pressure off because you have a community that's supporting you," Slater said.
Slater is working to bring that same sense of fellowship to Mountain View as the Northern California director of Cool Block, a nonprofit sustainability initiative piloted in Palo Alto, San Francisco and Los Angeles. Informational sessions offered on three separate nights this month at the Historic Adobe Building on Moffett Boulevard aim to introduce residents to a five-month program of community building. Those interested in becoming "block leaders" are trained to galvanize their neighbors into attending eight meetings hosted approximately every two weeks at various households. Participants volunteer to take on tasks associated with the topics of sustainability, water stewardship, disaster resiliency, carbon reduction, livability and empowerment, and then report back to one another.
Disaster resiliency, for example, could involve amassing emergency supplies and establishing plans to ensure vulnerable neighborhood members like the elderly are accounted for in the event of a fire, earthquake or even a PG&E blackout, according to David Gershon, the New York-based founder and architect of Cool Block.
Part of the solution
Gershon created the program as an offshoot of his Empowerment Institute, a consulting firm that trains individuals and the employees of government agencies, nonprofits and corporations in methods of positive behavioral change. He selected the Cool Block name as a nod to both climate change and to the act of adopting laudable behaviors.
"I mean 'cool' at every level: reducing the amount of heat generated from one's carbon footprint," Gershon said. "'Cool' meaning 'rad,' as in this is the most-hip thing that someone could try to be doing, trying to be part of the solution to the issue that we face as a species that we have to get right if we want to stay on the planet."
Slater's daughter met Gershon through a disaster preparation event she worked on in New Orleans, and Slater, co-founder of the grassroots organization Palo Alto Forward, prompted him to bring Cool Block to Palo Alto. Together, they've managed to create approximately 50 neighborhood cohorts in the city consisting of seven or eight people each, and they're poised to create 25 more groups there.
Reducing households' carbon footprints by 25% through actions such as implementing solar retrofits and vegetarian diets are among Cool Block's goals, but participating Palo Alto residents have managed to reduce theirs by 30% on average, Slater said.
Mountain View launch
Approximately a year and a half ago, Slater approached Santa Clara County Supervisor Joe Simitian and Dan Rich, Mountain View city manager at the time, about bringing Cool Block to Mountain View. Simitian subsequently managed to secure $125,000 from the county to match $125,000 from the city for funding.
The $250,000 will pay for extra staff time, outreach efforts and supplemental materials for block leaders, said Steve Attinger, Mountain View's environmental sustainability coordinator. Attinger believes residents will sign up for the opportunity to form lasting relationships with others – and they'll stick around because the person-to-person forum motivates action.
"It's easier to hold oneself accountable when you have to show up and talk to your neighbors and sort of tail-between-your-legs say, 'Yeah, I know I committed to doing this thing, but I didn't do it,'" Attinger said. "When you have to sit in front of your neighbors and sort of 'out' yourself, that provides some incentive."
Beyond Mountain View, Gershon and Slater hope to eventually bring Cool Block to Menlo Park, Redwood City and Sunnyvale, all cities with representatives who've recently expressed interest in the program.
And from there, perhaps the message could spread even farther, Gershon said.
"If it's just one-off, just changing a lightbulb, that type of thing, you can't get that far," he said. "But if you can build a comprehensive program like we've built and then you can scale it block by block, then you start to see the results like we're having in Palo Alto and soon, hopefully, that we'll have in Mountain View and across the county. And the state."
The first Mountain View Cool Block informational session was scheduled Monday, after the Town Crier's print deadline, but two others are set for the evenings of Jan. 23 and Jan. 30. For more information on the sessions and other opportunities to make the city more sustainable, visit collaborate.mountainview.gov.