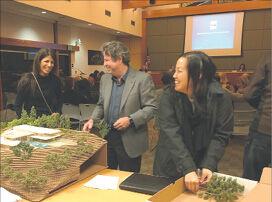 Google Inc. CEO Sundar Pichai's new 9,717-square-foot estate will include an infinity pool, an 840-square-foot garage, underground nanny quarters and a whole lot of glass, according to plans reviewed by the Los Altos Hills Planning Commission last week.
"While it's a contemporary building, it's been designed to echo the contours of the land," said Robert Swatt, partner of Swatt Miers Architects, the Emeryville firm behind the design. "So it works, in our opinion, very well with nature, even though it's in a contemporary language."
Planning commissioners expressed extensive praise for the project at Thursday's meeting and then gave their official blessing by unanimously approving the site development permit requested.
The proposed residence is to be constructed on a sloped, 3.17-acre parcel of land located at the southwest corner of Westwind Way and La Paloma Road. The Pichais, who currently live in a 4,429-square-foot manse on Donelson Place in Los Altos Hills, purchased the Westwind property in July 2014 for $6 million, according to property records. The parcel contains a contemporary 3,274-square-foot main house built in 1986, an 870-square-foot guesthouse, a 970-square-foot garage and a lap pool, all of which will be demolished to make room for the new Pichai residence.
Pichai, who became Google's new CEO during the technology giant's restructuring in August, did not attend the commission meeting, but his wife, Anjali Pichai, did.
"We have lived in Los Altos Hills for a while now and came across this beautiful piece of land that we decided to undertake this project on," said Anjali, addressing the commission before deferring to Swatt.
Blueprints, image renderings and a massive architectural model presented to the commission during the meeting indicate that the future Pichai home will be a 2-story structure featuring a swimming pool, spa, reflecting pond, elevator, gym, two laundry rooms, wine cellar and what's designated as a "future nanny" room, to be situated within the 3,651-square-foot basement. The exterior will consist of wood, limestone, cement plaster and glass elements. The flat roof will be lined with 500 square feet of solar panels, a feature contributing to the design's achievement of 131 points under Build It Green's GreenPoint Rated program (50 points are required for certification).
Although the project complies with the town's Fast Track criteria, municipal code dictates that the Planning Commission review the designs of estate homes, those with a proposed floor area larger than 10,000 square feet; Swatt Miers' design indicates a total proposed floor area of 10,557 square feet.
'Honest style'
Planning Commission Chairman Jitze Couperus said the presentation alleviated initial concerns he had about redevelopment of the property, and he lauded the project for meeting and exceeding guidelines. He also praised the home's design, which buries what essentially amounts to a three-story home into a hill so as to create an unobtrusive profile.
"I guess I'm at an age where I can be permitted a bit of pontification: We don't talk about style on the Planning Commission, but one thing I really like is honest style; I don't like imitation stuff," Couperus said with slight emphasis on the word "stuff." "And I'll (maintain) that this is not imitation anything. It's not mock-Tudor, for example, which is a taste too many people aspire to."
Commissioners also praised the Pichais' diligence in meeting with their future neighbors and addressing questions or concerns they have about the project. Swatt said all discussions were cordial, but some neighbors expressed concern about tree screening, a too-bright white exterior finish and exterior glass that could create a "lantern effect." As per the commission's ruling, these concerns will be monitored and addressed as conditions of approval during future, to-be-noticed public hearings.
Neighbor Robert Garner of Newbridge Road is among those neighbors worried about appropriate tree screening. Garner told the commission he supports the project overall, however.
"I think it's a beautiful home," Garner said. "I'd like to welcome the Pichais to the neighborhood."