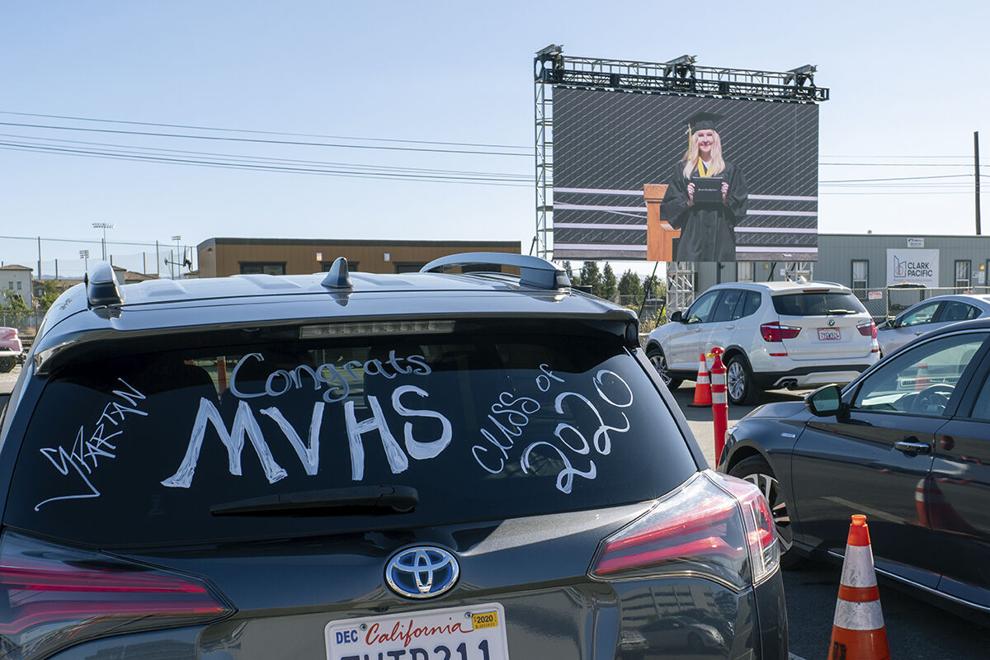 Local high school seniors are set to walk the stage at graduation next month with their classmates in a live, in-person ceremony, albeit one that still includes pandemic precautions.
Mountain View and Los Altos high schools are scheduled to hold their graduation ceremonies June 4 at PayPal Park, the soccer stadium where the San Jose Earthquakes play. Los Altos High seniors will graduate at 4 p.m., with Mountain View's ceremony at 7 p.m.
Each graduating senior is allowed four spectators, and students will be seated spaced out, with guests in pods by family.
Mountain View High Assistant Principal Jon Robell called the theme of the year "flexibility," as the district has worked to plan a graduation ceremony in line with health requirements.
"It's going to be a different experience, but at the same time it's going to be an exciting and fun event," he said.
In planning for graduation, the high schools worked together to coordinate their ceremonies and surveyed students and parents to get their input.
"As a district, we set the goal that we'd have the main, most important aspects of our planning be aligned, because it's better for students (and) it's more clear for our community," said Los Altos High Assistant Principal Suzanne Woolfolk.
In multiple surveys, seniors voted to hold graduation at PayPal Park rather than on campus. By using the soccer stadium, there's enough space to allow each school's full senior class to graduate at one time and to accommodate spectators.
Los Altos High School student body president Jessica Dooley said that for her, the ceremonial aspect of being on campus was a big draw, as well as the convenience for families with transportation challenges, but that she's grateful and excited for the ceremony that's planned.
"I'm happy that we all get to be together and also get to have our family and friends there," Dooley said. "There are just tradeoffs to every (plan) – there's no perfect solution."
If the ceremony had been held on campus, there wouldn't have been enough space to fit all the students, as well as spectators, Woolfolk said, adding that Los Altos High administrators had wanted to run graduation onsite, and are excited for its return in future years.
After watching siblings and friends graduate in the past, Mountain View High senior class president Josh Lillie said it was important to him that he and his classmates get the chance to graduate in person as one group, rather than being split into multiple smaller ceremonies, which being at PayPal Park allows.
"Ultimately, although it would have been nice to have an onsite graduation, I think it's more important to prioritize unity rather than … being fragmented, especially after what this year has looked like," he said.
Pandemic precautions
To accommodate the COVID-19 health requirements that are in place for PayPal Park, all seating will be pre-assigned and other health precautions will be followed, Woolfolk said. Students will be physically distanced in the stadium, with three empty seats between each graduate and two empty rows between each one that's occupied. Each student's guests will be seated together as a pod, spaced out from other groups. With all that spacing, Woolfolk said nearly the entire stadium will be filled.
Students who don't feel comfortable attending in person will still get their names read during the ceremony. At Los Altos High, approximately 45 students are opting to stay remote, Woolfolk said.
Community television station KMVT is planning to run a livestream of the ceremonies, and will also produce an edited video afterward, Woolfolk said. The livestream link will be available on the high schools' website on the day of graduation. At the stadium, there will be a large LED screen showing the proceedings, so attendees can see what's happening up close.
The San Jose Earthquakes are donating the use of their facilities, with the Mountain View Los Altos Union High School District paying only for staffing, said Woolfolk, whose husband used to play for the Earthquakes. That's the same arrangement the district had last year, when the Earthquakes let the high schools hold drive-in graduation ceremonies in the tailgate parking lot. This year, the schools will be using the stadium itself.
Woolfolk estimated the stadium ceremonies will cost a maximum of $15,000 per school this year, while the onsite ceremonies before the pandemic typically ran at an estimated $10,000 each. However, with pandemic health requirements, even an onsite ceremony would have been more costly, she noted.
According to Robell, there's been a "positive reception" to the graduation plans, though students still have a lot of questions, because it will be a new experience.
"The kids are just excited to be together – that's the bottom line," Robell said. "They're excited to be at an event together (and) have spectators attend."
As Lillie looks ahead to his graduation, he said he's personally thankful his family will be able to be there to support him as his name is read, and he's excited as senior class president to get to read other students' names and say a few heartfelt words to the crowd.
"I'm really excited to see the pride on my classmates' faces, because they deserve every bit of that," Lillie said. "Graduating from high school is a big deal. For a lot of us, it's the biggest accomplishment to date."