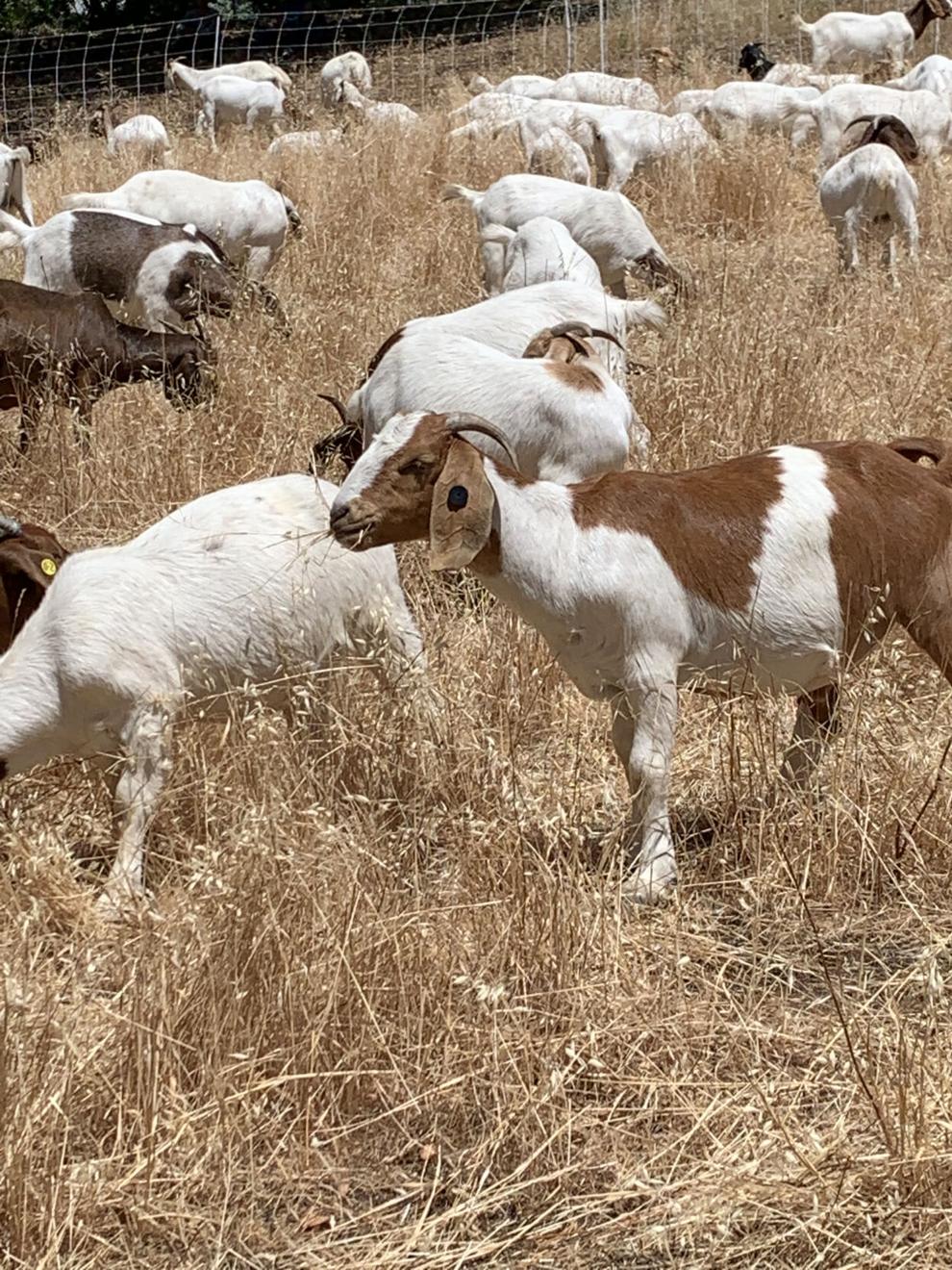 Any wildfires ignited this year near Los Altos Hills' Byrne Preserve will have less vegetation to fuel their fury, thanks to an army of voracious visitors that recently descended on the dry golden grasses there.
On May 17, herders released approximately 400 goats in and around the preserve, which borders Altamont Road and includes Westwind Community Barn. They departed for a new job in San Carlos last week and will tackle open spaces near Belmont soon afterward.
The annual "running of the goats" is always a welcome spectacle in Los Altos Hills, said J. Logan, general manager of the Los Altos Hills County Fire District, which organizes the work as part of a suite of district Integrated Hazardous Fuel Reduction programs.
"The goats are quite 'professional' and travel to various venues throughout the goat grazing season and are always hungry," Logan wrote in an email she sent to the Town Crier last week.
Since 2006, the fire district has relied on the services of goats to clear fire hazards such as grass, brush and low tree limbs from Los Altos Hills open spaces, thereby safeguarding nearby homes. This year, the operation will cost $19,556, a tab funded through property taxes allocated to the fire district by the Santa Clara County Board of Supervisors.
Ecosystem Concepts Inc. is the district's longtime contract provider. Owners of the Dixon-based company affectionately refer to the members of their herd as "four-legged firefighters."
"The people love it," said Robert McGrew, a rancher and former firefighter who co-founded the business circa 1991. "They love bringing agriculture to the cities. I mean, we have schools that bring all the kids down, and we walk 'em through all the goats, and it's been a big success. People call: 'When are they coming? When are they coming?'"
McGrew's crew consists of hybrids, a cross between Spanish "meat" goats from Texas and Boer goats heralding from South Africa. Herders from Peru stay onsite at all times, sleeping in a trailer at night, and their dogs,
Akbash-Great Pyrenees mixes, protect the goats from predators such as mountain lions and coyotes. A low-powered, battery-operated fence keeps would-be escape artists confined.
Munching through approximately an acre or two each day – depending on slope and the condition of the vegetation – the goats nibble the grass down to just a couple of inches.
Logan noted the goats effectively "mow" the landscape, but they don't disturb roots, which provide soil stabilization.
More so than sheep and cattle, goats are gentle browsers capable of separating fuel ladders like drooping canopy growth from the ground, McGrew
said.
"It's a popular way to do it," he said. "There's less noise, there are less pollutants – everything using animals naturally that used to be here years ago. There used to be herds and herds of antelope and deer that used to keep these fields down, and it's not here anymore."
For more information on the fire district and the goat grazing program, visit lahcfd.org.
Los Altos Hills residents desiring tips about hardening their homes against wildfire may tune in 7 p.m. June 16 for a free Zoom presentation courtesy of the Los Altos Hills Open Space Committee. For more information, visit losaltoshills.ca.gov/Calendar.aspx?EID=2529.