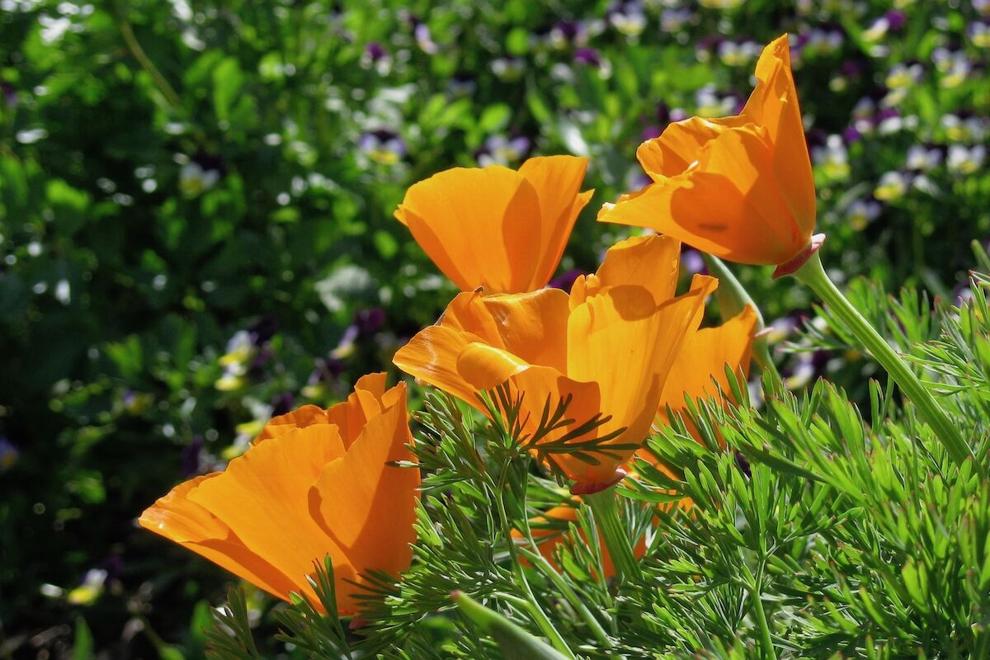 Orange is a joyous and optimistic color. In my garden, the first big spring flowers are California poppies, and the last dramatic swathes of color in the autumn before frost are red-orange California fuchsia shrubs. In between, all shades of orange punctuate native gardens.
The iconic orange flower of California is also the official state flower: the California poppy. It has a long bloom period, often starting around the beginning of spring. The flowers open on sunny days and stay closed when it's cloudy. Once you have one plant in your garden, you will ever after have a field of poppies – if you want them – because like most annuals, it sets a prodigious amount of seed. It's a great plant to fill in between other plants when you are planting a new area. It's easy to "edit out" the ones you don't want. Because these poppies have a long taproot, you can cut the plants back to an inch or two after each flush of bloom, give them some water, and they will continue blooming for several more months.
Another annual in the poppy family, wind poppy, has a more delicate look. Its petals are crinkly rather than satin-smooth, and a more saturated shade of orange. The flowers float higher above the foliage on slender stems, rather than being nestled in feathery leaves. The deep purple throat makes the stamens stand out. Like many wildflowers, it blooms in April and May.
An even more delicate-looking flower is the apricot globemallow. It's a desert plant that forms an upright clump 2- to 4-feet high and wide. It's drought-tolerant and likes the hottest spot in the garden, but with a little summer water, it can bloom for months. Colors range from soft peach to deep orange-red. If you buy a plant in bloom, you will know exactly what color you are getting. After flowering, cut stems back to 6 inches.
Summer shrubs
For a bigger splash of orange through the summer, several showy native shrubs bloom in shades of orange from pale apricot to deep orange-red.
The flowers of dwarf flannelbush look as if they've been carved from wax. Typically, orange-red buds open to yellow-orange flowers that bloom April to July. This shrub is the most garden-tolerant of the fremontodendrons, which are drought-tolerant but must have excellent drainage and no summer water. It's a great plant to admire at a distance. You won't want it next to a path where you might brush against it, because it has irritating hairs. Likewise, plant it where it can spread out 4 feet high and wide, so you won't have to prune it.
You can find floriferous orange monkeyflowers – sticky, bush, azalea-flowered and hybrids – in a range of tones from pale apricot to rich pumpkin. The 2- to 4-foot sticky monkeyflower subshrubs that populate dry hillsides all summer have soft orange flowers. Hybrid perennial varieties such as Pumpkin or Jelly Bean Orange can have more saturated colors and larger flowers, and do better in part shade.
Finally, hummingbird fuchsia is so named because its profuse tubular flowers are a hummingbird magnet. The most prevalent color is a vibrant red-orange – or orange-red – that contrasts beautifully with the typically silver to blue-gray foliage. Select Mattole is a low groundcover, Calistoga is 18 inches high and Catalina is over 2 feet. Named varieties, like these, are often easier to control in the garden than the straight species, which spreads widely. Blooms begin in late summer and continue until the first frost. For a more compact plant, cut back to an inch or two anytime before new growth appears in the spring. In a small garden, dig around the plant to corral any runners.
Tanya Kucak gardens organically. Email her at tanya.garden@gmail.com.