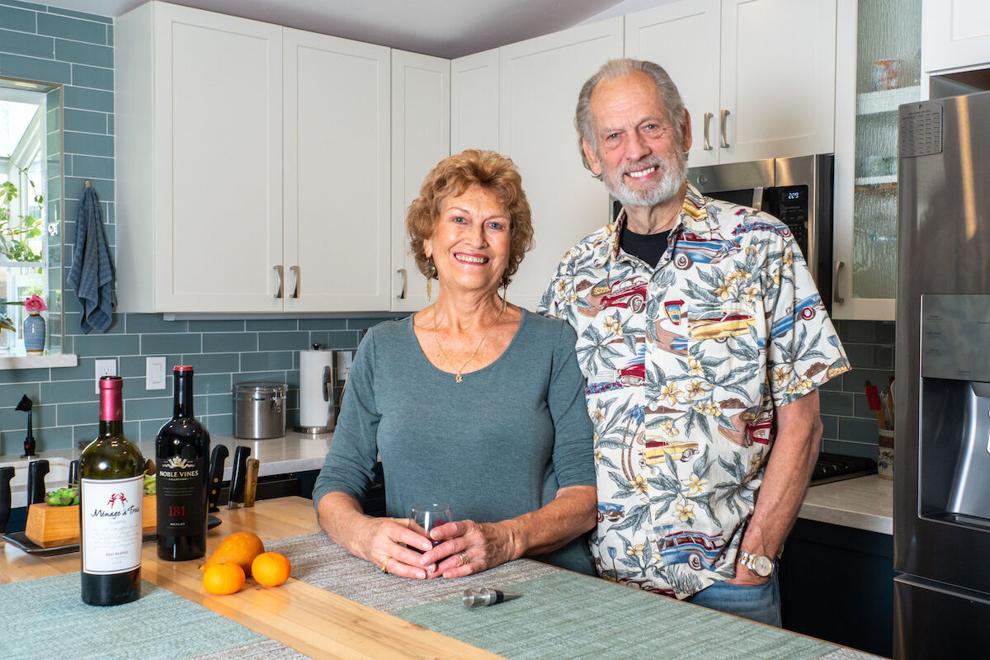 With apologies to Charles Dickens, this is "A Tale of Two ADUs" – accessory dwelling units – one built from the ground up, the other dropped from the sky.
Both are in Los Altos, where it has become easier to build ADUs thanks to statewide legislation effective January 2020. These days only a building permit and related permits are required, with no discretionary approval with public notice.
One was installed recently by the homeowners as a residence for their daughter and son-in-law. The other was for the homeowners themselves, allowing their daughter, son-in-law and granddaughter to occupy the main house.
In the latter case, the project began in the spring of 2018 (prior to the new ADU rulings) and took the better part of a year to secure permits – much longer than it took to build the ADU. The other project took just a few months.
Here are their stories.
Customized comfort
Four years ago, Laurie and Larry Moore were newly retired, just after closing their business of 45 years, Larry's Auto Works in Mountain View. They loved their home of nearly four decades but decided it was too big. She was tired of dusting rooms they weren't using, and he realized that he had developed a high-maintenance property.
They decided to build themselves an ADU so their daughter and her family, who were living in Richmond, could move into what Laurie calls the "big house." They were concerned about their granddaughter's education and wanted her to have the benefit of Los Altos schools.
"We've always loved the property and felt there was no reason to move," Laurie said. "Our idea was to build a home where we could spend the rest of our lives."
There was another plus to their decision, what Larry jokingly calls their "live-in workforce."
The Moores worked with Jeanette Loretz of JL Designs & Interiors, whom they met through the Peninsula Executives Association, a networking group. The builder was Jeanette's husband, Rick, of Loretz Construction.
They began the project in 2018 but, because of the variance requirement and other issues, were unable to break ground until July 2019. But the wait was worth it.
"They wanted a floor plan that would meet their needs and maintain their lifestyle," Jeanette said. "Because they love to cook, particularly Larry, the kitchen has a full-size refrigerator, not often found in ADUs."
The kitchen also incorporates an island – a butcher-block table from the main house – and a greenhouse window. Pendants with high lumen output hang above the island.
"A lot of thought and planning went into the project," Laurie said. "The bedroom is extra big because it is also our workout room. We added an extra foot for my Pilates."
The bath was designed for aging in place. The shower is curb-less, the walls have been blocked for safety bars and there is more than adequate lighting. The entrance is wide enough to accommodate a wheelchair.
The living area in the 864-square-foot unit was designed to accommodate a large fish tank and a big-screen TV that has a special purpose – a way to enjoy the koi pond in front of the main house.
"We enjoyed watching the fish and hearing the sound of the two waterfalls, so we installed a koi-cam," Larry said. "We can watch it on the big screen and even our phones."
Among other features are custom glass pocket doors, a vaulted ceiling and a laundry area.
"It feels big inside," Larry added. "And the kitchen functions better than the one in the big house."
Pre-fab(ulous)
Four years ago, Lynne and Tim Farrell's daughter and son-in-law broached the idea of moving to the back of their property.
"It was their idea," Lynne said. "And it made sense. Our daughter is a registered nurse and our son-in-law was thinking of retiring."
Lynne's nephew, an architect in Santa Rosa, began drafting plans for the project, but along came the Tubbs Fire and he was inundated with work. After a months-long negative experience with a San Jose firm, the couple contacted Abodu, a Redwood City startup that specializes in customizable factory-built homes delivered in as little as three months. It offers three housing models: studio, one-bedroom and two-bedroom, with prices starting at $189,000.
"Abodu units are built to be lived in," said John Geary, co-founder of Abodu with Eric McInerney. "You'll be hard-pressed to find a small-footprint structure that is more inviting. Ample natural light, cathedral ceilings and a full-service kitchen are hallmarks of our products."
Geary grew up in Cupertino and attended elementary school in Los Altos. He was onsite when the Farrells' one-bedroom, 500-square-foot unit was deposited behind their two-story home.
"You can see it flying from 280," Geary said at the time, watching as a giant crane lifted it off a flatbed truck.
Prior to this spectacular event, which was observed by scores of neighbors, its protective wrapping was removed.
"Take the wrapping off and it's Christmas all over again," he said.
The unit features a 10-foot-by-14-foot bedroom, a living/dining room, a galley kitchen with full-size appliances, a combination washer and dryer, and a La Cantina accordion-style glass door.
Abodu works with an onsite contractor for permitting and site preparation while the unit is being factory-built, then delivers and installs it.
"Workers drove from the factory in Utah to put finishing touches on the unit after it was placed onsite," Lynne said.
It's one-stop shopping, so to speak. According to Geary, Abodu does it all from start to finish.
"While each project varies by site, homeowners will complete their project at a cost equal to roughly 50-60% of a comparable site-built structure," he said.
Another plus he cited is the minimal time contractors are onsite, thus preserving the sanity of the homeowners and the ambience of the neighborhood.
For more information on the Loretzes' businesses, visit jldesignsandinteriors.com or loretzconstruction.com.
For more information on Abodu, visit abodu.com.