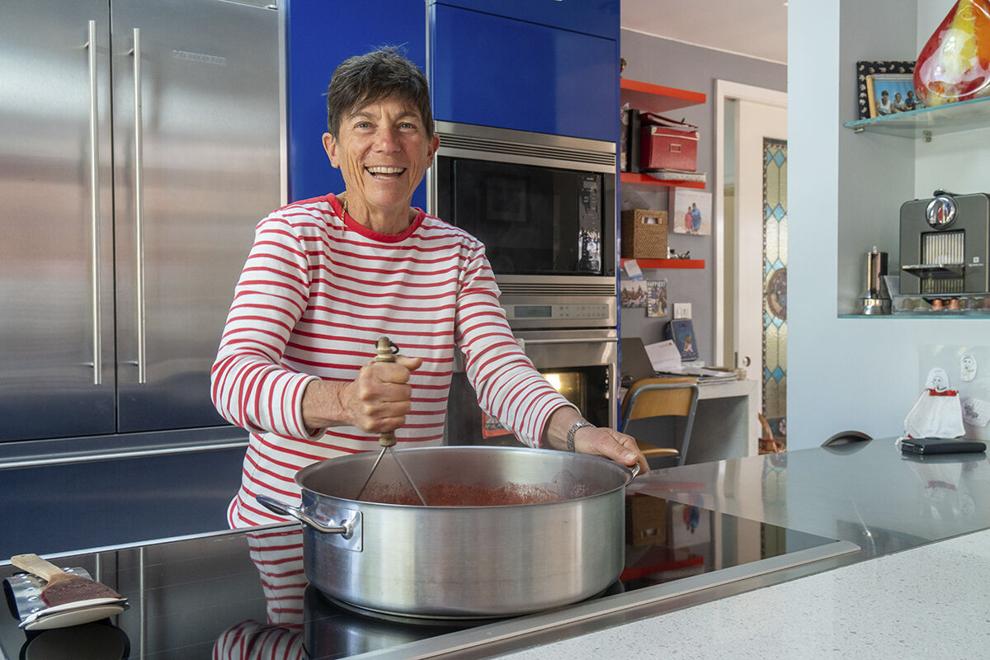 Nuchi De Giuli estimated that she spends at least one day a week making jam, though that number rises to four or five during the fruitful summer months.
That's just business as usual for De Giuli, the founder of Jamforgood, which sells homemade fruit preserves and marmalades to raise money for charity.
"My family has always cooked a lot, as Italian families often do," the Los Altos resident said. "I was already making jam for my family, and I thought I should be able to help out." 
De Giuli isn't able to pinpoint the exact start of Jamforgood. She said she began sharing her jam in the early 2000s, mostly for school and family events, and it evolved into a charitable venture.
These days, she sells her jams at $8 a jar, each labeled and wrapped in a burlap cover and twine.
Although De Giuli often buys non-native fruit to make jam, she also depends on community support to keep her nonprofit venture going. Supporters include Los Altos resident Rebecca Sherwood, who first heard about Jamforgood on Nextdoor. De Giuli had posted that she was looking for people with excess fruit to donate. Sherwood, who has a calamondin tree, reached out and offered to share her bounty.
"A lot of people don't feel good about having really nice fruit not being used," Sherwood said. "It's really easy – Nuchi just comes right over and is very happy to get it."
A few months later, Sherwood bought three of De Giuli's preserves: pear and chocolate, papaya ginger lemon and kumquat. She said the jam was "really good."
De Giuli has relied on fruit donations from dozens of people like Sherwood over the years. All fruit is usable as long as it's ripe, according to De Giuli.
"I'm trying to use excess, surplus food that would go to waste," De Giuli said.
A 'win-win' venture
All of De Giuli's profits from the jam go directly to Los Quinchos, a nonprofit organization in Managua, Nicaragua, that provides shelter and care to abandoned children. In recent years, De Giuli estimated that she has raised between $5,000 and $6,000, and she pays for the jars out of pocket.
De Giuli's family has been involved with Los Quinchos for many years. Her mother was an active volunteer there, and now De Giuli herself visits frequently. Her trips not only enable her to see what Los Quinchos needs, but also how donations are being spent.
"When we get there, we may find light bulbs that don't work, electricity wires that have been stolen, roofs that are leaking," she said. "All the money that comes in goes to the children."
During recent visits, De Giuli has shared her craft with the children Los Quinchos serves, teaching them to make jam from the readily available Nicaraguan mangos. 
"I like to show them how they can use whatever the environment offers," she said. 
De Giuli summed up her mission: "My jams are very low in sugar, sustainable and from local fruit. It's a win-win, because you get jam and get to donate to a good cause."
To purchase jam and to donate fruit, email Nuchi De Giuli at jamforgood@gmail.com.