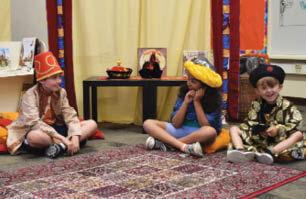 Amid a plethora of
Science, Technology, Engineering and Math programs and coding and robotics camps, Silicon Valley still sustains a rich offering of camps to engage a slightly different part of kids' brains. Arts and humanities camps not only help campers grow into effective communicators, but also engage them in the complexities of the culture around them.
Self-expression and self-esteem
The Write Now! camp at Emerson School in Palo Alto, designed by the Early Learning Institute, has something for every writer in grades 2-8. Kids who could use a little review benefit from individual coaching from faculty on the building blocks of good writing, covering everything from the nuts and bolts of sentence structure to getting ready to write high school essays.
For the budding debate champion, a Presentation Techniques track bolsters public speaking skills and digs into the psychology of what makes persuasive rhetoric. And for those with a taste for art and self-expression, Creative Writing transforms campers into poets, authors and playwrights. Taking pleasure in writing and expressing oneself, not just building skills to pass a test, are fundamental parts of the Write Now! mission, according to Emerson School Director Linda Paz.
"I think we see a lot of children in this area who grow up and have issues in terms of self-esteem," she said. "What we really want to do is help children take those inside thoughts out and create with them, through self-expression."
For evidence that working on writing skills in a fun environment can spark an individual passion, Paz looks no farther than her own living room: Both of her children have gone through the Write Now! camps, and they'll come home, she said, "and start doing their own writing on the side."
Students learn to take pride in their work, presenting and delivering creative pieces to classmates, as well as to parents in a special afternoon showcase. Whether delivering barn-burning persuasive speeches or renditions of their own stage plays, campers gain confidence throughout the week. Campers take home a pamphlet of their typed masterpieces as a souvenir.
"We help inspire them to come to believe that their ideas are good ideas," Paz said, and to take pride in their work.
Time travel
Another opportunity for cultural immersion takes place at Palo Alto-based Camp Marco Polo, where kids ages 8-13 dive deep into times and places different from their own. Grouped into small "caravans" of campers, students delve into the history of the Silk Road through an immersive approach to history, going back in time in their imaginations to travel with Marco Polo.
The camp curriculum, which rotates each week through a different historical culture, glides smoothly from the Han Dynasty of China through Ancient Persia, Anatolia and Venice. As they explore the folklore, art, language and history of each era, Camp Marco Polo favors a hands-on approach. Students will find themselves working with tile, textiles and clay; learning enough of a new language to barter with fellow traders in a makeshift bazaar; and making delicious meals (and eating them), all while bedecked in colorful costumes and roleplaying to truly imagine themselves in a different time and place.
"They're not just passively experiencing each aspect of culture," said Sheila Pfeiffer, founder of Camp Marco Polo, which helps participants learn a great deal of history - and empathy for those unlike themselves - through engaging play. "When language and culture is introduced to children in this way, there isn't that sense of intimidation, so kids feel very confident and comfortable."
According to Pfeiffer, at this juncture in time, there's so much sociopolitical volatility that it's important for children to see and experience the beauty of cultural similarities and differences. Even in the region's very diverse environment, we still may not have a clear sense or understanding, she said, of what it means to see across cultures and achieve true cultural understanding.
One critical understanding that Marco Polo campers reach through experience and exploration is that while we often speak as though technology is an invention of the 20th and 21st centuries, creativity and innovation are not unique to our time or place.
Campers pick up a thread in one culture and follow it. In one tasty sequence, the caravans investigate the development of noodles in Asia, learning how flour is boiled and making their own treats, then see how the same technology is applied to hand-stretched candy in other cultures, then to dairy with Armenian string cheese. While they're learning, they're pulling noodles, snacking on treats and absorbing not only the science that makes these foods possible, but also how culture is transmitted and exchanged.
And while students can choose to attend one week or many in the summer session, if they stick around for the entire sequence, they get to see more of those connections that interweave the tapestry of history.
"They begin to see the permeability of borders," Pfeiffer said, and to consider the values underlying cultural preferences like open sharing of technology, fierce protection of intellectual property and cross-pollination of ideas. At the end of camp, kids take home a new level of cultural understanding - and, if they're lucky, enough words of Turkish to haggle for a bolt of cloth in the bazaar.
For more information on the WriteNow! camp, visit headsup.org/writenow-programs.
For more information on Camp Marco Polo, visit camp-marcopolo.com. ✎