If you drive or cycle in the hills west of town in spring or summer, you may notice light-orange flowering shrubs covering steep, dry hillsides, often in part shade. These shrubs are native, drought-tolerant, long-blooming, deer-resistant, attractive to hummingbirds and adaptable to gardens.
The shrubby, longer-lived monkeyflowers that grow on hillsides are called sticky monkeyflowers. The flowers, 1-3 inches across, range from soft orange to apricot to buff. At 2-3 feet high and wide, they are subshrubs or perennials. The brittle stems may dry out if the summer is especially hot, and the plant benefits from light shaping. As with most natives, be careful not to cut back into old wood.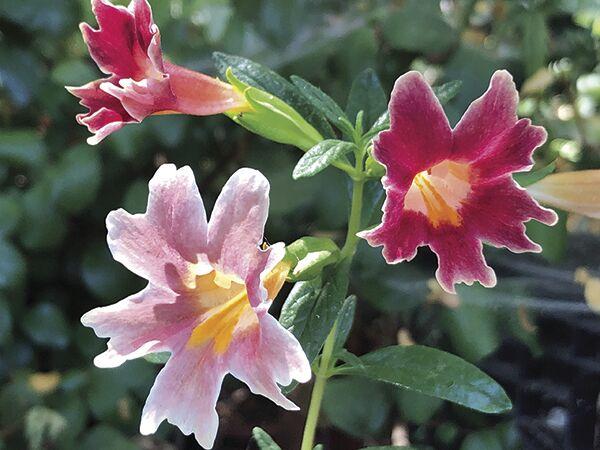 Since at least the 1940s, hybridizers have been working to expand the color palette, flowering time and garden adaptability of monkeyflowers. Bush monkeyflowers, also known as Mimulus hybrids, come in a range of warm colors – yellows, oranges, reds, pinks – as well as whites and creams. They can be smaller than sticky monkeyflowers, 1-3 feet tall and wide. The Jelly Bean series of cultivars has intense colors, and the Fiesta Marigold cultivar's stunning flowers are deep red edged with orange. Some can bloom almost year-round, though they bloom most profusely from spring to summer.
The versatile Mimulus hybrids can grow in sun to part shade, and often do better with some afternoon shade. Their water requirements are similar to other native perennials: They bloom more and look better with occasional summer water once established.
Planting tips
Plant monkeyflowers in drifts with native sages and buckwheats, bunchgrasses, coyote mint and hummingbird fuchsia. Freely flowering monkeyflowers look great in containers, too.
Because the flowers occur on the branch tips, prune Mimulus hybrids back to 1 foot in March, before the flush of spring bloom, to get a bushier plant.
Practically the only downside of growing Mimulus hybrids is their relatively short life, typically two to five years. Like other natives, they may live longer if summer water is more restricted. If you find a color you especially like, you can take cuttings, because they are easy to propagate.
The other locally native monkey-flower is on the other end of the watering spectrum. Seep monkey-flower (Erythranthe guttata) likes to grow in wet, sunny areas. You've certainly seen it if you've gone hiking along streams anywhere in California. Plant it at the edge of a pond or next to a water fountain. It can get 1-3 feet high and wide. It reseeds, but it's easy to pull if it outgrows its allotted space. The bright-yellow flowers with red markings attract hummingbirds from midspring to midsummer.
Seep monkeyflower and other varieties also occur in hundreds of labs, where they are used extensively in evolutionary and ecological studies, under their former botanical name, Mimulus.
For moist areas in sun to part shade, try scarlet monkeyflower (Erythranthe cardinalis). It can reach 1-2 feet tall and wide. The orange-red flowers attract hummingbirds from summer to fall. Cut it back in the fall after flowering. J
Tanya Kucak gardens organically. Email her at tanya.garden@gmail.com.