Vicki Moore removed the first slice of lawn in her Los Altos backyard around 15 years ago and then, bit by bit, kept replacing pieces until eventually all the grass was gone.
"Over the years we reduced it, and reduced it, and reduced it to the point where there is no lawn anymore," she said. "We relandscaped with a lot of other features, so it includes a mix of native plants and some edible plants."
Nixing your lawn like Moore did is one of the steps residents can take to reduce their water use as California experiences an unprecedented drought, said Gary Kremen, a member of the Santa Clara Valley Water District Board of Directors.
Valley Water's board in June enacted a 15% mandatory water-use reduction for Santa Clara County compared to 2019.
"This drought is extraordinarily serious," Kremen said. "This is the worst two years we've ever had in recorded California history."
Within Santa Clara County, 55% of water is used residentially, roughly half indoors and half outdoors, according to data Kremen shared. That means the actions of individuals can make a difference, he added.
Los Altos resident Ron Labetich is among those who have taken steps to reduce his water consumption, including removing parts of his lawn and putting his yard and extensive vegetable garden on a pre-timed irrigation system.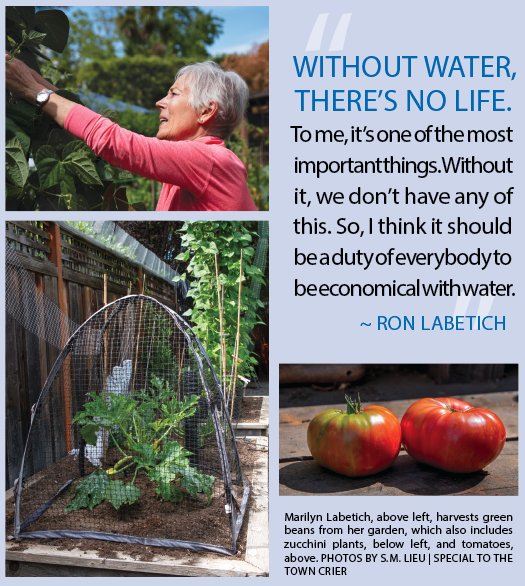 Labetich and his wife, Marilyn, purchased their home 50 years ago and since have experienced the repeated droughts in the region, including a serious one in the late 1970s that impacted how Labetich views water use.
"I tell you, it was horrible. Horrible," Labetich said. "As we've had more droughts, you start thinking about it – what makes it more (water) efficient and easier?"
In recent years, Labetich has been removing his lawn in phases, similar to Moore. That included ripping Ø out the grass around a group of four redwood trees he planted decades ago and relandscaping with mulch and largely drought-tolerant native plants. Labetich said he made the decision partly to conserve water, as well as to avoid lawn maintenance and support the redwood trees, which prefer mulch because it helps retain moisture.
He also has installed an irrigation system in his yard, which allows him to control the timing and volume of water used. Other steps he's taken include checking his property for water leaks, changing to low-flow shower heads and taking shorter showers.
"Without water, there's no life," Labetich said. "To me, it's one of the most important things. Without it, we don't have any of this. So, I think it should be a duty of everybody to be economical with water."
Gradual reduction
Moore similarly said she believes people need to be very careful about their water use. She has a long history of environmental work, including founding Living Classroom, a nonprofit that teaches hands-on garden-based lessons in local schools.
In her own life, Moore has taken steps to reduce her family's water consumption. The removal of the lawn in her backyard took place in three stages. First, she removed the grass around an oak tree about 15 years ago. Next, she took out a much larger swath, leaving enough grass to fit a badminton net. Finally, around seven years ago, Moore took out all of the remaining lawn in the backyard.
The front yard was already free of grass. Moore and her family bought their property in 2000 and built a new house on the land in 2002 without any front lawn.
"From the get-go I said, 'I don't have any need for a front lawn,'" she said. "Even though it was over 20 years ago, I just knew at that point – What's the point? We're not going to use it and I don't want to mow it."
Instead, the front yard is landscaped primarily with drought-tolerant native plants, save for a magnolia tree that was already on the property. Moore Ø said she's always been a proponent of landscaping that is not only suitable from a water perspective, but also provides habitat for pollinators and other wildlife. Oftentimes, Moore said she sees front lawns that are simply ornamental.
"They're not used, nobody ever walks on it, you have to water it, you have to mow it, you have to fertilize it," she said. "It's just there because (the) perspective is, 'Oh, that's what front lawns should look like.'"
Moore stressed she doesn't think all lawns are bad, adding that they can be appropriate for households that will actively use the space, such as those with young kids. Although Moore's family decided to forgo grass in the front yard, they kept grass in the backyard until her kids got older.
"We did have a sizable lawn originally for our kids, because they were quite young," she said. "And then over time it got nibbled away."
Beyond the lawn, Moore also filled in their pool about a year ago Ø
and is currently in the process of building an accessory dwelling unit in that space, which she will rent out. Inside her own house, Moore's washer and dryer recently gave out and she's replacing them with more water-efficient models. She also keeps a bucket in the shower to capture extra water and minimizes toilet flushes.
"Just trying to conserve in all of those basic ways," she said. "It does make a difference."
Conservation tips
Local water experts offered a variety of tips for residents looking to save water during the drought.
According to Kremen, taking such steps is important because the water situation is particularly dire right now. In addition to low rainfall, state and federal water allocations for Santa Clara County also have been cut, and Anderson Reservoir is out of commission while it's seismically retrofitted, he said.
"It's going to be very grim and dangerous if we don't have a very wet winter," Kremen said.
Below are steps from Valley Water that individuals can take to conserve both inside and outside their home.
Inside
• Install high-efficiency toilets.
• Fix leaks.
• Fill the bathtub at most halfway.
• Install aerators.
• Take shorter showers.
• Turn off water while brushing teeth or shaving.
• Wash full loads of clothes and dishes.
• Recycle indoor water to irrigate the garden.
Outside
• Use plants and trees that require less water.
• Install drip irrigation with a smart controller.
• Use a broom to clean outside.
• Set lawn mower blades to 3 inches.
• Adjust sprinkler heads and fix leaks.
• Use mulch.
For more information on conserving water, visit watersavings.org.