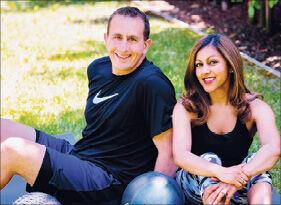 According to a research study conducted by University College London, of 3,700 couples surveyed who worked out together, 70% were still exercising at the gym at least once a week two years later. The study reinforces the many benefits for couples who exercise together.
Bonding over a shared activity
While many couples may have activities they already do together, as time goes on and after many have kids, their interests and activities may drift in different directions. Therefore, finding fun workouts and exercises to do together can really allow them to bond or potentially reconnect with one another over a shared activity. Whether it be runs or walks, cycling classes, bootcamp classes or even ballroom dance lessons, the sky's the limit in terms of the types of workouts couples can do to create or re-create that spark in their relationship.
Supporting each other's good health
Exercise is an important aspect of maintaining good health, and by doing it with their significant other, couples can support one another in this key area of life. If one is focused on weight loss, managing diabetes, trying to prevent heart disease or just trying to maintain current weight or fitness level, having a partner can provide the motivation and desire to keep going and proactively take care of each other's health and well-being, together and individually.
Co-creating healthy habits
Couples often take on habits together, good and bad. So rather than having that extra glass of wine or eating another serving of ice cream, couples can work together to develop healthy habits and rituals that serve them both well. The more both parties are participating in healthy habits, the more both are likely to stay the course, positively impact their entire family and keep those habits going over time (as indicated in the study mentioned earlier).
Jointly boosting each other
Exercise has so many positive benefits, including releasing endorphins in the brain to create positive moods and mental health, and increasing energy and stamina for strong physical health. It becomes even more powerful and fruitful for the relationship when both parties are reaping the benefits, together and individually.
To ensure that working out together is a positive and beneficial experience for couples, it's important to pick activities and workouts that both parties enjoy, focus on individual needs and goals, maintain open lines of communication and avoid unhealthy competition or power struggles.
If you're looking for new couples workouts that can be done anytime and anywhere, check out and subscribe to my Passion Fit YouTube channel, where I've launched a Couples Bootcamp Workout video series that I filmed with my husband recently. The video is available at youtube.com/passionfitllc.
Reena Vokoun is founder of the Los Altos-based Passion Fit, a health, wellness and fitness lifestyle company. For a class schedule and more information, visit passionfit.com.