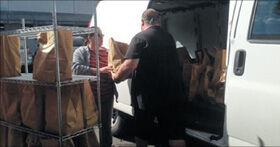 Maureen Wadiak has worked in the Silicon Valley community for more than 20 years and has a blunt message on the connection between good eating and health policy.
"Eating healthier means fewer doctor's visits," she said.
That is not all. Wadiak is associate director of Community Services Agency (CSA), a nonprofit organization that provides social services to residents of Mountain View, Los Altos and Los Altos Hills. Many people in the community are worried about losing their homes, their health care disappearing or the increased risk of deportation. This means health – and healthful eating – is one of the things that can fall by the wayside.
"Lower-income communities have greater availability of fast-food restaurants, particularly around schools," she said. "A lot of these people live in neighborhoods that don't have access to produce."
When there are few places to buy fresh produce and little time to get there, it can be difficult for families to make grocery trips. That is why CSA has begun distributing nutritious food at local schools.
"We started this new initiative as part of our strategic plan to reduce access barriers," Wadiak said. "We're providing supplemental food to families at Castro and Mistral schools who are on free or reduced (cost) lunch programs."
For CSA, this is a way to keep wealth inequality from leading to heath inequality.
"More people are paying more money for rent, and that means less money for food," she said.
This means places like CSA are required to ramp up their services.
"We are not just getting food out to our clients, but getting healthy food out," she said.
Bringing healthful food to people
Wadiak understands that people working two or three jobs might not be able to carefully shop, let alone visit CSA. The agency administers a food & nutrition program, but having food available at schools is different. So she ensures that CSA is able to come to them.
"We have a case manager to talk to parents and hear if they know about CSA services," she said. "We are going to where the clients are in order to reduce these access barriers."
For some CSA workers, this means handing out food at local schools. For others, it means teaching clients how to make tasty food with ingredients they may be unfamiliar with. Wadiak recalls one Mexican-American woman who struggled to lighten up the food her family loved.
"Her husband was a real traditionalist, and she did not know how to get him to eat ground turkey," Wadiak recalled. "The woman next to her said, 'You just don't tell him. Just do the swap and season it. He's probably not going to know.'"
Wadiak said CSA's Challenge Diabetes coordinator "sneaks" ground vegetables into food and shows other home cooks how to do the same.
"It's really great to have a sense of community and to have other women give ideas on how to do swap-outs," she said.
And it is not just CSA working by itself. The agency collaborates with the public health department, senior centers and others to serve the community.
Delivery challenges
Food delivery is a small industry in and of itself. Wadiak described getting food from a variety of sources, from Second Harvest to Hidden Villa and the Los Altos and Mountain View farmers' markets. CSA receives more than 9,000 pounds of fresh produce to create what Wadiak said is a farmers' market of their own.
"In the past, we've had a Girl Scout troop bring food over," she said. "We get things from people's gardens, from local supermarkets. Sprouts is fabulous."
The biggest trick is getting all that food to where their clients can find it.
"The challenge for us was having volunteers going to the Los Altos Farmers' Market," Wadiak added. "We desperately need volunteers: drivers, early birds who can pick up donated food and people to work in our pantry program."
Of all the health challenges people in Silicon Valley face, lack of food may be one of the easiest – but also the trickiest – to solve.
"The key thing is, people are really needing food," Wadiak said. "It's an integral part of helping people stay safely housed because it gives them a little bit more of an economic cushion as the rents go up."
With the future of health care uncertain and housing even more so, CSA is happy to follow the doctor's orders where nutritious eating is concerned.
"Food is a prescription for good health," Wadiak said.
For more information, visit csacares.org.