The State Street Market food hall preparing to open downtown this summer hosts a mix of very local vendors and regional culinary stars in its stalls and restaurant spaces.
The 20,000-square-foot project located at 170 State St., currently in the process of finishing interior touches as vendors prepare to move into their spaces, included 11 different dining elements still in construction on a recent tour, along with a teaching kitchen and, potentially, future space for community events.
The largest, sit-down dining space, once home to Beausejour French Restaurant, features what may become the headline act for State Street Market – a new restaurant, dubbed El Alto, from acclaimed chef Traci Des Jardins. Described as a celebration of the rich history of the early Californian-Mexican ranchos and the agrarian roots of the area surrounding Los Altos, El Alto also hosts a subterranean speakeasy under the direction of Des Jardins and her team.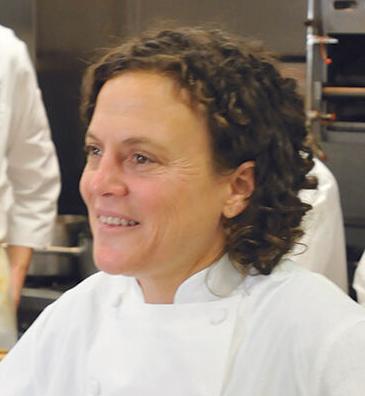 Meichih and Michael Kim, formerly of Palo Alto's Michelin-starred Maum, will open Bao Bèi, a new and more casual culinary exploration of their Korean and Taiwanese cultural heritage.
Other regional specialists coming to the market include Marin-based cheesemaker Cowgirl Creamery and the highly familiar Tin Pot Creamery, moving from First Street to new, slightly larger digs for its ice cream in the food hall.
Los Altos Community Investments (LACI) owns and developed the food hall, as well as originating several of the food stalls directly, but the majority of the eateries are independent projects by local chefs, and the day-to-day operation of the food enterprise rests with Bon Appetit Management Co.
Los Altos resident Anne Wojcicki, the principal behind LACI, told the Town Crier in an interview that "one of the things I focused on is food that is going to be relatively simple but just extraordinary quality," pointing by example to Des Jardins' strength at sourcing from local farms to prepare food that shows off its core ingredients.
Details have not yet been released about all the participants filling out the roster, including for a space opening onto the intersection of State and Third Streets, described as preparing to host coffee and complementary eatables. A space next to that is destined to host Cowgirl's local cheeses. In the center of the hall, one stall focuses on raw oysters, seafood, soups and drinks. A bar with a promisingly lengthy row of taps is slated to host an in-house mixologist. The open-plan main space, with soaring vaulted steel beams, skylights and a large central seating area ringed by all the food sources, includes another three vendors along the rear wall, with not-yet-disclosed tenants setting up one space with a rotisserie, and one space prepared for grilled and hearth-fired food. The final stall, focused on salads, bowl-type meals, smoothies and juice, was developed directly by LACI, as was the seafood bar.
The rear of the building includes a lengthy drive-up pickup space for to-go food. In addition to an expanded open-air paseo stretching the length of the building between State Street and the parking plaza behind, outdoor dining will be possible in an enlarged space along State Street, with a potential for parklet dining running the length of the building from Third Street to where Aurum's parklet begins.
Placemaking anchor
Wojcicki said State Street Market contributes to the organization's interest in placemaking in Los Altos, aiming to create an intergenerational hub appealing for all ages.
"One of the things that's really unique about Los Altos is the three generations aspect," Wojcicki said of a town known for its substantial senior population and as a magnet for young families. "When you think about what brings multigenerations together, it's food – and I feel like food's a draw into the town, it's something everyone likes."
Asked about how she balanced the idea of kid-friendly with ambitious – or at least very acclaimed – food sources that don't skew toward chicken fingers, Wojcicki pointed out that from her experience as a mother of three, children are more concerned about a stuffy or uncomfortable physical setting than a particular menu, and that a huge variety of options can help family harmony, too.
Citing her own immediate experience with messy tables and children shellacked in food, she noted that what makes grandparents and parents comfortable also hinges on feeling a sense of come-as-you-are welcome.
"They just have to feel comfortable – I worried more about quality and the environment," Wojcicki said of State Street Market's design.
A sponsor of the Third Street Green who's regularly spotted outdoors around town, Wojcicki said her dream is a continuing expansion of outdoor spaces where families can gather in Los Altos.
"Every real estate project, everything that we bring in, is about 'Am I appealing to every age level – little kids, teenagers, young adults, parents and grandparents?'" she said. "Food is the heart and soul of a family, so I think of (State Street Market) as clearly an anchor for my projects."
Wojcicki said the next step is to figure out how to enhance the capabilities for people to gather, potentially with an event space for the community.
"I have great food, (now) how do you foster community?" she said. "It is absolutely for the Los Altos community, but it is also going to pull people in, friends and family – I want it to be known as a phenomenal gathering space."