Indigenous pasta dishes are a rare find in the Arab world. But there is one culinary treasure involving an Arab pasta-like dish reaching back thousands of years. The base of the dish is the humble dumpling.
Traditionally, dumplings have been an economical way to stretch costly meats to feed large and/or poor families. Enrobing small quantities of meat with a toothsome dough yields larger servings for a fraction of the cost of full meat-based dishes. Everyone gets a taste of the meat, but the dough adds filling heft while absorbing the flavors from any kind of soup or broth.
In the Levant countries of Syria, Palestine, Jordan and Lebanon, shish barak is a popular dish wherein meat dumplings are boiled in a yogurt soup, then topped with fresh herbs, toasted garlic and crunchy pine nuts. Shish barak has been around for centuries, appearing in a legendary 15th-century Arabic cookbook from Damascus titled "Kitab al-Tibakha." The popularity of the dish shows no signs of waning. This delicacy is usually made in the winter, when vegetables are scarcer and a hearty soup warms the stomach and soul.
The soup for shish barak is unusual in that it's yogurt-based, producing a creamy result with a milder flavor. A savory topping of chopped, fresh cilantro, mint, pine nuts and garlic sauteed in butter brings the soup to life.
Shish barak is a prime example of tribal cooking, with the family gathering to create many dumplings not just to eat right away, but to freeze for use all winter. Oftentimes the women of the village would gather to make the dumplings as they caught up on their lives and exchanged gossip, all while pinching one knob of dough after the other.
Slow food reaps great rewards for the entire family, especially as we enter winter, with short and cold days. Shish barak takes time to prepare, making for a project all can participate in, from assembling to cooking, plating and eating.
You can substitute the ground beef with ground lamb, chicken or even minced mushrooms for a vegetarian option. But do not use nonfat yogurt for the soup, as full-fat yogurt ensures a creamy and less lumpy result. If you don't have time to make the dough, store-bought wonton wrappers work extremely well and can save loads of time in preparing this dish.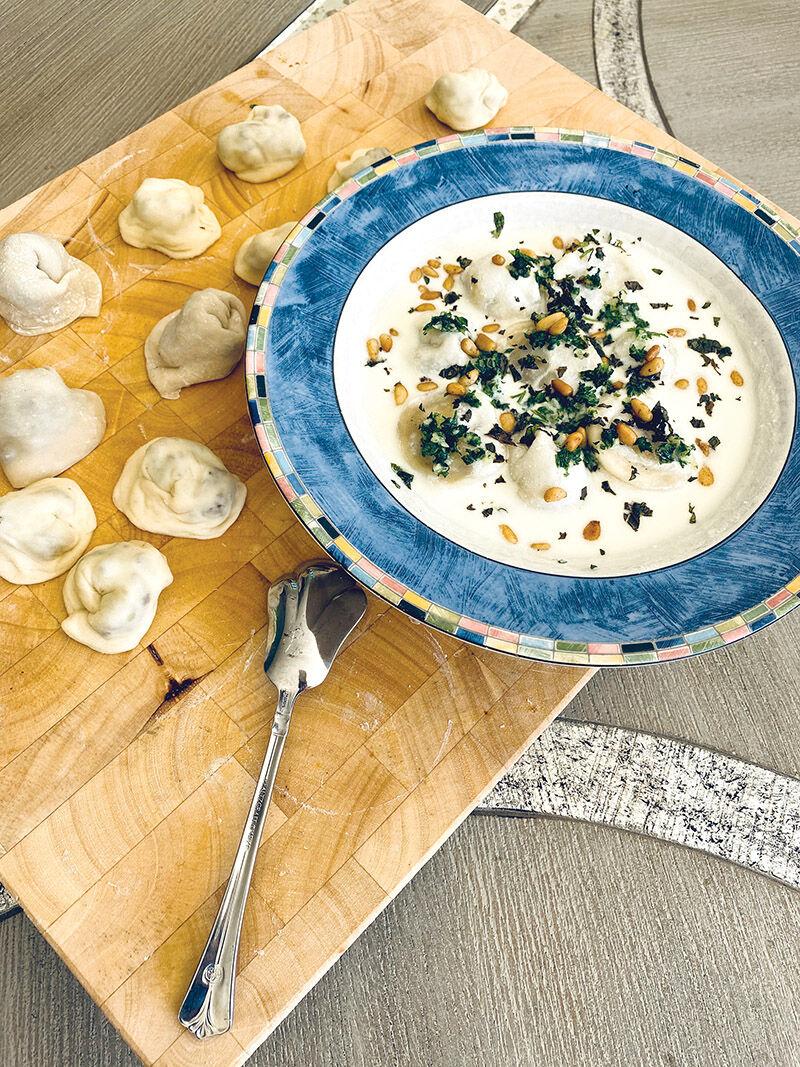 Shish Barak
Filling
• 1 tablespoon butter
• 1 small onion
• 2 cloves garlic, finely minced
• 1/2 to 1 teaspoon lemon pepper or regular pepper
• Salt to taste
• 1 teaspoon allspice
• 1/2 teaspoon nutmeg
• Dash cinnamon
• 1/2 pound ground beef (or any other preferred meat)
• 2 tablespoons toasted pine nuts (optional)
Dough
• 2 cups flour
• Salt to taste
• 1/4 cup avocado oil
• 3/4 to 1 cup water (start with 3/4 cup and add more as needed to make pliable dough)
To skip this step entirely, use 1 packet ready-made wonton wrappers.
Sauce
• 1 quart full-fat yogurt
• 1 egg, beaten
• 1/4 cup water
• 1 tablespoon cornstarch
Topping
• 2 cloves garlic, minced
• 1 tablespoon butter
• 1/2 bunch fresh cilantro, finely chopped
• 2 tablespoons fresh mint, finely chopped
• 2 tablespoons toasted pine nuts
Filling: Heat butter and saute chopped onions until soft. Add minced garlic and saute approximately 1 minute. Add beef, salt and lemon pepper, allspice, nutmeg and tiny dash of cinnamon. Saute beef until browned, then add toasted pine nuts and set aside.
Dough: Add flour and salt to bowl, mix and make a well. In center, pour avocado oil and 3/4 cup water to start. Using rubber spatula or fingers, stir water, oil and flour together until ball of dough forms. Use hands to knead dough and incorporate remaining flour. Dough should feel slightly tacky but not damp – it should not stick to your fingers. If dough doesn't form together, add remaining 1/4 cup water. The moisture content of flour and the humidity in the air both can affect how the dough comes together on a given day, requiring you to use your eyes and touch to evaluate. If the dough feels too sticky, then a little more flour will bring it back into balance.
Dust work surface with flour. Remove dough from bowl and knead approximately 2 minutes. It should feel smooth. Cover dough with damp towel or plastic wrap and let rest on counter or refrigerate for a minimum of 30 minutes.
Once dough is ready, roll out on cutting board until it is approximately 1/2-cm thick. Using round cutter (or glass cup) of roughly 6-cm diameter, cut into discs. Fill each disc with rounded teaspoon of filling and fold into crescent. Pinch edges shut, fold ends behind dumpling and pinch. Place on parchment-lined tray and keep covered with tea towel until ready to cook.
If you want to skip the step of making the dough, you can use a pack of wonton wrappers instead.
Soup: Add yogurt to large pot. Add beaten egg, salt to taste and combine over medium heat. Whisk cornstarch into 1/4 cup water until dissolved, then combine with yogurt in pot. Once soup boils, reduce heat and simmer, stirring on and off for approximately 20 minutes. Add dumplings and cook 10 minutes.
Topping: Add all ingredients (from garlic to mint) to skillet and saute approximately 2 minutes.
To serve, ladle soup with dumplings into each bowl and add tablespoon of cilantro/garlic mix on top of each bowl. Sprinkle with toasted pine nuts if desired. Serve immediately.
Makes six servings.
To see techniques and tips on how to make the perfect shish barak, watch the video on this story at losaltosonline.com or visit Shaheen's YouTube channel at youtube.com/BlancheTV.
Blanche Shaheen is a journalist, host of the YouTube cooking show "Feast in the Middle East" and author of the cookbook "Feast in the Middle East: A Personal Journey of Family and Cuisine." To find her cookbook and for more information, visit FeastInTheMiddleEast.com.