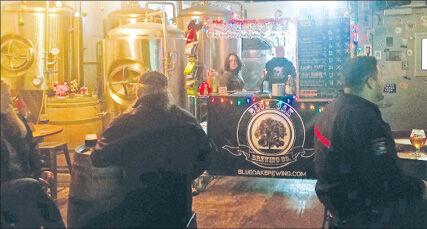 I first enjoyed Blue Oak Brewing Co.'s beers at the San Mateo County Brewery Festival last summer and finally got around to visiting its cozy taproom on a cool, rainy Thursday evening in January.
Tucked away in an industrial neighborhood in San Carlos, the bar offers seating at a handful of oak barrels with a clear view of the seven-barrel brewhouse where owner and brewer Alex Porter concocts his delicious beers.
As a steady stream of both first-time visitors and apparent regulars visited the taproom, Porter was doing some equipment maintenance in the brewery while his wife, Giovanna, worked the bar. She made everyone feel welcome not only by offering samples to taste before ordering a full glass, but also by engaging everyone in friendly conversation.
The tap list featured a mix of Belgian and American brews, including a passion fruit kettle sour and a barrel-aged saison. Following are the beers I sampled during my visit.
• The Grey Matter American Pilsner (4.6 percent alcohol by volume, 30 international bitterness units) was straw-colored and brightly clear with a dense white head and moderate carbonation. Featuring a gently spicy Hallertauer hop aroma and a light, clean, crisp malt flavor, the components of the beer balanced nicely, including a bracing hop bitterness mid-palate. The pilsner also showcased a long-lasting, smooth finish with a pleasant lingering bitterness.
• Lemon Party IPA (7.1 percent ABV, 50 IBU) poured a lightly hazy golden-orange color. Moderate citrus zest and pine hop aroma from Citra and Mosaic hops jumped out of the glass, with similar flavor characteristics on the palate, along with a firm bitterness that persists from the initial sip through the finish. The IPA finishes with a crisp carbonic bite that combines with the distinctive hops to create a tingly pine sensation. The brew is medium bodied, with malt serving to provide a stage for the hops rather than drawing attention to itself, and the residual malt sweetness in the finish is minimal.
• Served on nitro, the Muddy Waters Porter (7 percent ABV, 26 IBU) was a dark, opaque brown color with ruby highlights and a moussy off-white head. The aroma was intense and robust, with dark chocolate and dark roast coffee characteristics both present in equal measure. The flavor highlighted smooth roastiness with a touch of pleasant sweetness, and hops made a subtle contribution to bitterness and the flavor balance. Despite being relatively high in alcohol for the style, the alcohol was really not noticeable, and the beer finished with a pleasant balance and smoothness.
• With a deep orange-gold color and low white head of foam in the glass, Brother Philippe Belgian Tripel's aroma highlighted prominent pear esters with hints of bubble gum as well as moderate malt sweetness. Full bodied and rich, with moderately low carbonation, malt sweetness was balanced by hints of spicy hops on the palate. At 25 IBU and 9 percent ABV, the alcohol was definitely noticeable, but without being overpowering. The beer finished fruity and semi-dry – slightly higher carbonation might have highlighted the aroma more, as well as contributing to a greater sense of dryness in the finish, but this was a fine example of the style.
Derek Wolfgram is a Certified Beer Judge through the Beer Judge Certification Program and an officer of the Silicon Valley Sudzers homebrew club. For more information, visit sudzers.org.