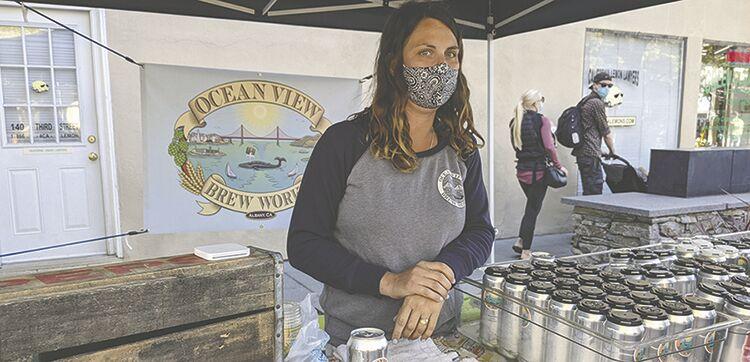 When the Downtown Los Altos Farmers' Market returned Thursday, familiar vendors reappeared, a few were missed in their absence and a few new faces debuted.
Menlo Park-based newcomer Little Sky Bakery's reputation clearly preceded it – the enormous cookies, pull-apart challah rolls and whole-grain breads proved a sought-after prize.
Seller Leah Shanson said they're hoping to double the supply they bring next week after completely selling out by 5:30 p.m., a feat given that the market had only opened at 4 p.m.
Because the pandemic shut down Hidden Villa's typical plant sale, farm intern Alyssa Lang brought $3 tomato starts in varieties such as Sungold, Lemon Boy and Early Girl. Skeins of the organic farm's spun sheep's wool ($25) seemed particularly timely, as the annual shearing had occurred earlier that day.
The Finest-Edge knife-sharpening enterprise returned in a shiny new form this year with a purpose-built van for onsite knife sharpening. Co-owner Liana Uno accepted knives for work and wrapped the finished jobs in newspaper under the watchful eye of canine assistant Coco Beanz, noting that someone had, indeed, paid for a sharpening with kibble (as offered on the sign denoting means of payment).
Albany-based Ocean View Brew Works' co-owner Vonnie Davidson enjoyed the novelty of pulling pints for market-goers as well as selling cans of primarily beer but also a raspberry hard seltzer. Los Altos is unusual locally as an "open container" city, with no explicit ban on drinking alcohol on downtown streets. That allows for beer walks, wine strolls and market pints.
Read more about how and why the market has changed this year in our story on new operator & vendors, fewer hot meals at this year's Los Altos farmers' market.