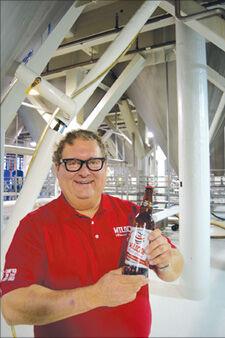 Three things are readily apparent when talking about brewing with former Los Altos resident Dan Gordon: his palpable passion for brewing, his encyclopedic knowledge of every technical aspect of the brewing process and his obsession with the purity of the ingredients that go into his products.
While growing up in Los Altos and attending Homestead High School, Gordon took a family vacation to Austria and Germany that he said "opened my eyes to beer." He co-founded the original Gordon Biersch Brewery Restaurant in Palo Alto in 1988, opened the Gordon Biersch production brewery in San Jose in 1997 and in 2015 founded Aurum Cider Co., producer of Wildcide hard cider.
Inspired by happy animals' consumption of naturally fermented fruits in the wild (hence the name), Gordon set out to "replicate what occurs in nature in a controlled environment" by producing a pure, natural cider using only fresh-pressed apple juice and brewer's yeast.
While studying other hard ciders available on the market, he was disappointed to see additions of preservatives like malic acid and sulfites in many prominent brands. Gordon Biersch Brewing famously follows the Reinheitsgebot (German beer purity law).
"Our philosophy in brewing is purity, and we took the same philosophy and applied it to cider," Gordon said.
Focus on aroma
Working with a producer of fresh apple juice, Gordon identified four varieties of apples that contribute different characteristics to the finished product: Red Delicious and Golden Delicious apples provide sweetness, Granny Smith apples provide acidity and tartness and Fuji apples contribute significant aroma characteristics. Gordon's focus on the aroma of Wildcide is unique among cider producers, and it shaped not only the recipe, but also the brewing process.
First, Aurum Cider uses only fresh-squeezed juice, never concentrate, because "evaporating water evaporates out aromatics as well," according to Gordon. Instead of boiling the juice, "we flash-pasteurize the juice under pressure so that no aroma has the chance to escape," he added.
Aurum brewed several test batches to develop the best fermentation process to highlight aroma qualities. After experimenting with several cider yeast strains that provided very neutral aroma and flavor profiles, Gordon selected an ale yeast that produced fruity esters that he said "add to the flavor experience of Wildcide." Aurum then propagated the ale yeast with apple juice to train it to enjoy the natural sugars from apples (primarily fructose) instead of its typical diet of maltose and other sugars derived from malted barley.
Wildcide pours a very pale straw color, brilliantly clear and bright, with large bubbles of carbonation. Very ripe apples dominate the aroma, with a hint of white wine tartness in a supporting role. The apple flavor is clean and bright, and the cider is light-bodied and petillant, with moderate prickly carbonation that hits the tongue and roof of the mouth. A small degree of residual sweetness exists, but the cider is relatively dry, and the light sweetness is well balanced by the medium acidity.
Wildcide is a new-world cider, without the astringent tannins of traditional European ciders. It is very well made, with a focus on sessionability and drinkability rather than complexity.
Wildcide started shipping in September, and Aurum currently has approximately 600 accounts, primarily in California and Hawaii. Aurum is testing a couple of additional varieties incorporating other fruits for possible future release. The company crowdsourced the Wildcide name and label design with its "inCider" database of approximately 6,000 interested people, who will certainly be hearing more about Wildcide as its distribution grows in 2016.
Derek Wolfgram is a BJCP Certified Beer Judge and an officer of the Silicon Valley Sudzers homebrew club. For more information, visit sudzers.org.