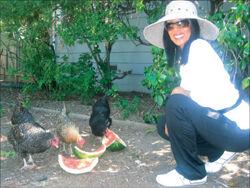 Prompted by her compassion for animals, Los Altos resident and licensed Zumba instructor Sehin Belew is taking action against cockfighting – through Zumba.
She plans to lead a benefit Zumba class to help People for the Ethical Treatment of Animals (PETA) stop the organized fighting of roosters, an illegal activity in the United States.
The dance-fitness fundraiser is scheduled 6:30-7:30 p.m. Aug. 18 at the Los Altos Youth Center, 1 N. San Antonio Road. The cost is $10 per person, and all proceeds will support PETA's efforts.
According to PETA's website, cockfighting is "a blood sport in which roosters are placed in a ring and forced to fight to the death for the amusement of onlookers."
The website states that "before they are thrown into the ring, many birds have their feathers plucked out and their wattles and/or combs."
"There is so much entertainment out there – do we really have to make animals suffer for our entertainment?" Belew asked. "We have power, we can make our money talk, we can raise awareness (of cockfighting)."
Belew said she first became aware of cockfighting after a co-worker retired and purchased a ranch in Mexico to raise chickens for cockfighting. He told Belew that he could sell a chicken for $7 as poultry and $1,000 for cockfighting.
"As long as money is involved, people will participate in cockfighting," Belew said.
And the Los Altos resident is passionate about stopping the practice.
"Cockfighting has been heavy on my heart, and it will not go away until I do something to help fight this cruelty," she said. "People love to exercise – why not do it for a cause?"
This is not the first time Belew, a former Miss Ethiopia, has fought animal cruelty through Zumba. In 2010, she held a similar fundraiser to benefit the Society for the Protection of Animals Abroad, which cares for mistreated horses, donkeys and other working animals in developing countries.
Belew has helped the needy in Ethiopia as well. She took two years off from high school to volunteer with a famine and poverty relief organization in her native country.
"Every single decision, every single perspective (I have) has been shaped by my time helping people in Ethiopia," she said. "My heart is for the children in Ethiopia. I made a lifelong promise to help them."
After moving to the U.S. in 1978 to attend college in Kansas on a full scholarship, Belew graduated with honors. She spent the next five years helping the homeless in Illinois.
"It taught me that homeless people are just like you and I," she said. "They just need somebody to put structure in their lives, give them guidance, love, nurturing that they've never received – even as children."
For more information on Belew's benefit Zumba class, call 714-3311 or visit www.sehinbelew.com.