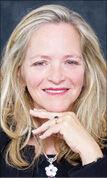 Move over, Pokemon GO – a new virtual-reality game may offer the same thrill of discovery while providing inspiration for girls in grades K-8 on several levels.
Through her startup Golden Poppy Inc., Los Altos resident Carrol Titus recently launched what she calls "the first augmented-reality mobile outdoor game" to promote STEM learning for girls. The game debuted at the 2020 Consumer Electronics Show (CES) last month in Las Vegas.
In the game, dubbed The Mysterious Disappearance of Unicorn Blue, players collaborate on a royal quest from Princess Keela to rescue a spellbound unicorn. They learn to fly, jump and spin as they navigate an enchanted 3D forest to find clues, solve riddles and earn golden rewards from forest sprites.
Players might find help during a visit to Mahoo's magical hint shop or encounter a "devil donkey."
"Resilience and cooperation with your friends are your best resources to solve the riddles and find the charms to save Unicorn Blue before it's too late," Titus said.
The game includes illustrated instructions and a map, charms, pouches and certificates for up to six. Players commemorate victories in an augmented-reality "fairy dust photo booth," where they can enhance their real images with glitter, hats and other props from the imaginary world.
Unicorn Blue also features STEM videos that extend skills learned from playing the game.
Window of opportunity
Titus frames Unicorn Blue as accelerating girls' "higher-order engineering, English language arts, social and emotional development" in a play-based mobile outdoor fairy tale.
"By playing this game, girls learn to think and behave like a champion," said Titus, a mother of three. "Our goal with this new game is to help young girls develop self-awareness and skills to collaborate, negotiate, connect to nature, bond with friends, acquire a new fairy tale, read, problem solve, gain new skills in STEM, fly in 3D and spontaneously sprint like a magical unicorn with joyful self-expression."
Titus added that the game "satisfies a set of social and emotional needs that the gamer world and engineering curricula have largely ignored."
Three years in the making, Unicorn Blue is being promoted as the only girl's game globally to integrate the best of physical, digital and biological play. It was well received at the Consumer Electronics Show and nominated for a KAPi (Kids At Play Interactive) award.
Titus said she piloted the game in Shoup Park with several local Girl Scout troops and received "rave reviews."
"Unicorn Blue changes the way that girls learn and play with STEM, it gets them away from the table, sprinting, running outside and actively choreographing their own fairy tale and STEM inquiry," she said.
She sees the game as a way of capturing girls' interest in math and science during a limited age window. Titus cited a Microsoft-commissioned survey of 11,500 young girls across Europe that found they become interested in STEM at age 11 but lose interest by 15.
"This means that governments, teachers and parents need to instill a love of STEM in young girls prior to age 11, before they turn their backs on these areas, potentially for good," Titus said.
The Mysterious Disappearance of Unicorn Blue is available on iOS and Android. For pricing and more information, visit goldenpoppy.net.