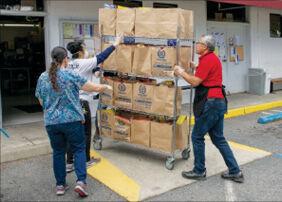 With help from the community, Mountain View's Community Services Agency is meeting the surge in demand for social services brought on by the COVID-19 pandemic.
But the road ahead is fraught with uncertainty.
First the good news: Financial donations to CSA are pouring in. Google Inc. last week donated $200,000 to help cover rent, utility and food expenses for economically disadvantaged clients. The Los Altos City Council recently approved another $75,000 for CSA. The city of Mountain View has contributed $1.8 million so far. There's a waiting list for volunteers, whose ranks include four city of Los Altos employees.
But the agency's two main objectives – keeping those in need fed and sheltered – will be more difficult to achieve as the shelter-in-place directives take a toll on jobs and the economy.
"Looking down the road, the best thing for us would be getting financial assistance so we can buy food," said Anita Grossman, CSA spokeswoman. "There's concern about the uptick in the requests for food. We could have more people needing food than there is food (available). That could happen."
The nonprofit CSA receives food donations from Second Harvest Food Bank to help with its supply, but emerging shortages nationwide are cause for concern.
"Food is a big issue," said Tom Myers, CSA executive director. "We see supply-chain issues in the not-too-distant future."
Grossman estimates CSA is currently serving more than 1,000 households and more than 2,500 individuals through its food and nutrition program.
The Google funding for rent and food assistance comes at a critical time. Pre-coronavirus, CSA was averaging approximately 20 applications per month for rent and/or utilities aid. The shelter-in-place orders since mid-March have prompted mass layoffs and furloughs, particularly in the service sector.
"Two weeks ago, we had over 1,200 applications for rental and utilities assistance," Myers said. "Now that number has soared to over 1,450, and we're expecting even more as we get closer to May and the likely extension of the shelter-in-place order."
CSA staff has adapted to the workload by cross-training staffers and moving some over from nonessential positions to rent assistance.
Myers said the Google contribution will help many households pay for rent and/or utilities, and help refresh the CSA food pantry.
"There are no words to describe our ongoing appreciation to Google for taking the lead in helping our Mountain View community during these difficult times," he said.
With its headquarters in Mountain View, Google officials consider the donation a helping hand to "neighbors."
"We're proud to continue our support of Community Services Agency of Mountain View's vital work and hopeful that these funds will help our neighbors stay safe and healthy during this difficult time," said Javier González, Google's government affairs and public policy manager.
Myers expressed pride in his staff for their work, but also raised concern about what lies ahead.
"We have no idea what's coming down the pike," he said.
To donate, volunteer and for more information, visit csacares.org.