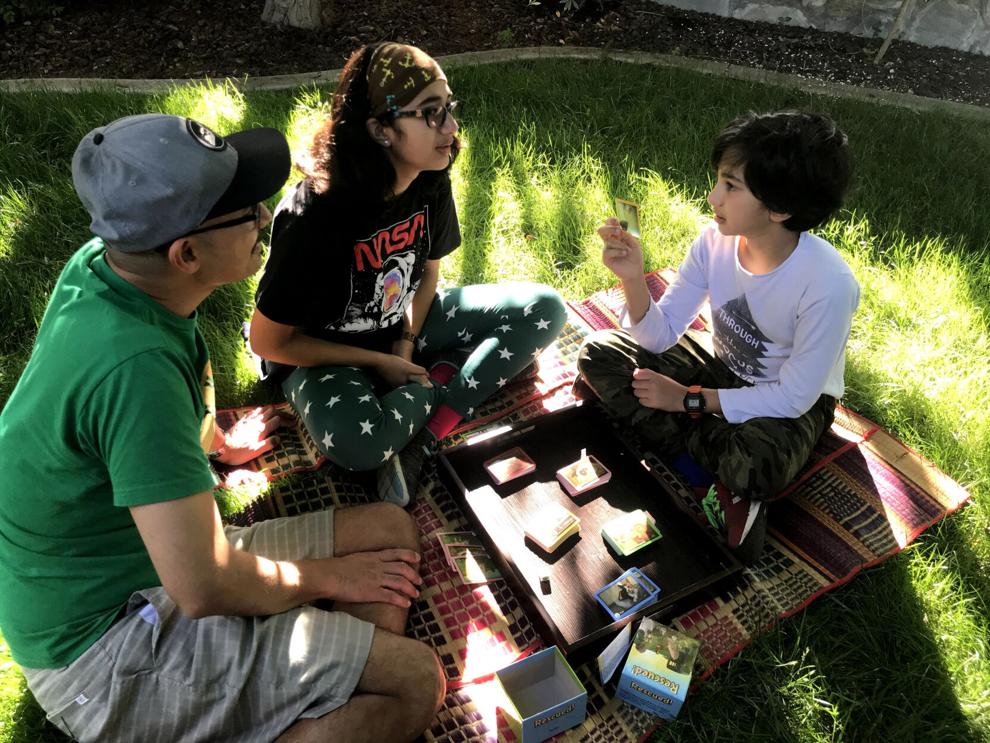 For Isabelle Cnudde, founder of the Los Altos animal nonprofit Clorofil, animals are her life. That's why she designed Rescued!, an educational card game that features the true stories of rescued animals.
The Los Altos resident explained how to play the game: "The players take turns, they roll the dice to see which type of animal they can rescue, answer the corresponding question and, if correct, rescue that animal. The goal is to rescue one animal of each type, or five animals of the same type. When you get a story card, you don't have to answer any question and can either keep that card or exchange it for any other card from any other player. The game involves knowledge, strategy and chance."
Inspiration
Cnudde said she was inspired to design an animal rescue-related game through her work at Clorofil, an advocacy group and microsanctuary.
Cnudde and her husband, Peter, founded Clorofil after rescuing their first hens – Thyme and Lavender – from an egg factory in 2014.
"Despite the terrible conditions they grew up in, they were amazing and enjoyed each moment at its fullest," Cnudde said of her chickens. "They changed our life."
Cnudde then volunteered at the Grass Valley-based Animal Place, one of the nation's oldest and largest sanctuaries for farm animals. That's where she learned more about factory farming and chicken rescue. The experience inspired her to establish Clorofil in 2016.
"Now, we are giving talks about the plight of farmed animals and the impact of animal agriculture on our planet," she said. "We are also promoting chicken adoption and educating the public about pet chicken care. As a microsanctuary, we rescue, rehabilitate and rehome farmed animals."
Cnudde's love and passion for animal rescue, combined with her lifelong love of board games, drove her to develop a product that incorporates both interests.
"It seemed natural to make a fun game that is at the same time educational," she said. "A bit like a Trivial Pursuit for animals."
At first, Cnudde wanted to create a large board game, similar to The Game of Life, where users would rescue animals from bad situations. However, in the interest of having the game appeal to a wide age range – and to make it easily transportable – she instead worked on a game that only included cards and dice.
There are two types of cards in Rescued!: some with real-life animal rescue stories and others with animal-related trivia questions.
Spreading awareness
Cnudde reached out to animal sanctuaries and shelters across California for the animal rescue stories and narrowed the final list to 25. Rescued! features stories about dogs, cats, cows, pigs and chickens. One of those stories centers on Honey, a cow living at Charlie's Acres, a sanctuary for farm animals in Sonoma.
"She came to Charlie's Acres at 10 years old after spending her life in the dairy industry," Cnudde said of Honey. "Like most female cows used for dairy, she was taken from her mother shortly after birth and raised to suffer the same fate. Fortunately, after she gave birth to her last son, Benjamin, she found sanctuary at Charlie's Acres.
Despite her tragic past, Honey is now able to raise her calf and spend her days grazing with him and enjoying a well-deserved retirement."
For the trivia cards, Cnudde focused on designing questions and answers that would be appropriate for all ages.
"Each question got reviewed by several people both for fact-checking, English, level of vocabulary for kids," she said. "Over 20 people participated in this process."
With the logistics finalized, Cnudde then collaborated with artist Mark Middleton to paint the animals and box cover, and tested the game out with friends for any minor changes.
"I printed all the questions on little pieces of colored paper. … We made sure to test with families, different ages and backgrounds," she said. "We tweaked the game based on their feedback."
After finding a manufacturer to produce the game – and facing many delays due to the coronavirus pandemic – a pallet with the finished product arrived on her doorstep last month, Cnudde said.
Now the game is finally available for sale at numerous animal sanctuaries in California, which use the profits to help sustain their organizations. Rescued! costs $25.
Ultimately, Cnudde hopes her game will educate and spread awareness about animals.
"I would like people to know that all animals are awesome creatures deserving our respect and compassion," she said. "Most of us know that about dogs and cats, but we don't interact with chickens, pigs and cows often enough to realize that the same is true for them. We should rethink our relationship with all animals and stop their exploitation."
To purchase Rescued! from Clorofil and for more information on the game, visit rescuedgame.org.
For more information on Clorofil, visit clorofil.org.