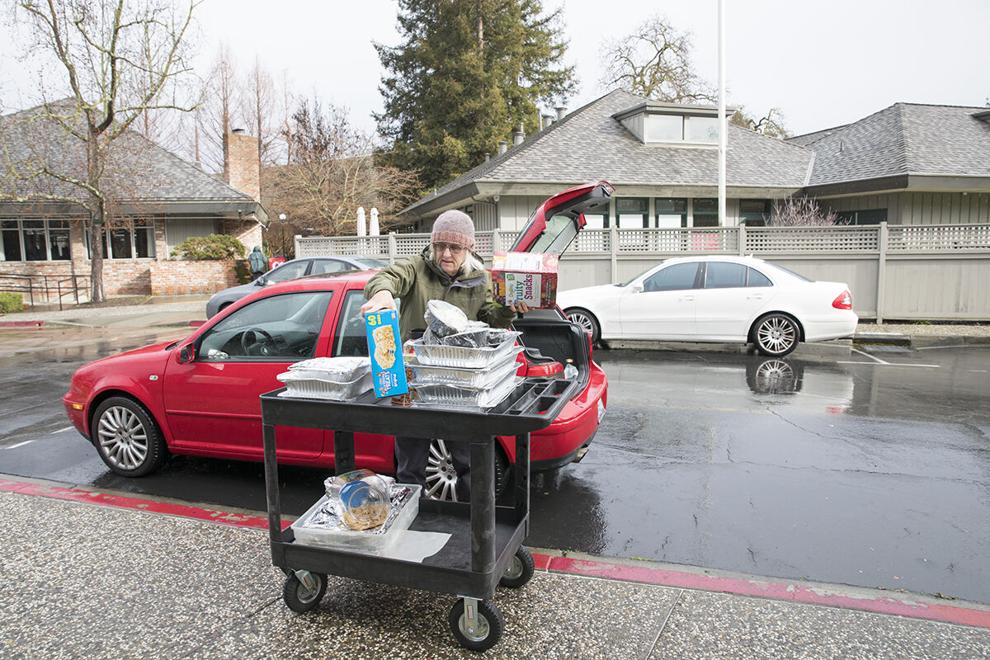 Peninsula Food Runners, an organization that delivers surplus food to nonprofit groups that feed the hungry, has planted roots in Los Altos and hopes to aid Santa Clara County in efforts to reduce waste.
"People want food. People want substance," said Maria Yap, PFR's founder and executive director. "Why waste it? Why not give it to people in need? We're willing to pick it up."
PFR's mission is to diminish hunger in the community and reduce food waste, according to Yap, who created the San Francisco-based nonprofit agency in 2015. Volunteers drive surplus food from corporate dining halls and events to organizations in need of food across the Bay Area. Out of its 500 registered volunteers, 35 hail from Los Altos.
Food donors include companies such as LinkedIn, Facebook and Google; recipients include nonprofit groups such as the Sunnyvale Cold Shelter, Borregas Court Housing and the Salvation Army. Every week, PFR delivers food to Los Altos United Methodist Church, where it is prepared to be served the next morning at Hope's Corner, which provides free breakfast and lunch to the hungry in Mountain View.
"Just the variety of vegetables and high-protein dishes is great," said Leslie Carmichael, president of the Hope's Corner Board of Directors. "We're able to provide a much larger variety and quantity of food."
PFR relies on the platform ChowMatch to organize its volunteers, donors and recipients. Through a mobile app or the website, volunteers find food runs to carry out, which makes it a "very flexible volunteer job," according to seven-year Los Altos resident Christina Choi.
Yap hopes to use ChowMatch and the PFR concept to facilitate the reduction of food waste in the county.
"We have the system. The software is free to Santa Clara. Why not use it?" Yap said.
Yap would also like to see more nonprofit organizations work together to serve those in need. She said these agencies sometimes compete for volunteers and recipients, noting one instance in which another nonprofit food delivery service took away one of PFR's donors.
"Can you imagine if all these nonprofits came together and said, 'Oh, I have vans, and I can share my van (with another nonprofit) when I'm not using it?'" Yap said.
Inspiration
PFR originated from Yap's childhood experiences in Malaysia, where she accompanied her mother, a social worker, on her case calls. She saw poor families afflicted by alcoholism and homelessness, with many of their problems attributed to a lack of food.
In 1978, Yap came to America. As a culinary student, she volunteered with San Francisco Food Runners, an organization similar to PFR and one she modeled her nonprofit after. That's when Yap said she became aware of the "staggering" amount of food waste in the United States.
"I think here in America, we want everything to be so immediate," she said. "We have to change our mentality and say, 'It's OK if we run out of food.'"
Since its genesis, PFR has grown rapidly. Through the support of former board member Dave Karlin and persistence, two donors became 800 donors and 40 volunteers swelled to more than 500 registered runners, 30 percent of which are active and volunteer regularly. Last year, PFR volunteers moved more than 2.1 million pounds of food, according to Yap, and currently average 40 food runs per day.
Volunteers derive satisfaction from their work.
"In 90 minutes, I can provide food for 70 people," said Molly Rhine, the PFR South Bay outreach director. "There's no other way I can do that. I'd have to earn the money, buy the food, prepare the food, package the food and then deliver the food. There is nothing else I can do to have such impact in feeding the hungry."
Zume Pizza, a Mountain View company that bakes pizzas in its trucks, typically serves as a food donor for PFR. Zume employees became food runners for a day last fall.
"Just getting a better understanding of the hunger in the Bay Area was super eye-opening," Zume marketing manager Kacie Jackson said.
To volunteer and for more information, visit peninsulafoodrunners.org.