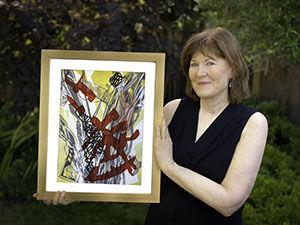 The twin passions of longtime Los Altos resident Jan Davis are art and community service.
She grew up in town, attending Almond, Egan Junior High, Los Altos High and Foothill College. She earned a degree in graphic design from ArtCenter College of Design in Pasadena. Her interest in art developed early – she enjoyed painting as a child, and in high school taught art to children.
After working at Apple as creative director for 10 years, Davis started her own business.
"I've worked on projects for big tech, nonprofit agencies, women's health and private aviation. I have also worked with a handful of wonderful local nonprofits right in Los Altos," she said, including projects for the Los Altos History Museum, GreenTown Los Altos, Arts Los Altos and the Packard Foundation.
An active volunteer, Davis serves on the board of Westwind 4-H in Los Altos Hills; she provides horseback riding lessons to children with disabilities, enabling them to enjoy the outdoors while improving their coordination and balance, and helping them build muscle strength and self-confidence.
"This program is very near and dear to my heart," Davis said of Westwind 4-H. "It's like a family. We all work together as a team to help our riders learn and have fun through engaging activities."
Davis said her reward is "simply seeing kids smile and laugh when we trot or play games." But there are many therapeutic benefits as well, she added.
"We celebrate when our older riders head off to college to continue their adventure," she said. "Riding a horse is an empowering activity few kids with disabilities have access to, and I'm glad to be a contributor."
In addition to volunteering, over the past several years, Davis has been creating art. She enjoys printmaking and mixed media, inspired by nature and the urban environment. Although opposites, they work in tandem.
"Art is about communication," she said. "Art is really important for social well-being, and you can use it to help the community."
Davis is set to open her home studio to the public for Silicon Valley Open Studios, scheduled the three first three weekends in August. She will host 10 other artists at her studio in Los Altos Aug. 8 and 9.
For more information, visit svos.org.