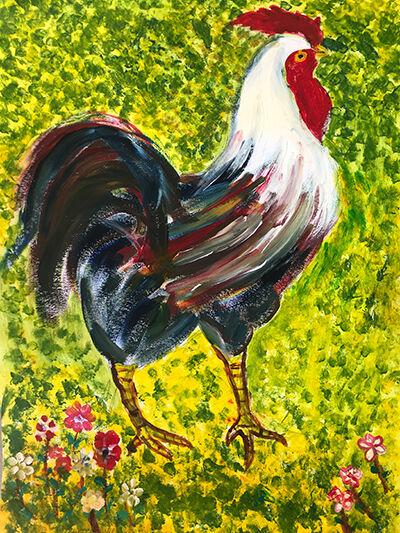 Hidden Villa farm and preserve in Los Altos Hills announced the winners of its winter essay contest.
Entrants in three age categories were asked to describe an experience at Hidden Villa that helped them see the world in a different way.
The winners:
• 9 and under: Pallas Wu (first place), Mahi Cholleti (second place), Benjamin Wu (third place)
• 10-17: Chet Kinzelberg (first place), Ethan Chang and David Chang (second place)
• 18 and up: Danielle Wright (first place), Herbert Castillo (second place), Diane Ciesinski (third place)
Winners will receive a free season pass.
Below are the complete essays of the winners.
Manure Milkshakes
By Danielle Wright
As the crow flies, the house I grew up in is just over a mile from Hidden Villa, but in my childhood, it felt a world apart. Nestled between the golden-brown hills dotted with that deep green, the magic sprang up from every shady oak and trickling creek. It was there at summer camp that I learned about manure milkshakes and the interconnectedness of all living thing on our planet.
I remember the excitement of arriving the first day, feeling slightly nervous because I didn't know anyone. But between the routine of farm chores, playing games in the fields, mealtime "ORT" ritual and daily choruses of "Lean on Me," we quickly grew into a close community. Bound together by our summer experience, I built some of the most meaningful connections I had at that age.
Once a session, we all looked forward to the famous manure milkshakes. Before we could indulge in the tasty treat, we took a tour around the farm. We'd start in the garden to explore the variety of plants, fruits and vegetables grown on the farm. Next we moved to the cows, learning about what they ate and how it was processed through their multiple stomachs. We even had a tutorial in cow milking, which was a lot harder than it looks.
The last stop on the tour was the manure piles stacked up in the pasture. Here is where we learned that manure was a key ingredient in fertilizer. It was this very fertilizer that helped to grow healthy grasses for the cows to eat, giving them the nutrients and energy needed to produce milk, which ultimately produced the delicious milkshakes.
I think back to this simple lesson and how it has shaped my daily life. Every living thing is part of a manure milkshake cycle, with a role to play to keep the system running in harmony. We all have a responsibility to consider how our actions impact that cycle, whether positive or negative. Today I run an environmental nonprofit organization, addressing what many experts consider to be the No. 1 solution to climate change. My mission is to bring the earth back into its natural balance, where we can coexist in a virtuous cycle.
In January, I had the chance to take my 2-year-old daughter to Hidden Villa for the first time. She loved seeing all the animals, especially the pig who had a new batch of piglets running around. It was comforting to see many of the same buildings, the same shady trees, and feel the same feeling of community. I can only hope she is one day shaped by a similar experience that will give her the same gifts that Hidden Villa gave me. The gift of community, the gift of responsibility, the gift of purpose.
Thanksgiving Turkeys
By Chet Kinzelberg, age 10
Hidden Villa has taught me that I shouldn't be wasteful. I have been to Hidden Villa many times. Sometimes I go for summer camp or after-school camp, Cub Scouts, to hike, to see the animals or just to have fun. My favorite thing to do at Hidden Villa is check out the animals. My first time there was about seven years ago on my third birthday. I have been to Hidden Villa dozens of times, but there is one thing that made me see the world in a different way: the turkeys.
It all started when we went down to the knoll in the late fall, around October. At the time, Hidden Villa had turkeys, which excited us because we hadn't seen them before. We walked over to them. They were very small and probably young. They were all kept in two giant pens.
The next time we went to the knoll, we saw two workers cleaning the turkey pens and feeding the turkeys. The workers told us they would harvest and sell the turkeys. It's fascinating to see something that will become the main course for a Thanksgiving feast. It made me think about how many people take food for granted. I think it's important to know that people worked hard to make the food and that it cost an animal's life. Now, I don't just see a turkey sandwich as bread and meat. I see it as a life and hard work.
Since that experience at Hidden Villa, I haven't taken food for granted. I don't put more on my plate than I am going to eat. And whatever I put on my plate, I eat. Everyone should think about what it took to get their food. Food may just seem like something we eat but it's really much more.
Untitled
By Diane Ciesinski
Hidden Villa summer camp was celebrating its 60-year anniversary in 2005. While I was serving on the board that year, I took the challenge to locate and interview campers and counselors from each decade. As part of my research, I studied the chapter on the creation of summer camp from Josephine Duveneck's autobiography: "Life on Two Levels." The project was truly exhilarating and allowed me to view the world through new eyes. Previously I never understood what it might be like to live in the heavy shadow of discrimination – whether racial or economic.
Thanks to the internet, I was able to locate about 60 former campers and counselors and learn their heartwarming stories. Several of the interviewees had been through incredible hardships, including living in a Japanese-American internment camp during World War II, being educated in segregated schools and navigating extreme poverty throughout childhood. Their personal histories fascinated me. The common thread that emerged was their surprise at being treated with dignity and respect at Hidden Villa.
The word "magical" came up numerous times, and it was mesmerizing to hear the minute details of summer camp events that had happened so long ago. Those vivid memories were permanently imprinted in their heads – and many of the interviewees described Hidden Villa camp as a "safe" place. Phrases like "I could let my hair down" or "I could truly be myself" were often heard in these interviews. Clearly the camp model that Josephine had created 60 years prior was successful in providing life-changing experiences for both campers and counselors.
The early years of camp specifically brought together kids ages 9-12 before any prejudices had set in. It became quite evident that the farm was the great equalizer, and it didn't matter what type of background each person brought to Hidden Villa at the start of camp. The sweet farm animals and healthy organic plants do not care what color your skin is or how much money is in your family's bank account. Truly the cows, sheep and goats just want to be milked, the pigs and chickens want to be fed, and the plants want to be watered and maintained.
Although I always considered myself a kind and caring person, these interviews opened my eyes to the power of my words and actions on others. Each person has a unique story to tell and deserves to be listened to with dignity and respect. I'm proud to continue volunteering at Hidden Villa and am so grateful that today's youth continue to experience the magic of a camp model that was created 75 years ago.
My Experience at Hidden Villa
By Ethan Chang, age 15
I've visited Hidden Villa when I was younger to look at vegetables and wildlife, but the most recent time here was during a Boy Scout Service project. This service project was considered conservation service – a special type of volunteer hours required for rank advancement. During that service project, I've come to appreciate the value of other people's hard work and the value of physical labor.
The project I signed up for was to help repair a trail and remove invasive plants. This involves hitting wooden bars on the steeper edge of the trail to keep integrity of steps and un-rooting poison oak plants with gloves. The Scout in charge of this event gave us heavy tools like shovels and pickaxes to help root out the plants.
The repair area wasn't near the parking lot: I had to carry the tools with me. Normal hiking is hard enough walking up hills and through trees, but this was even harder carrying a heavy tool. After climbing a hill, I got to work, helping straighten a wooden barrier. This helped keep back the soil enough on steep areas to form makeshift stairs instead of letting the soil erode, which would eventually destroy the trial. This work was exhausting, and I was tired after using a tool on a hike. After four hours of work, I'd had enough. There were ticks everywhere and I was sore.
Looking back, I didn't really do much. I removed a few plants and fixed a few wooden boards. By now, the number of plants that have grown back is probably orders of magnitude higher, and I'm sure many more stairs and trails have been damaged or eroded. Or if Hidden Villa is much better, many other people did the work, not me.
What this experience made me realize is that even a little bit of results can require large effort. Next, my fellow Scouts and I had to walk up a steep trail with equipment to do the work, while avoiding ticks and poison oak. Since there were around five Scouts working for four hours, that totaled around 20 hours of volunteer work. But these didn't account for other work, like our parents driving us, or planning the event, or borrowing the tools and signing forms. We were kids and volunteers, so we weren't as efficient as professionals hiring adults or robots. But the idea that a lot of effort is required for potentially minimal output still stands.
Later in Scouting, I've increased my appreciation for infrastructure in nature areas and camping sites, while being more understanding of areas that lack full infrastructure. When a place has a gravel dirt road, the initial thought, "Hey, just build a concrete road," goes away, because I've learned that building that road would require way too much effort. When an area does have pretty roads and no weeds, I can imagine and slightly empathize with the amount of money and labor that went into said roads or weed removal, because I have had a chance to do similar work myself.
I'm not claiming that my experience at Hidden Villa made me a Nobel Prize-winning genius. Frankly, I've only been there a few times in my life and haven't been since that service project, a four-hour event two years ago. Rather, I think that experience, even if small and distant, meaningfully changed my view on finished products of work and allowed me to appreciate labor more.
Home
By Herbert Castillo Melendez
Whenever I get depressed and feel the world has no place for me, I go to my treasures and reach for my brown bag.
My brown bag has traveled and protected me since I was that scared and panicked little boy. Running from a war-torn El Salvador, running from war in East Palo Alto, running from domestic violence at home, I ran out of places to run. I ran out of books to read, I ran out of my own body and head hoping I could end the life I knew.
At 9, my parents divorcing, my life collapsing, my godmother happened to get a job at Hidden Villa. My family could not afford summer camps, and the outdoors are for white people anyways. But something happened. I was sat down and told that although it was scary and most kids would not look like me, I would be dropped off at a camp. A place where kids had fun. I hated the idea of going somewhere else like school where I had to behave differently to fit in and struggle to feel anyone listening to me. I struggled to feel like I could leave my mom at home without protecting her.
The brown paper bag carries bay leaves. Bay leaves that remind me of the peace and love I have for myself. Love I have for my parents, my friends, my community that had let me down; that had left me so alone. Scared, I climbed higher and higher in the climbing tree in front of the hostel. Hoping I might fall, might die. Hoping that I might never have to return to the home, to the parents, and world I knew. Day camps would end, mourning the clock, then weeks as a cabin boy, eventually two weeks in the Bluff, I would always find myself at the end of the camp. My friends, my chores, my loves being picked up one by one. The feelings of loneliness creeping in as the summer begins to cool for the autumn winds of change.
As soon as I could, I became a camp counselor, vowing to honor, give back and celebrate the counselors, mentors, friends and family I made over the years as a camper. I can remember the shock I had when I learned that Hidden Villa had been attempting a multiracial camp in 1945 for two reasons. One, that day solidified what it meant to stand up for your beliefs and that we each have the power to shift the world for good, especially when the world disagrees with us. And two, how much my skin color and economic status were still limiting my opportunities in 2000!
Running through the woods and climbing atop Rock of Gibraltar I would stay still and listen for hours. Melting into the soundscape, careful to listen to the sounds of Mother Nature, attentive for any wisdom I may receive. In this, I found peace.
The cool comforting rock on my bottom, eyes tilted toward the creeks, no sound of civilization, the future seems so beautiful. The world can and will be reimagined, reshaped, and we will have the opportunity to put our mark on it.
I am a part of a living ecosystem that stretches for miles and miles, from the foothills of the Santa Cruz Mountains to Black Mountain to the beautiful shores of Santa Cruz, my body and soul provide the space and love for healing, for transformation and for growth. I am Hidden Villa, I speak up for the world I want, and long for the day I can truly return and rest my spirit in the valley.
Untitled
By Mahi Choletti, age 6
Hidden Villa is like a hidden gem. I have been going to Hidden Villa since I was a baby. I like the creek filled with water after the rain. I get to throw rocks in the creek and splash water. I hope it rains and no drought. Don't cut off trees and take care of nature.
Untitled
By Pallas Wu, 9, naturalist
Hidden behind a busy town, a villa is found. A true magical place gives you peace and joy by connecting oneself to nature, the ultimate universe with tons of possibilities and imagination – Hidden Villa.
Creating music with pigs' snoring, roosters' crowing and water's flowing, a harmony in symphony telling a never-ending story with love and memories. Exploring mindfulness walk and beautiful hike assuring a peace of comfort and calmness. Painting nature with our own hands and artistic lens reminding our praises to the creator. Simply nothing can hold me back, I simply cannot escape from this amazing place – Hidden Villa.
Can I be sheltered in the wilderness? I long to be embraced by nature. Can things be faded out? So I can come closer – and be connected.
Untitled
By Benjamin Wu, age 8 
I like farms. I like animals. I like nature. I love Hidden Villa.