Hanukkah comes early this year – the lunisolar holiday begins at sundown tonight (Nov. 28), precisely the same time Los Altos' Festival of Lights Parade is set to return after several years of tribulations. The arc of the larger eight-day festival of lights includes candle lighting, decadent food and, for many families, small presents and acts of caring that mark a holiday about community resilience and a light that endures against the darkness.
Los Altos Chabad plans to light a new 12-foot silver menorah each night of Hanukkah at Veterans Community Plaza, at the corner of Main and State streets in downtown Los Altos. The season begins with a gathering 5:30 p.m. Monday (Nov. 29), with music, kids activities and likely doughnuts and latkes, though the precise details were still being nailed down as of press time, as the event intends to be fully in line with COVID protocols as they evolve.
Ezzy Schusterman, rabbi of Los Altos Chabad, said lighting the menorah in a public setting celebrates great thanks for life "in a free society, where we can be free to practice our religion."
Hanukkah commemorates not just a miracle in the temple, but also the story of Jews who studied the Torah and Commandments during a time when that practice of faith was repressed.
"There's a mitzvah on Hanukkah of 'pirsumei nisa' – spreading the miracle – and when you light the menorah in a public setting, it is more of a spreading the miracle," Schusterman said. "That's why we do it every year – to engage the community, let those who are Jewish celebrate their Judaism and those who are not to participate and to see the beauty of what Judaism has to offer."
Congregation Beth Am in Los Altos Hills will be marking Hanukkah to some degree every night, according to Rabbi Jonathan Prosnit, but the big celebration is scheduled Saturday (Dec. 4). Families will gather outdoors at the synagogue, weather permitting, for all of the traditional holiday trappings: latkes, dreidels, chocolate, songs, and the event is open to all.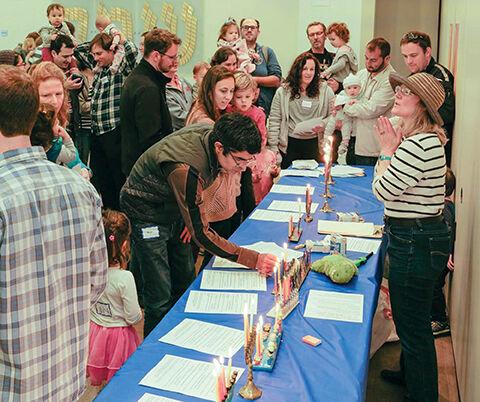 The Jewish Baby Network, which serves interfaith and Jewish families on the Peninsula and has expanded across the Bay Area, is set to host a Zoom party 10:30 a.m. Sunday (Dec. 5). Experienced families can use the opportunity to launch the season and invite relatives scattered around the world to join in and watch the celebration, and families who are just learning the traditions to get practice lighting their hanukkiyot together and to learn blessings and songs associated with the holiday.
Expect puppets, stories and songs, and a chance for children to dance and share the event with their favorite stuffed animals, according to Carol Booth, the network's founder. She said that last year, grandparents prevented from holiday travel tuned in to watch their little ones light the candles, and noted that you can pin and highlight the participants you want to focus on at events like this one.
Symbols of the night
Rabbi Prosnit's family lights a multitude of hanukkiyot, including an elegant wedding gift, a dinosaur (menorahsaurus rex) and a zebra.
"We have a 7-, a 4- and a 1-year-old, so it's not always easy, but we generally light them all together and we each have a hanukkiah that we light," Prosnit said.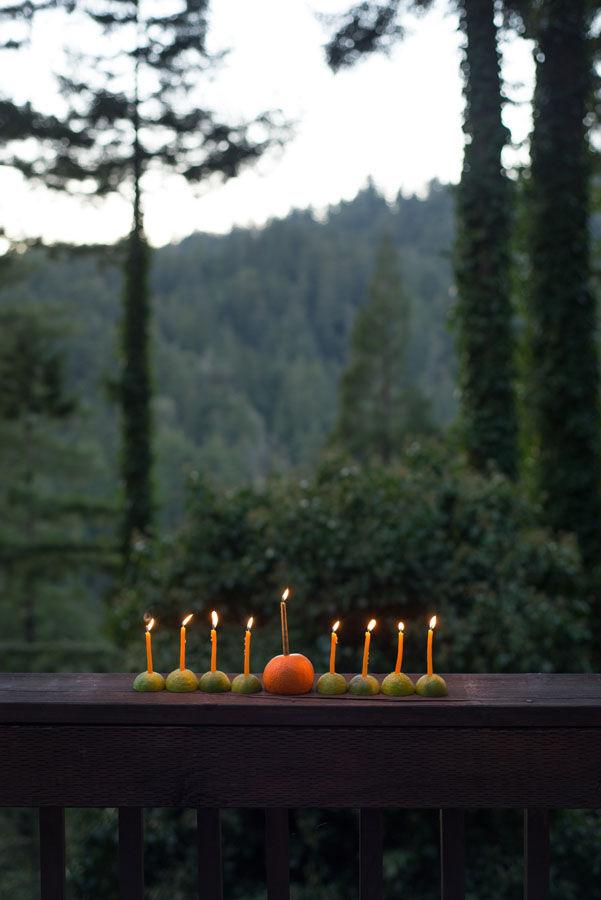 One year Erin Gleeson, Prosnit's wife and local author of "The Forest Feast" cookbook series, arrayed a series of four limes, halved, around one-half of an orange for an edible relic of winter fruit.
"She's a foodie to her core, and it's citrus time," Prosnit said.
For families building their own collection, the local Judaica store bob and bob closed, lo those many years ago, but BK Collections on State Street in downtown Los Altos carries a few ornamental Jewish pieces each year. Prosnit said the Contemporary Jewish Museum in San Francisco has a shop for those open to a day trip, and creative artists can be found doing beautiful work on Etsy.
Rabbi Schusterman's family also lights an assortment, from the silver menorah his wife bought just after their marriage to the current year's school-crafted menorahs.
Mountain View resident Sylvie Barak went big last year with her family's hanukkiah, lighting tiki torches in their front yard to illuminate the night. 
"I grew up in Europe, where Christmas is a big thing – you can't escape Christmas – and my mom was adamant: 'No lights, no tree, we are Jewish, we will get a hanukkiah and that is it,'" Barak recalled.
Now that she leads her own family, there's more to the lights – blue and white light strings are easy to find these days. And this year the Baraks again plan to set up an enormous menorah of torches in their front yard.
"I don't want my kids to feel like they're missing out, because we have a culture that's amazing in its own right," Barak said of the traditions they've built around Hanukkah that are both embedded in Judaism and reminiscent of other rituals of the season – for instance, her eight-day collection of small gifts that's laid out like a Jewish Advent calendar.
"It's the most amazing holiday ever – you get fried sweet food and light candles all over the place; you get to play games, win coins, eat latkes, which are delicious with applesauce and sour cream; and you get gifts every day for eight days," she said. "The joy is prolonged, and we usually had people 'round at the house every night, and the boys get really excited about that – they loved the hosting."
Throughout the pandemic, they have been baking challah as a family and hosting live Friday evening Shabbats online to include their diasporic COVID community in a ritual of candle lighting and prayer. This year, the Hanukkah season allows for a more hybrid approach, but the live online events include family across Europe and Israel as well as friends still impeded by virus mitigation as well as geography when it comes to celebrating together.