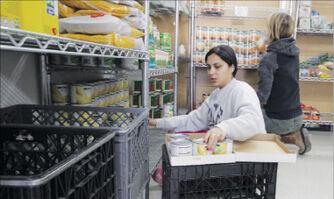 • Mission: Community Services Agency serves as the community's safety net, providing critical support resources aimed at preserving and promoting stability, self-reliance and dignity.
• 2017 update: CSA continues to work at reducing access barriers to its many services and has increased outreach to schools and the homeless population. In addition to operating its own food pantry, CSA distributes food at two Mountain View elementary schools – Castro and Theuerkauf – as well as the Buena Vista Mobile Home Park. A partnership with West Valley Community Services enables CSA to share a van for food outreach. The agency also helps stock the pantry at Foothill College and support the senior nutrition program at the Mountain View Senior Center.
Christine Flego, CSA's Food & Nutrition Center coordinator, said the Castro school program has been successful in reaching families in need, and this school year has already doubled its clientele there. Setting up the food like a pantry at the school, "families feel they have some choice in what they get," Flego said. She added that occasional cooking demonstrations at the schools show their clients that eating nutritious food is possible on a budget.
"That's a part of what we try to do," Flego said, "not just hand them a bag, and say, 'Here you go, off you go.'"
Responding to the rise in the homeless population, CSA recently added an outreach case manager to assist people living in vehicles and camps; bags of food are available, and they learn about CSA's many services.
A partnership with Dignity on Wheels enables the organizations to provide weekly showers and laundry facilities in a mobile unit, leading many users to visit CSA for food and other services.
Flego stressed that there is a year-round need for food, and that supplies typically dwindle late in the year. She said many clients are forced to make decisions between food and medicine, or food and rent.
• Why the Holiday Fund is needed: Holiday Fund donations are needed more than ever, as CSA increases its outreach to meet the nutrition needs of the local population.
The agency continues to experience an increase in families coming in seeking food and services.
CSA Food & Nutrition Center
Location: 204 Stierlin Road, Mountain View
Founded: 1957
Annual budget: $3.9 million
Staff: 30 employees; more than 400 volunteers
Information: csacares.org